UKRAINIAN VILLAGE — Tensions ran high Tuesday night at a meeting held by Ald. Gilbert Villegas (36th) to address a spike in crime that has struck the Near West (12th) Police District.
At the Ukrainian Cultural Center, 2247 W. Chicago Ave., neighbors pressed officials for details on programs Chicago police are advancing to manage crime, while Villegas renewed his call to reopen the 13th Police District station in West Town, which closed in 2012.
Near West (12th) Police Cmdr. Beth Giltmier said the district has seen an increase in some crime categories this year, including robberies and thefts.
There have been 564 robbery victims in the police district this year, according to the city's crime dashboard. That's an increase of 133 percent over the same time period last year.
The total number of violent crime "victimizations" in the 12th district increased by 44 percent this year, with 1,196 victims through Aug. 14 versus 832 through the same period last year.
Shootings have dipped slightly, with 84 recorded in the district this year compared to 88 at this point last year. Multi-victim shootings, however, have doubled, with 16 so far this year.
Carjackings, however, are down 48 percent this year, statistics show.
The Near West police district covers portions of the Near West Side, Pilsen and Ukrainian Village.
One resident at the meeting said she feels "terrorized" by crime in the area.
"I can't let my kids out of my house," she said.
Deputy Chief Gabriella Shemash of Police Area 3 said Chicago police have assembled a group of officers to focus on tracking groups responsible for property crimes. She called the group "essentially a task force" but declined to give further details, saying it "might jeopardize some of our officers' safety." 
Giltmier said the program's approach would be "very aggressive, legally," in focusing on making immediate arrests and trying cases that would get repeat offenders off the streets.
The Near West (12th) Police District, which includes the 36th Ward, is also introducing a task force to patrol nightlife spots on the Near West Side.
Residents asked Tuesday where precisely the patrol would be active in the 36th Ward. Shemash said once the patrol was active, the goal would be "to focus specifically on nightlife establishments" rather than a "geographic boundary."
Shemash said news of the patrol had leaked "preemptively" and that the district was still working to assemble officers for the patrol.
A petition to reopen Chicago's 13th Police District, initiated by Villegas earlier this month, gathered dozens of signatures. Villegas said that violent crime had risen in the 36th Ward since former Mayor Rahm Emanuel's decision to close the district more than a decade ago. 
"We need resources in the area, and my job as the elected representative is to bring those resources here," Villegas said. 
Many neighbors expressed frustration that more police officers are not visible in the neighborhood.
"I never see a police officer unless it's after a crime was committed. Never. Never. Where are they?" one woman asked. 
She said her 12-year-old son was recently robbed at gunpoint for his bicycle. 
Villegas said his push to reopen the 13th Police District would bring walking patrols back into the neighborhood to "make the community feel safer."
Repeated calls from residents Tuesday to bring in the national guard were met with cheers.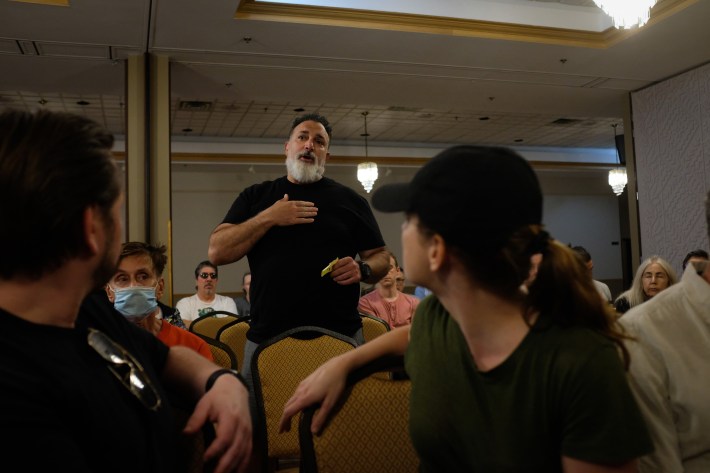 Many residents said policies to hem in police chases and end cash bail had gone too far in walking back police authority. 
"The victims of crime feel like they're the ones that are not being supported, and that criminals are the ones that are being coddled," one resident said. "… The police need to be able to do their jobs."
Watch our "On The Block" TV show on The U, CW26 and MeTV.
Listen to "It's All Good: A Block Club Chicago Podcast":