IRVING PARK — A plan to build 100 percent affordable apartments in Irving Park tailored to Indigenous people has neighbor support, but some have concerns about the building's height, lack of parking and worry the housing isn't exclusively for Native Americans.
Affordable housing developer Full Circle Communities has partnered with Native American-led nonprofit Visionary Ventures to build a seven-story building with 45 apartments at 2907 W. Irving Park Road.
The structure will also feature first-floor commercial office space for a to-be-determined nonprofit serving Chicago's Indigenous community, according to plans shared with Ald. Rossana Rodriguez-Sanchez's (33rd) office. 
The apartments would be priced between 15 percent and 60 percent of the area's median income and include a mix of 10 studios, 15 one-bedroom, 10 two-bedroom and 10 three-bedroom units, according to the developer. 
Amenities would include 16 car parking spaces — some of which would include electric vehicle charging infrastructure — and 45 bicycle parking spaces, a rooftop garden, on-site laundry, an art and maker space, a fitness room and a community room and kitchen as well as culturally sensitive social services, according to the developer. 
The housing is among 24 affordable developments that received $1 billion in city support in 2021 through highly competitive low-income housing tax credits.
The development site is an empty lot and the developer needs a zoning change from Rodriguez-Sanchez to move forward.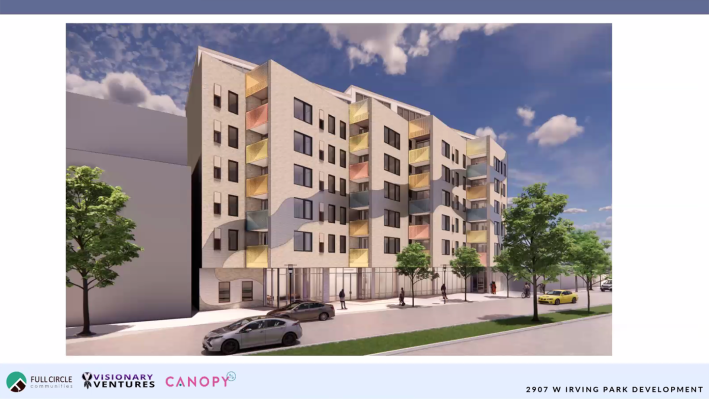 The alderwoman hosted a community meeting last week where neighbors could learn more about Full Circle and Visionary Ventures' plan. 
Neighbor Megan Biggam said she supports affordable housing for Indigenous people but she worries the new construction would be much taller than the other buildings along that stretch of Irving Park Road, she said. She asked if the developer would consider making the building four stories instead of seven.
"I think that's what the immediate neighbors are concerned about," Biggam said.
Full Circle Senior Vice President Lindsey Haines said a four-story building wouldn't be financially feasible. The developer crafted the proposal after consulting with the city's Department of Planning and Development on what they require since the project is partially financed with tax credits.
"We need to make sure that we can cover the operating expenses on each one of these developments, in order to responsibly move it ahead," Haines said.
Data from the developer's traffic study and comparison with other Full Circle affordable apartments show their residents have lower rates of car ownership, Haines said.
That combined with the close proximity to the #80 Irving Park bus is why the developer is seeking a transit oriented exemption to have fewer parking spaces, Haines said.
After the meeting, California Park Neighborhood Association President Ramona Paravola told Block Club her membership is in favor of the development but has concerns about its height and that the housing isn't exclusively reserved for Indigenous people. 
Shelly Tucciarelli, Visionary Ventures' executive director, said due to the type of tax credits being used, the building would be integrated housing where anyone who meets the income requirements can apply.
But there will be a concentrated effort to contact Native American community members first at places like the American Indian Health Services of Chicago, 4326 W. Montrose Ave., in order to give them a better chance of getting an apartment at the complex, Tucciarelli said.
"That's how we want to make sure that our Native American community members will be part of this," Tucciarelli said.
If Rodriguez-Sanchez endorses a zoning change, the next step would be securing building permits with the goal of starting construction in the spring, according to the developer. 
The developer would start marketing the development to the city's Indigenous communities for "pre-leasing" by winter 2024 with the goal of completing construction sometime in the spring of 2025, according to the developer. 
Rodriguez-Sanchez plans to make a decision on the zoning change within the next two weeks. Neighbors can submit feedback on the current proposal by stopping by Rodriguez-Sanchez's ward office at 4747 N. Sawyer Ave., via phone at 773-840-7880, via email at info@33rdward.org or using this online form as part of the ward's community driven zoning process, she said. 
As a candidate and alderperson, Rodriguez-Sanchez has championed adding more affordable housing to her Northwest Side ward. If the project is approved, it'll be the third major development in her ward aimed at addressing rising rents and the de-conversion of two-flats in her ward into single-family homes.
During Rodriguez-Sanchez's first term, she shepherded the construction of the Maria Elena Sifuentes Apartments, 3557 W. Lawrence Ave., which were also built thanks to the highly competitive affordable tax credits. 
Watch our "On The Block" TV show on The U, CW26 and MeTV.
Listen to "It's All Good: A Block Club Chicago Podcast":