CHICAGO — Summer in Chicago means countless street markets and arts fests, outdoor concerts, parties at the park and so much more.
Whether you're shopping local at Englewood Village Market, competing for prizes at a Pilsen street cleanup, admiring Japanese floral arrangements on display in the Southport Corridor or dancing the night away at a Shrek rave, there's something for everyone this weekend.
Here's a roundup of 18 things to do in Chicago this weekend: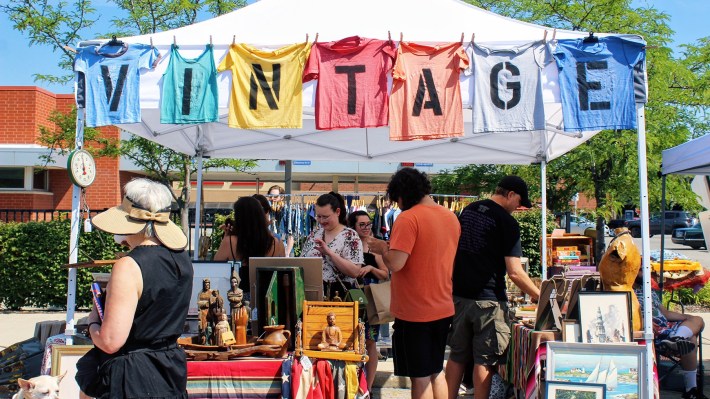 10 a.m.-4 p.m. Sunday
On Catalpa Avenue between Clark Street and Ashland Avenue
This neighborhood resale market returns this weekend for the first of three summer events. Shop vintage clothing, decor, accessories, music and other items from more than 30 vendors, including Fad 2 Fresh, Field Mercantile and Ruby Baby Vintage. There will also be live music and potato-based pastries from Downstate Donuts. The market is pet-friendly and there is a $5 suggested donation for admission.
10 a.m.-9 p.m. Saturday, 10 a.m.-7 p.m. Saturday
Along West Waveland and North Southport avenues. See map here.
Browse artwork by some of the city's best artists at this family-friendly art festival. There will be a variety of mediums on display, including oil, acrylic, watercolor, jewelry, sculpture, photography, wood, glass and more. Plus, kids can enjoy interactive games and activities. Find more information online.
Noon-10 p.m. Saturday
The Promontory, 5311 S. Lake Park Ave.
Since 2018, Passport Vibes has brought partygoers together for a festival all about Afrobeats. Groove to Afrobeat and African music from local and international DJs, enjoy food and retail vendors, play outdoor laser tag, enjoy photo installations and more.
10 a.m.-5 p.m. Saturday, 10 a.m.-4 p.m. Sunday
National Museum of Puerto Rican Arts and Culture, 3015 W. Division St.
Celebrate Puerto Rican art and culture at the 23rd annual Barrio Arts Festival with live musical performances by local Puerto Rican artists, family-friendly arts workshops, Puerto Rican delicacies, handmade crafts and more. Admission is free. Learn more and see the fest's full schedule here.
Noon-6 p.m. Saturday and noon-4 p.m. Sunday
Southport Corridor, 3200-3900 N. Southport Ave.
The Japanese Culture Center, Lakeview Roscoe Village of Commerce and Japanese Arts Foundation are partnering to host a Japanese floral arrangement exhibition in the "unofficial Japantown of Chicago." Stroll through the Southport Corridor this weekend and you will see Japanese art of flower arrangements, or ikebana, featured in over a dozen locations, including local restaurants and business storefront windows. Galleria Liqueurs, 3409 N. Southport Ave., will also be hosting free sakes tasting through the weekend. There will be an informational table to learn more about this free event near J. Crew, 3423 N. Southport Ave.
Noon-2 p.m. Saturday
Meeting House Tavern, 5025 N. Clark St.
Lighthouse Foundation, a Black, queer-led social justice organization serving Black LGBTQ+ people in the city, is celebrating its fourth anniversary with live music, drag performances and storytelling. Drinks will be available for purchase at Meeting House Tavern's bar. Purchase your ticket for a donation of $35-100 online. Proceeds go toward supporting the work of Lighthouse's flagship research project, the Black Queer Equity Index.
5-10 p.m. Friday, noon-10 p.m. Saturday and noon-9 p.m. Sunday
On Lincoln Avenue between Montrose and Wilson avenues
Enjoy live music, family fun, vendors, local restaurants and a craft beer showcase at this Lincoln Square summer festival. You can catch performances by artists from Chicago and beyond, like Lala Lala, Superchunk, Slow Pulp, Mucca Pazza, Disaster Kid and more. The street fest is easily accessible from the CTA Brown Line Western stop. There is a $20 suggested donation for families, $10 for adults and $5 for seniors and kids.
9 p.m. Saturday
House of Blues, 329 N. Dearborn St.
Party like you're "Far Far Away" and dance through the night to your favorite Shrek tunes. Tickets are $22.50 to $37.50. Buy them online for a party of "ogre-sized fun."
11 a.m.-5 p.m. Saturday
Independence Park, 3945 N. Springfield Ave.
A haven for art enthusiasts and shoppers, there will be more than 40 vendors at Summer Artisan Fest showcasing their handmade items at Irving Park's Summer Artisan Fest. Shop jewelry, home decor, candles, baked goods and other one-of-a-kind items. Pets and all ages are welcome.
6-8 p.m. Friday
Kilbourn Park, 3501 N. Kilbourn Ave.
Pack a picnic and grab chairs and blankets for some free, family-friendly entertainment at the park. Enjoy the sounds of summer at this free-to-attend concert series.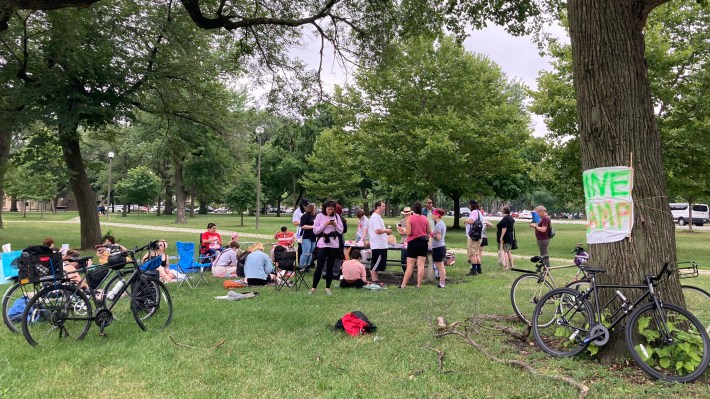 2-6:30 p.m. Sunday
Picnic Grove 5 in the Dan Ryan Woods, 8700 S. Western Ave., near 85th Street and Western Avenue
Learn how to make your own zines — or handmade mini magazines — at this second annual Zine Camp. Connect with the city's zine community, learn tips and tricks and more. This free event is hosted by Zine Club, a group that meets monthly to discuss zine-making, and sponsored by Quimby's Bookstore, 1854 W. North Ave.
Noon-10 p.m. Saturday
Lincoln Abraham Park, 1800 N. Stockton Dr.
Celebrate electronic dance music with and dance to tunes spun by local DJs and producers in Lincoln Park this weekend. This is a free event hosted by a group called EDM Chicago is free. Donations are appreciated and will count towards a merch and ticket giveaway.
Noon-4 p.m. Sunday
Metropolitan Brewing, 3057 N. Rockwell St.
Chicago Vegan Test Kitchen and Ascend Cannabis are hosting a Vegan Summer Sesh this weekend with local plant-based chefs, cruelty-free artisans and mindful wellness alchemists. The event is open to all ages and pets are welcome. Admission is free with RSVP.
1-4 p.m. Sunday
Reva and David Logan Center for the Arts – Screening Room, 915 E. 60th St.
Kicking off this Sunday and running through August, the Logan Center for the Arts is hosting free film screenings of celebrating Black cinema, self-representation and freedom. Two summer screenings will be paired with selections from the South Side Home Movie Project, which archives home movie recordings from Chicago's South Side to protect the neighborhood's history and films. The "Screening Freedom" series draws from decades of Black film production and showcases works that reflect and enrich Black life, from blockbuster movies to intimate family records. RSVP for free online.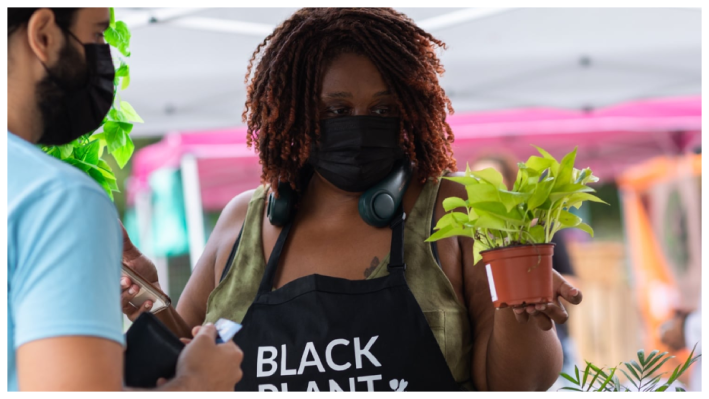 10 a.m.-2 p.m. Saturday
Englewood Village Plaza, 5822 S. Halsted St.
Shop fresh produce, food, goods from local farmers, Black businesses and more at this Saturday market. There will also be live music, fun for the family and a weekly rotation of programming, from art activations to health and wellness activities to community information sessions.
10 a.m.-3:30 p.m. Saturday
Reva and David Logan Center for the Arts, 915 E. 60th St.
Watch the documentary "What These Walls Won't Hold," hear from survivors of police torture, learn about COVID-19 in prison and more at this exploration into art, death and imprisonment. Find the full schedule and RSVP online.
10 a.m.-12:30 p.m. Saturday
Corner of 16th and Paulina streets
Help clean up 16h Street in Pilsen with Cleanup Club Chicago and Pilsen-based environmental justice group PERRO. There will also be "litter races" with prizes for those who want to compete. Grabbers, bags, water and some protective gloves will be provided during the event. Attendees are encouraged to bring a five-gallon bucket, gloves and sunscreen. Register for the cleanup online.
4-7 p.m. Saturday
Hops & Scotch, 720 S. Wells St.
Taste award-winning, premium Italian wines paired with Limoncello while supporting local, women-owned businesses. RSVP online.
PLUS: Four Picks from Our Partners At
7 p.m. Friday
Radius, 640 W. Cermak Rd.
Vibe to hip-hop and reggae this Friday with the Dirty Heads at Radius.
7 p.m. Friday-Sunday
Briar Street Theatre, 3133 N. Halsted St.
Come and experience this explosion of color and sound and hear the sounds of unique instruments that you can't find anywhere else.
7 p.m. Sunday
Metro, 3730 N. Clark St.
The Oakland hip-hop group is celebrating 30 years of 93 Til Infinity this Sunday at Metro.
10 p.m. Friday
PRYSM, 1543 N. Kingsbury St.
Get ready to dance the night away with this wild mix of house and techno at PRYSM.
Watch our "On The Block" TV show on The U, CW26 and MeTV.
Listen to "It's All Good: A Block Club Chicago Podcast":