BEVERLY, MORGAN PARK — South Side Chicagoans came out in droves this weekend to celebrate Juneteenth with hot food, djembe drum lessons, vendor shopping and more at the Beverly/Morgan Park Juneteenth Family Festival on Saturday.
Organized yearly since 2019 by the Juneteenth Family Festival committee, Morgan Park's Bohn Park, 1966 W. 111th St., was transformed as neighbors came together to celebrate the holiday commemorating the emancipation of enslaved African Americans in the United States. 
Juneteenth, a portmanteau of "June" and "19th," refers to June 19, 1865. That's the day federal troops arrived in Galveston, Texas, to inform enslaved people there that slavery had ended — more than two years after President Abraham Lincoln signed the Emancipation Proclamation.
The Juneteenth Family Festival is just one of dozens of events to celebrate the state and federal holiday.
For this year's event, neighbors enjoyed performances from a hip-hop dance troupe, the 40+ Double Dutch Club and others.
There were bounce houses, volleyball, soccer, other games, balloon animals, henna and face-painting plus a number of community organizations and local businesses vending on Saturday.
"People love it," said Shanya Gray, the lead organizer and co-founder for the Juneteenth Family Festival. "We've gotten more and more support [every year]. Everybody's been coming out, people who lived here for 30 years that never thought they'd see something like this in their neighborhood."
Gray, who's lived in Beverly since 2009 and also works as a professor and counselor, said she enjoys doing work that marries her interests of racial equity and bringing people together.
"I think we get more and more support every year, because everybody really believes in this event, and they come to love it," Gray said.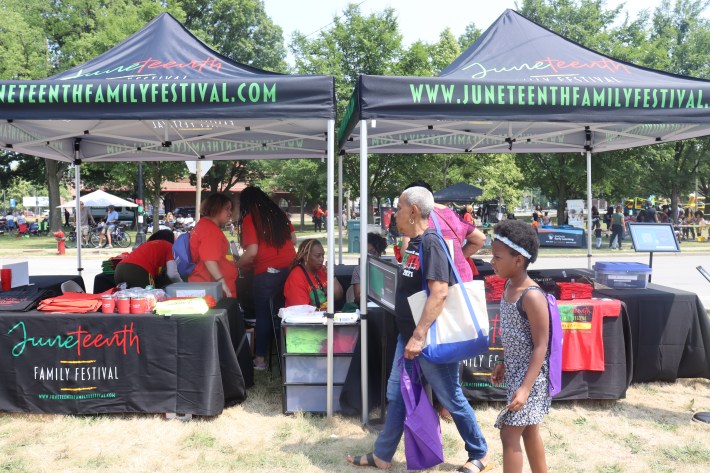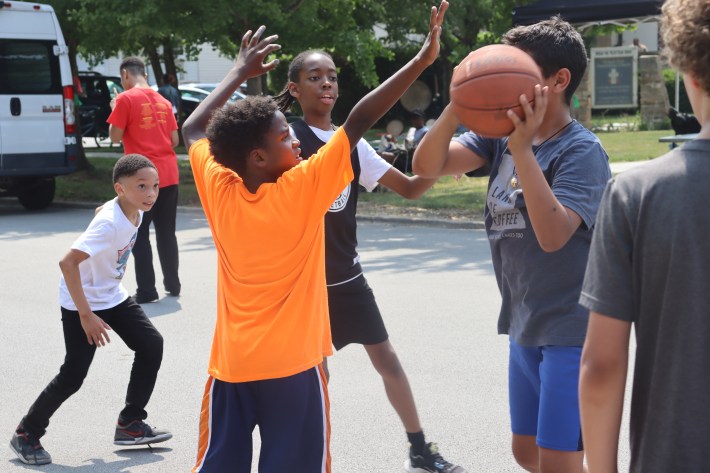 Beverly's Ohana Ice and Treats, and Harold's Chicken were among the restaurants on hand, some of whom served tacos, barbecue and other items.
Community organizations and sponsors featured at the event included CBS2 News, the Blue Cross Blue Shield Association, the Morgan Park Presbyterian Church, Roseland's Burst Ino Books and others, Gray said.
Neighbors shopped Beverly-based used bookstore Bookies: New and Used Books and Jennelle Steven, a local painter and crochet artist, offered her wares at a community event for the first time, she said.
Morgan Park resident Shannon Martin attended with her 3-year old bulldog-boxer mix Quinn. Martin said she "heard all of the fun happening on the street and said, 'Let's go outside and see what's going on, Quinn.' I'm actually off today, so why not?"
"It's nice to see so many people out in the neighborhood, supporting Juneteenth," Martin said.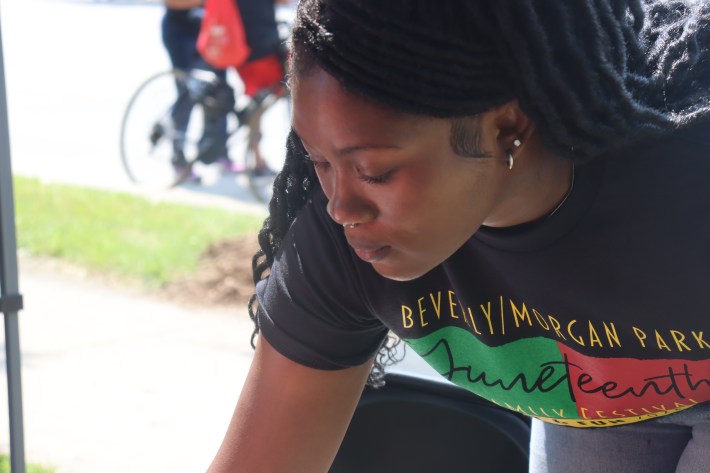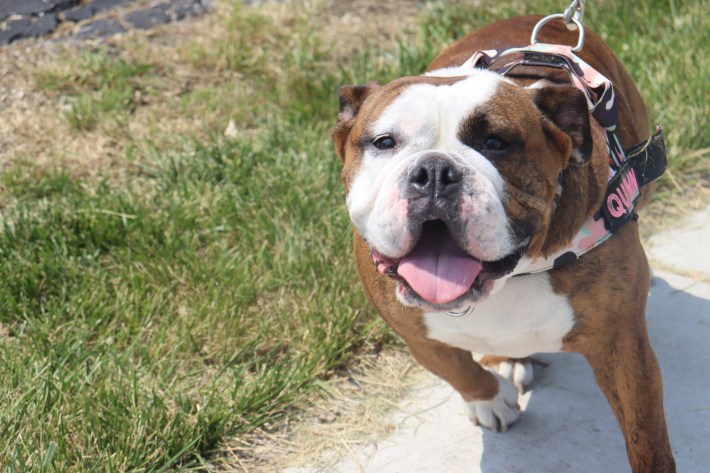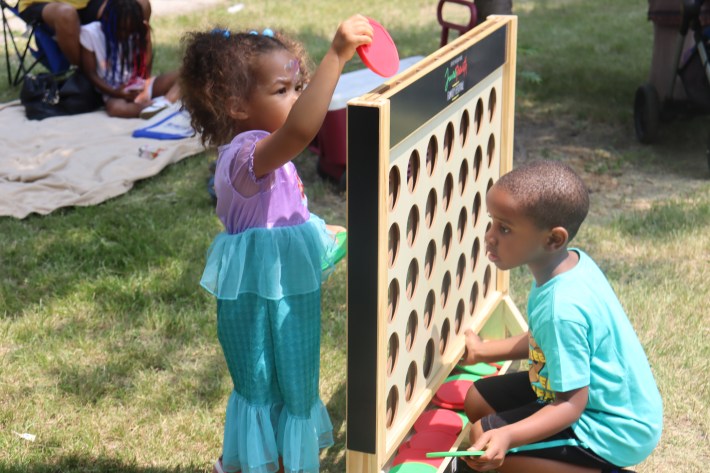 Tierra Jones, a painter and owner of  wax-candle and aromatherapy company Vibez Essentials, also lives in the neighborhood. Jones said she was happy to support fellow business owners at this year's Juneteenth Family Festival, she said. 
"Being in community with people that look like me, it's a no-brainer to support it," Jones said "I come every year. I live a block away. Every year when something goes on, it's always good vibes.
"I love the variety. I saw artists, I saw jewelry, I saw cooks, I saw food, I saw clothes. Everything. That range, that wide variety, I love it.
Gray, who's family is originally from Barbados, said she started the Juneteenth Family Festival after seeing limited Juneteenth celebrations when she first moved to the United States, she said.
While she was used to celebrating holidays in Barbados and throughout the Caribbean that recognized the emancipation of slavery there, Juneteenth wasn't as widely celebrated in Chicago at the time, she said.
Gray is thankful the festival is continuing to received support they need to celebrate and educate the community about Black history and culture, she said
"There [were] no days to recognize that this is the reality — in order to move forward, you need to recognize, appreciate, understand and learn your history and this is one of the ways to do that," Gray said.
"So this a day where we're [educating], we're celebrating each other and our beautiful culture and heritage, that's for too long been underappreciated."
See more photos from the celebration: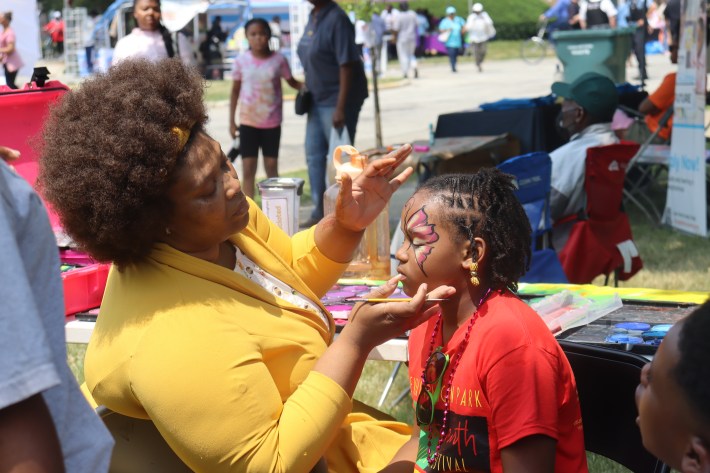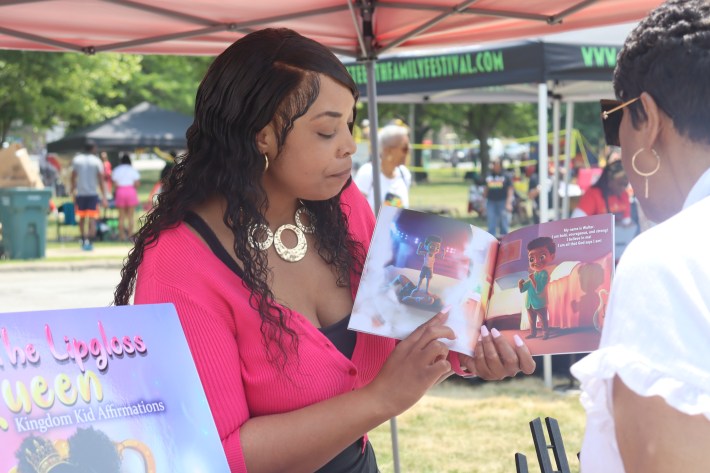 Watch our "On The Block" TV show on The U, CW26 and MeTV.
Listen to "It's All Good: A Block Club Chicago Podcast":