RAVENSWOOD MANOR — Several Northwest Side women have reported being accosted by a woman swinging a baseball bat at them, with some suffering minor injuries from the unprovoked attacks.
At least six attacks since Sunday have been reported to police, involving nine different women, officials said. In most, the women described a woman driving getting out of a light-colored car, possibly white, approaching one or more women and swinging at or hitting them with her fists or a bat, police and two of the victims told Block Club.
Four attacks were reported Tuesday, one of which was partially caught on video and involved a mother walking down the street with her baby and sister.
The first attack Tuesday occurred in the 4500 block of North Mozart Street, one of the victims and police said.
Around 11:27 a.m. Tuesday, a woman pushing her daughter in a stroller was walking with her sister along Mozart Street after getting coffee at Beans & Bagels nearby, she told Block Club. The mother asked that her name not be used.
"This woman pulled over in her car and yelled out the window, 'What would you do if I came and beat your ass with a with this bat!,'" the mother said. "My sister and I laughed and thought she was joking. And then she got out with this bat that was in the front seat of the car and ran towards us."
The sisters did not know the driver and were shocked when she ran at them with the bat, the woman said.
"We thought maybe it was some stupid kind of like TikTok trend or something, and we still thought it was a joke. But then she started swinging at us, and I think she hit me first a couple of times and then started swinging it at my sister," the woman said.
A neighbor on the block who works from home told Block Club she was near her front windows when she heard the commotion and pulled out her phone to record the attack. The incident lasted less than a minute, said the neighbor, who also asked her name not be used.
Once the driver saw the neighbor recording, she stopped attacking, got back into her car and drove away, the woman and neighbor said.
"My daughter was in her stroller so I kind of backed away to try to see if I could run behind to get the stroller and get my daughter out of there," the mother said. "[The attack] was maybe, like, 45 seconds long, and then thankfully this neighbor, this woman came out of her house videotaping and I think that's what caused this woman to run back to her car and drive."
The victims and the neighbor called police, giving officers a partial license plate of the attacker's car, they said. The neighbor also posted about the attack on a neighborhood Facebook group, she said.
The mother suffered bruises to her fingers and arm and her sister went to the hospital to get her wrist examined, she said.
"Her wrist is really, really swollen. So she's saying she might have broken it. But we're all okay otherwise," the victim said. "And thank God, my daughter wasn't hit at all. And she was actually sleeping when it was going on. So afterwards when I went to make sure she was okay, she was still asleep. Thank God she was totally fine."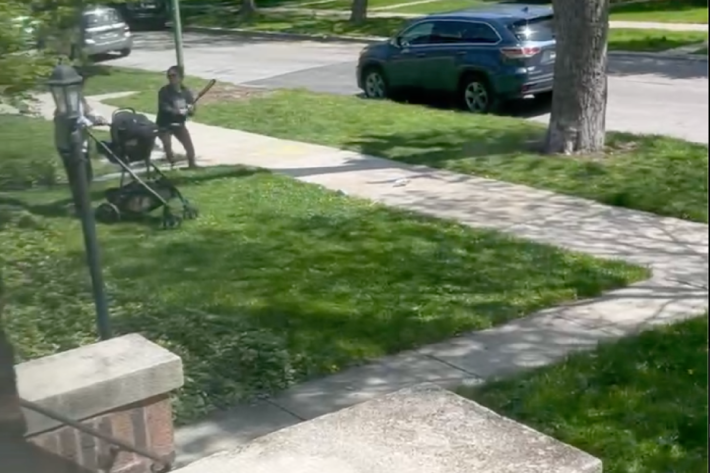 A 45-year-old woman was attacked about 10 minutes later, around 11:37 a.m. in the 4100 block of North Campbell, police said. In that attack, the woman also was with her young daughter when a "white-in-color" car drove up, and an unknown person got out, chased the woman and began to hit her with the bat, police said. The woman's daughter was not hurt. The attacker fled the scene and the victim declined medical attention, police said.
Similar attacks happened around noon in the 3000 block of West Belle Plaine Avenue and in the 3000 block of West Cullom Avenue involving the same woman with a bat, police said.
The victim from Cullom took herself to Illinois Masonic Hospital and was initially reported in good condition, police said. No other details were available.
After this article was published, police released information about two other similar attacks Sunday in the 4000 block of West Lawrence Avenue and the 4200 block of North Richmond Street, also involving a woman driving a white car.
In the Lawrence Avenue attack, two women, ages 31 and 19, were walking along the sidewalk when a woman driving a white car stopped the car, got out and attacked them before fleeing, police said. Both women refused medical assistance, police said.
In the Richmond Street attack, a woman driving a white car stopped the vehicle, got out and began to attack a woman walking on the street before fleeing, police said.
The victim on Richmond Street, who asked that her name not be used, told Block Club she was attacked just outside Bateman Elementary School.
"She rolled down her window and started shouting, and I thought she needed help. I thought she was asking for directions. So I sort of stopped over and tried to see what's going on," the woman told Block Club.
"She said, 'You know? Do you want me to beat your ass?' or 'You want me to kick your ass or something?' And I was obviously like, 'No, please don't. Who are you?' But I mean, by that point she was already laying into me and 60 seconds later and it was over. So it's just very, very strange."
After filing a police report, the woman went to a hospital to get a CT scan, she said.
"Everything came back clean. I've just got some abrasions on my head and bruising. And just some scrapes and bruises on my body. Otherwise, though I'm okay," the victim said. "I was really hoping this was an isolated incident on Sunday."
Detectives are still investigating the attacks, and no one was in custody Tuesday afternoon, police said. They had no further description of the woman, but said the car she was driving was a white sedan. The video of the first attack briefly shows a white sedan with its drivers-side door open as the attack continues.
The victims and neighbors are asking for anyone with information about the driver to contact police at 312-746-6554.
Listen to "It's All Good: A Block Club Chicago Podcast":