CHICAGO LAWN — A handwritten poster that reads "Mistakes are expected, interrogated and respected" hangs in the classroom of the city's latest Golden Apple award recipient. 
Fourth-grade teacher Anquineice Brown was recognized for excellence in teaching Thursday at Marquette Elementary School, 6550 S. Richmond St. Her family and colleagues surprised Brown with her award while her class was working in small groups. 
Brown is one of 10 teachers in Illinois to receive the honor, which is awarded to educators who have shown dedication to their students and school communities.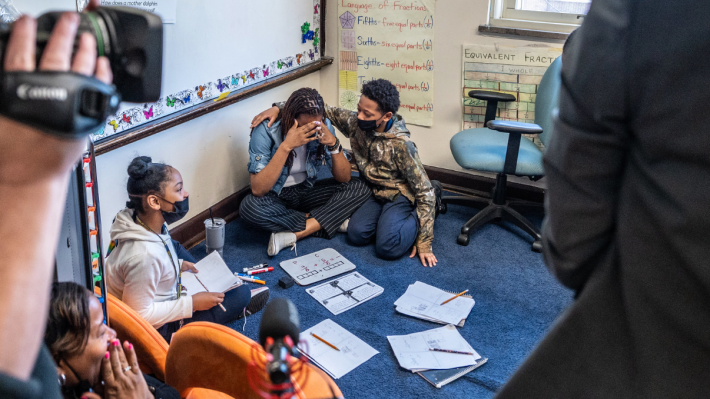 Brown cried while embracing her parents, husband, sons and students. She said it was "huge" to be able to share this moment with them and she's grateful for the sacrifices they each make that help her to be fully engaged in her job. 
"It was so overwhelming," Brown said. "My dad is here, which is huge; my mom and my sister are here; my kids are here. Just to see them all here and celebrate this with them is incredible." 
Brown was chosen to receive the award because she focuses heavily on problem-solving with her students with the understanding that the skills they're building will help them throughout the rest of their lives, according to a Golden Apple Foundation news release.
Winners receive a $5,000 cash prize and a spring sabbatical at Northwestern University where they can take courses for free, according to the Golden Apple Foundation. They're also inducted into the Golden Apple Academy of Educators, an organization that mentors the next generation of teachers. 
Brown hugged her loved ones and listened to her colleagues share the reasons she deserved the honor — and immediately asked when she'd be able to get back to work because she needed to set up an elaborate science lesson.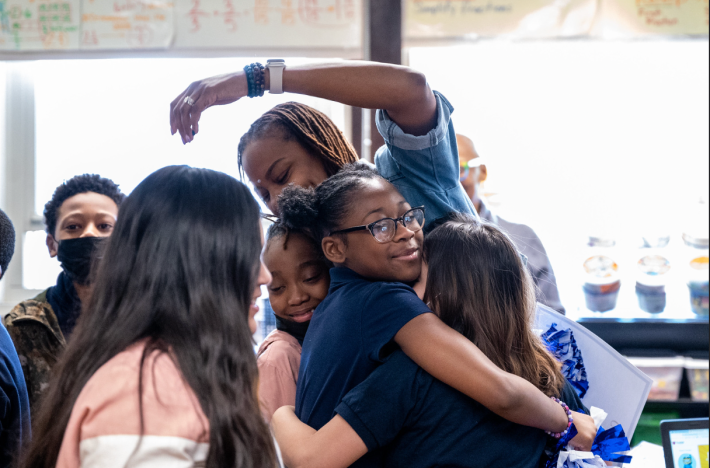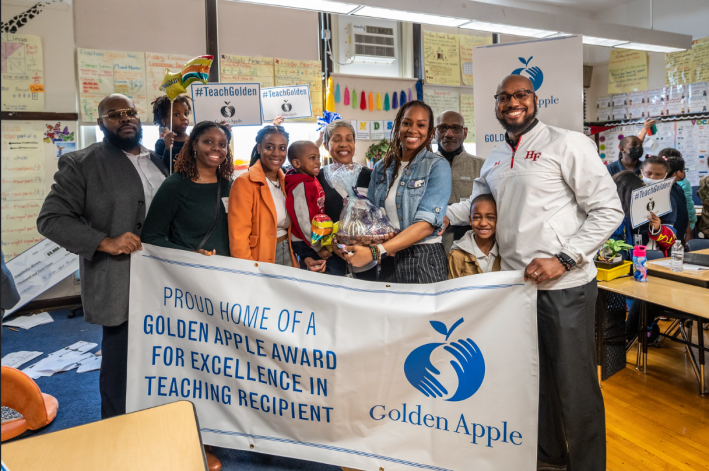 More than 570 fourth- to eighth-grade teachers were nominated for the prize, according to the Golden Apple Foundation. 
After teachers are nominated for the award, Golden Apple sends judges to the school to observe the classroom and conduct interviews with the teacher, students, parents and administrators, said Alan Mather, president of The Golden Apple Foundation. 
Robert Davis, a 2022 Golden Apple recipient and member of the team that selected Brown, said her application stood out because of the "warmth" he observed in all of her interactions with students, staff and parents. 
"So many wonderful things were said about her," Davis said. "The biggest thing we heard from the staff and administration was how she not only teaches her students, but also helps with teaching and uplifting the entire staff. Her presence extends beyond this classroom." 
During the selection process, Davis said a parent told the committee Brown was like a teacher to them, as well, and helped them to become a better parent. 
"When individuals say things like that, you have to recognize that she's more than a math teacher who does a math problem," Davis said. "She's a teacher who's saying, 'Let me teach you about life. Let me teach you how the world works. Let me give you the confidence you need to be to be successful.' You can't pass on an individual like that.
"It's great to see people who work hard and very rarely get recognized receive this opportunity."
Brown has taught fourth grade at Marquette Elementary School for about seven years. She said everything she does each day is for her students. 
"I couldn't do this without them," Brown said. "Sharing this moment with them is great. They don't get to choose what schools they go to, and they deserve the best. I always say to them, 'w'Whatever I'm bringing to you today, match my energy.' That's the vibe that we share together." 
Listen to "It's All Good: A Block Club Chicago Podcast":