LITTLE VILLAGE — The city's interim police superintendent is recommending the officer who shot 13-year-old Adam Toledo in 2021 be fired due to numerous police rule violations.
The Police Board, an impartial body that handles police discipline, filed disciplinary charges against Officer Eric Stillman Monday, stating the officer should be discharged because of his use of unnecessary deadly force, engaging in a foot pursuit and not turning his body-worn camera on quickly enough.
The Civilian Office of Police Accountability (COPA) previously recommended that Stillman be fired, but former police Supt. David Brown objected.
Now, Interim Supt. Eric Carter has signed off on the disciplinary recommendation, which stated Stillman's use of deadly force "was not necessary to prevent death or great bodily harm from an imminent threat posed to Officer Stillman or another person."
Firing his weapon was also "not necessary" as Toledo "did not pose an imminent threat of death or great bodily harm to Officer Stillman or another person," according to the recommendation.
The board also ruled Stillman didn't engage in any de-escalation tactics before firing at Toledo as a last resort.
Additionally, Stillman violated rules by acting "inconsistently" with his training when he engaged in a foot pursuit and failed to alert the Office of Emergency Management, failed to wait for backup and separated from his partner, according to the disciplinary charges.
Tim Grace, Stillman's attorney, said there is no justification for firing Stillman. He said Toledo's death was a "tragedy" caused by an "the gang violence that is epidemic on our streets," not Stillman.
Stillman will present his case to the police board and believes his actions will be justified, Grace said.
"The members of the Chicago Police Department continue to work under amazingly difficult circumstances, yet still come to work each day to protect the citizens from the gun-wielding offenders who terrorize our City," Grace said in a statement. "The work of the men and women of the Chicago Police Department should not be ostracized but rather given the appropriate amount of appreciation that is deserved."
Toledo's family is "relieved and grateful" to hear Stillman may be fired, they said in a statement. The family hopes it will spur the police department to make steps to ensure similar tragedies don't happen in the future.
"Firing Eric Stillman will not bring our Adam back but will take us one step closer to Justice for Adam," the family's statement read. "This brave decision will send a much-needed message to the Chicago Police Department that its officers must respect the sanctity of human life and strictly follow CPD's policies and training while doing their job."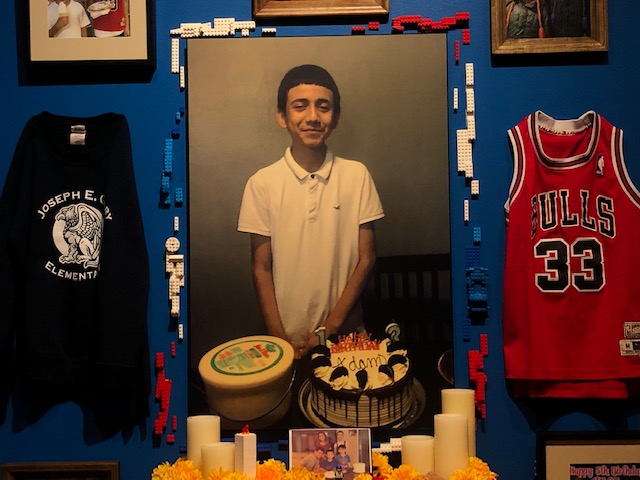 Last year, Cook County State's Attorney Kim Foxx declined to press charges against Stillman. Foxx said there was no evidence Stillman acted "with criminal intent."
Toledo's death sparked national controversy and citywide protests, particularly after released body-worn camera footage showed the teen had his hands up before Stillman shot him.
The 13-year-old had snuck away from his home and family the night he was killed, March 29, 2021. It was days before the Police Department informed his family about his death, with officials saying it was because they had problems identifying the boy.
Graphic video footage of Stillman shooting Toledo was publicly released in April 2021, leading to marches in the city. Little Village activists called for Stillman to be charged with murder.
Body-camera footage from the shooting shows Stillman — a 10th District tactical unit officer — chasing Toledo through an alley, yelling at the teen to stop. In the video, Stillman catches up to Toledo, who appears to have stopped running near a gap in a fence between the alley and a church parking lot.
Video from a different angle appears to show Toledo tossing a gun behind the fence moments before he was shot.
Stillman flashed a strobe flashlight at Toledo and said, "Hands! Show me your f–king hands!"
Immediately after commanding Toledo to show his hands, Stillman shot the boy at close distance. Toledo's hands were raised when he was shot, the footage shows.
The Police Department revised its foot chase policy after the killings of Toledo and Alvarez, but the changes have been criticized.
Subscribe to Block Club Chicago, an independent, 501(c)(3), journalist-run newsroom. Every dime we make funds reporting from Chicago's neighborhoods.