DOWNTOWN — Imagine a six-flat with a "vertical greenhouse" at its core to connect neighbors and let in sun during the winter. Or a three-flat that devotes its yards to native plants and animals.
These ideas and others were put on display Tuesday night at the Chicago Architecture Center, 111 E. Wacker Drive, where the city asked architects to come up with affordable housing ideas as part of its Come Home competition.
The competition was created to drum up ideas for filling "missing middle density" housing in Auburn Gresham, Bronzeville, East Garfield Park, Englewood, Humboldt Park and Woodlawn, according to a Chicago Architecture Center news release. The designers' ideas were meant to fit the needs of Chicagoans — but to also be modern, walkable and address blight from vacant lots.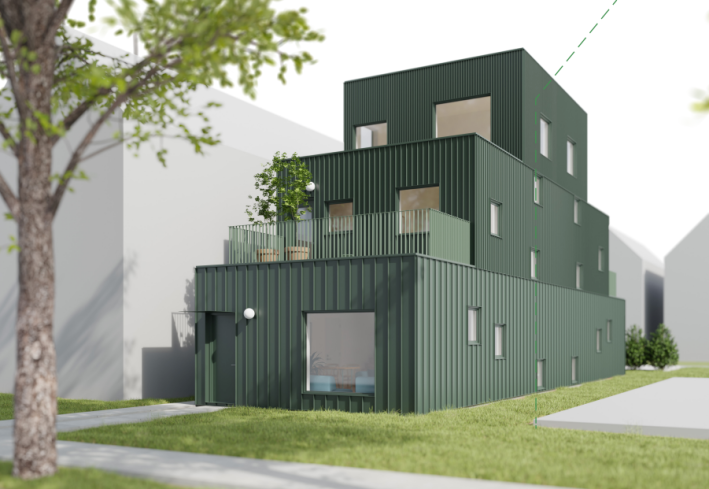 Ultimately, officials also hope the competition — and the homes built from it — can create a path to home ownership for more Chicagoans.
Designers were asked to propose ideas for reimagined two- and three-flats, rowhouses and six-flats, according to the Chicago Architecture Center. The city will use some of the ideas to build 30-100 affordable housing units on vacant lots.
Maurice Cox, commissioner of the Department of Planning and Development, said the project comes at the right time, as more investments in the South and West sides are coming.
"The city still has thousands of vacant lots," Cox said. "We think that with initiatives like Come Home, we finally found a way to unleash their potential. We know that the demand for growing the neighborhood is there.
"I'm so excited because having this level of quality and innovation … is a game changer."
The designs of 42 architects and their groups were shown at the Tuesday event, and they'll remain on display. Anyone can see the proposals at the exhibition through March 26 at the Chicago Architecture Center. Chicagoans can give feedback on the designs online.
The city is expected to choose the winning designs for the affordable housing units by the end of March.
Architects at Tuesday's event said they sought flexible approaches to expand homes, make the most of vacant space, incorporate the community into their design and ensure they'll create a positive long-term impact.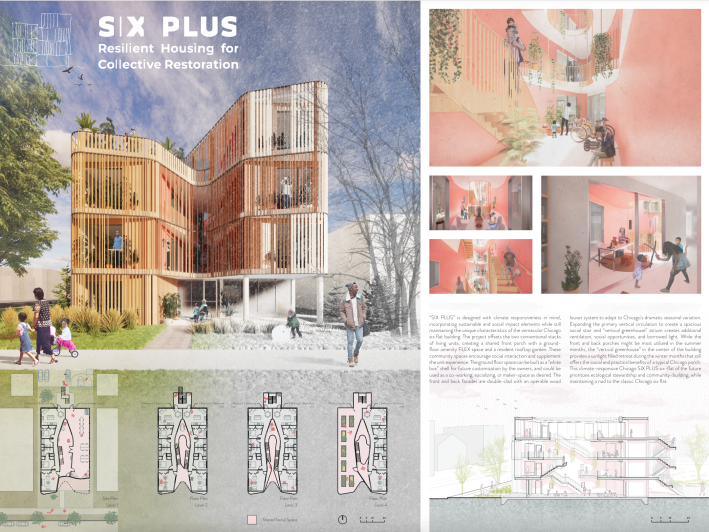 Jaime Torres Carmona, founder and principal designer of the Canopy firm, said his Six Plus six-flat proposal calls for creating a "vertical greenhouse" within a typical Chicago six-flat to foster a sense of community among residents.
"The legacy that Chicago has is that it's a very forward-thinking city," said Carmona, who grew up on the West Side. "It's not just about having a beautiful-looking building. A project like this can create a ripple effect that helps everyone."
Carmona's six-flat design would have a shared front porch and a rooftop garden. The ground floor could be used for socializing, coworking or as a "maker-space," and the exterior would have wood slats "to adapt to Chicago's dramatic seasonal variation," according to his presentation.
The plan would also have a "spacious social stair" connecting the units with an atrium — the greenhouse — that would be filled with sun.
Tatiana Bilbao brought her six-flat design, Home Game, from Mexico City. She said she sought to subvert the traditional design of six-flats by designing the rooms to all be the same, so residents could use them for any number of reasons. 
"For us, it's important to try to challenge architecture, which holds a very organic thing, which is life," Bilbao said. "Life is an ever-changing process."
Bilbao's proposal shows a building with large windows, open rooms and plants on the rooftop.
The goal of the competition is to get new residents in the neighborhoods — but also to keep the ones living there and attract former residents.
The competition and its focus on building up to 100 affordable housing units is part of the Invest South/West Initiative, which Mayor Lori Lightfoot has championed. Though she lost her reelection bid, this initiative will continue, Cox said.
"There are billions of dollars in the pipeline for this," Cox said. "It's difficult to imagine that being undone. I think the amount of community ownership and expectation is intense."
Listen to "It's All Good: A Block Club Chicago Podcast":