LOGAN SQUARE — Ald. Carlos Ramirez-Rosa sailed to victory Tuesday in the race to represent the 35th Ward, securing another term in City Council.
Ramirez-Rosa ran unopposed after his lone challenger, Richard Mpistolarides, fell five signatures short of what was required to make the ballot, according to a Chicago Board of Election Commissioners ruling.
The 35th Ward includes parts of Logan Square, Avondale, Hermosa, Irving Park and Albany Park.
Tuesday's results sealed Ramirez-Rosa's third term in City Council.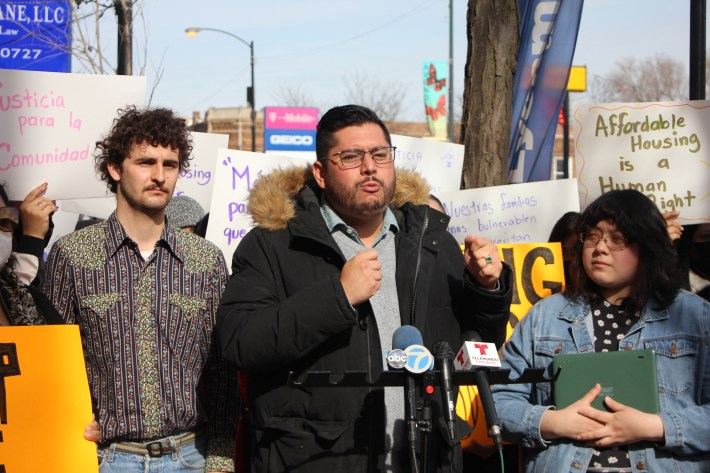 Ramirez-Rosa is chair of City Council's Democratic Socialist Caucus and a member of the LGTBQ, Latino and Progressive caucuses.
As alderperson, Ramirez-Rosa has prioritized anti-gentrification measures, such as affordable housing projects to combat gentrification-fueled displacement and a community-driven zoning process, which gives residents more say in what gets developed in the ward.
Ramirez-Rosa is also known for publicly sparring with controversial landlord Mark Fishman, the most well-known property investor in Logan Square.
The feud played a role in the 2019 election.
Fishman donated around $100,000 to challenger Amanda Yu Dieterich, hoping to knock Ramirez-Rosa off the ballot. Ramirez-Rosa, however, emerged victorious, winning 59 percent of the vote over Yu Dieterich's 41 percent.
Ramirez-Rosa's entry into City Council in 2015 was one of the biggest triumphs of that election cycle. When he easily defeated longtime Ald. Rey Colon, he became one of the youngest alderpeople and first openly gay Latino to be elected to the city's legislative branch.
This year's election cycle was far less dramatic for Ramirez-Rosa.
Mpistolarides, Ramirez-Rosa's sole challenger, was booted from the ballot in January after the Chicago Board of Election Commissioners found that one of his volunteers, John Gorges, listed his address in the 35th Ward even though he has not lived there in two years.
The false address meant all 306 signatures Gorges collected were invalidated. That left Mpistolarides with 468 valid signatures, five below the minimum requirement of 473, according to the ruling.
Listen to "It's All Good: A Block Club Chicago Podcast":