LOGAN SQUARE — An effort hatched by community groups several years ago to fight displacement in gentrifying Logan Square and Hermosa with nonprofit-run affordable homes is picking up steam.
The Here To Stay Community Land Trust — a nonprofit created by the Center for Changing Lives, Palenque LSNA, LUCHA and Spanish Coalition for Housing — was awarded $5 million in state funding to scale up operations, organization leaders announced this week.
The dollars, which come from the American Rescue Plan, will allow the land trust to buy and fix up more properties, furthering the nonprofit's mission of slowing gentrification-fueled displacement in the Logan Square area, according to the organization.
The funding comes as the group is growing its portfolio. The land trust recently acquired homes at 2430 N. Artesian Ave. in Logan Square and on Kilpatrick Avenue in Hermosa. A 30-year homeowner donated the Artesian Avenue property to the group.
They are the second and third homes being developed and sold under the nonprofit. The group sold its first home — near The 606's Bloomingdale Trail and Central Park Avenue — to a young couple last summer after years of planning.
RELATED: This Couple Bought An Affordable Home Near The Bloomingdale Trail Thanks To Logan Square's New Community Land Trust
"There's a narrative around gentrification that it's inevitable. But what what I feel like a model like this demonstrates is that we don't have to go down this path. We have alternatives, as we long as we can put together our brain trust … we can make a difference," said state Sen. Cristina Pacione-Zayas, who grew up in Logan Square.
Pacione-Zayas was joined by state reps. Will Guzzardi and Lilian Jiménez, state Sen. Omar Aquino, U.S. Rep. Delia Ramirez and Ald. Daniel La Spata (1st) at a news conference Monday morning to announce the funding.
The Northwest Side politicians and nonprofit leaders took turns praising the growing community land trust — and the many people behind it — at the event, held in front of the Artesian Avenue home.
"For the past 15 years, Logan Square has been on the front lines of gentrification and displacement," Guzzardi said.
"Today, we're on the front lines of something new: a new vision of community ownership, a vision that understands housing not just as a commodity from which we should extract as much profit as possible, but housing as a basic human right, as a fundamental need, as something that everyone in our community deserves."
The Here To Stay Community Land Trust uses subsidies and other funding sources to buy properties and sell them to families at a deep discount.
The land trust can do that because it's only selling the building. Under a unique arrangement, the buyer leases the land from the community land trust.
For instance, the nonprofit put the home near The Bloomingdale Trail on the market for $271,000, far less than its appraised value of $435,000.
RELATED: These Groups Are Trying To Slow Gentrification In Logan Square And Hermosa — One Affordable Home At A Time
The nonprofit's goal is to help families struggling to afford homes in Logan Square and Hermosa stay on the Northwest Side. Logan Square has lost more than 20,000 Latino families since 2000. Meanwhile, the neighborhood's white population has grown by more than 12,000. Community leaders fear Hermosa isn't far behind.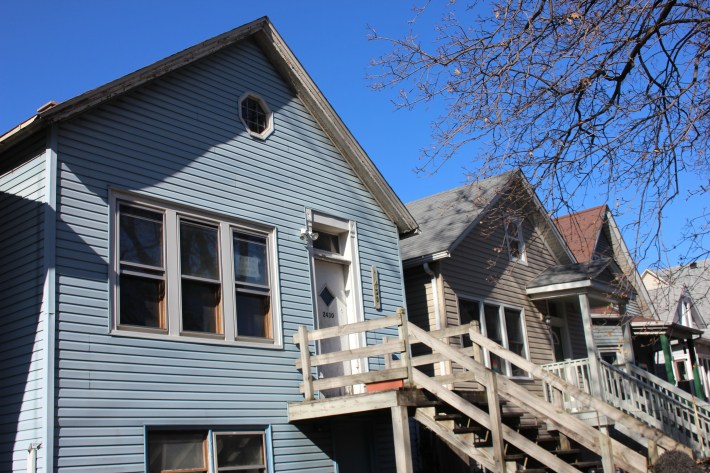 Jiménez said her uncle, who bought a home in nearby Humboldt Park in the '60s, regularly gets letters in the mail from people wanting to buy his property.
"He says, 'I don't want to see this house torn down. This is where my kids were raised.' … This is where he still grows gandules in the backyard," Jiménez said.
"I'm here because this is who we're fighting for: We're fighting for our tíos, our family members, our neighbors, to have the right to stay in place if they choose to."
La Spata said the Chicago Housing Authority, which has come under fire for leaving public housing units empty, should look to the community land trust as a model for building and maintaining affordable housing.
"To our friends at the CHA — you have vacant, single-family homes in the 1st Ward that you've been sitting on for a year and a half that are slated for disposition or sales. We've got a land trust that has $5 million in new funding. … Let's have a conversation," La Spata said. "You've got a problem in search of a solution, and we're ready to be that solution."
The land trust plans to fix up the Artesian Avenue property and put it on the market this summer, nonprofit leaders said. An open house for the Kilpatrick Avenue home is planned for this month.
For more information about the community land trust, and to learn how to get involved, visit the nonprofit's website.
Listen to "It's All Good: A Block Club Chicago Podcast":