BELMONT CRAGIN — Ruben Olivares connected thousands of neighbors with vaccination appointments and healthy food through his work at Belmont Cragin-based social services organization Northwest Center.
Olivares also organized around public safety, advocating for Belmont Cragin residents who worried about crime, his friends and colleagues said.
Now, the community is rallying to help Olivares' family after he was fatally shot in front of his Humboldt Park home in January.
Northwest Center leaders launched a GoFundMe to support Olivares' wife and their two children, 7 and 4. It's raised more than $13,000 as of Thursday.
The 20-year-old community organization aims to support Belmont Cragin residents through housing counseling, financial literacy programs and community activism.
Community issues "were the things [Olivares] cared about, and public safety was top of mind for him," said Nancy Valentin, director of Health Equity for Northwest Center. "To lose him this way is really hard."
The shooting happened about 6:45 p.m. Jan. 18 in the 3200 block of West Cortez Street, according to police and Valentin, who spoke to Block Club on behalf of the Olivares family.
Olivares' family declined to comment.
Olivares arrived home after making a last-minute cake at La Canasta Bakery, 3575 W. Armitage Ave., Valentin said. On top of community organizing, Olivares helped run La Canasta, one of his mother's bakeries. His mother also owns La Luna Bakery, 5019 W. Fullerton Ave., where Olivares worked for years before taking over La Canasta.
Olivares got home about five minutes after his wife and two kids, Valentin said. When he went back to his car to get something, his wife heard about eight shots ring out, Valentin and police said.
Olivares was in a dark gray car when a drive-by shooter pulled up and fired shots at him, police said.
Olivares' wife called her husband and said, "Hey, be careful; there's shooting." Olivares replied, "Call the ambulance," Valentin said.
Olivares was rushed to the hospital in critical condition and treated for a gunshot wound in his leg, which struck a major artery, Valentin said. He died from his wounds five days later, police said.
Olivares was shot just a few days before his family was planning to move into a house they bought on the Northwest Side, coworkers said. He died on his wife's birthday and one day before his 37th birthday.
Police didn't offer a motive in the shooting, which has devastated Olivares' circle of family, friends and coworkers.
Police had no description of the shooter and no one in custody as of Wednesday, they said.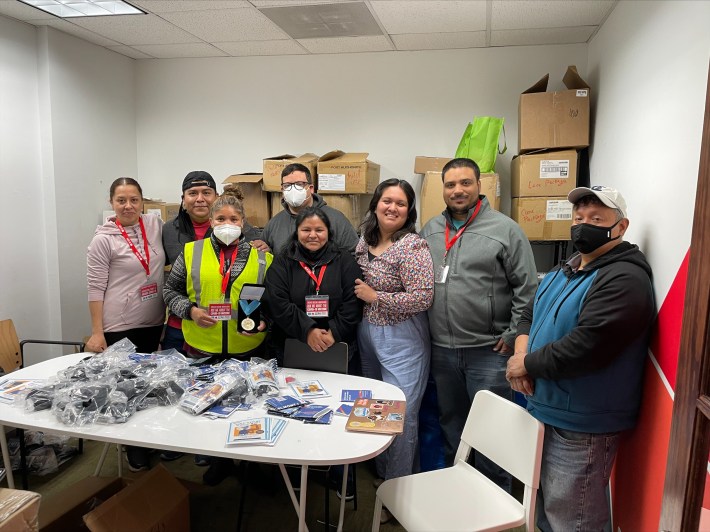 Olivares worked at Northwest Center for about three years, Valentin said.
He started as a volunteer in early 2020, distributing masks and sanitizer to residents, Valentin said. He was hired as a contract worker, helping to move forward the city's Protect Chicago vaccine distribution program, according to organization leaders. He later became Health Equity program manager.
In that role, Olivares was part of a team of workers that does community outreach around COVID-19 vaccinations, food access and public safety. He was a natural fit for the job, always willing to lend a hand to colleagues and residents in need and mentor younger staffers, organization leaders said.
Olivares was also a skilled community organizer who boosted attendance at one vaccination clinic by more than 200 people, Valentin said.
"He was able to [increase] those numbers by being diligent, training the team to connect with residents and, even when they weren't ready, give them the resources so they could make decisions on their own," Valentin said.
At Northwest Center and in his personal life, Olivares was "a genuine, loving, thoughtful, sincere, and admired person by his community and all those who shared a moment with him," organization leaders wrote on the GoFundMe.
"When I think of Ruben, I think of his smile," Executive Director James Rudyk said. "When we talked about him as a team, every single person said how helpful he was. Whether he was helping someone bringing in boxes or anything else, he was just the epitome of helpful."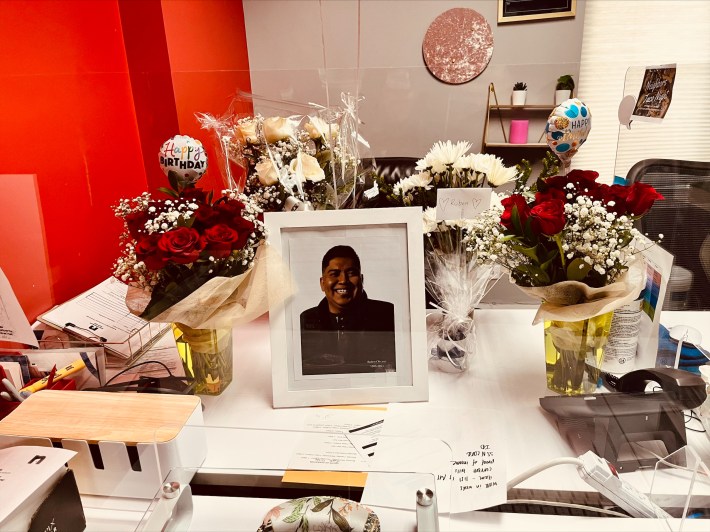 All of the money raised through the GoFundMe will go toward Olivares' family's mortgage payments and living expenses. Olivares was the family's sole provider, Valentin said.
Valentin said they're immensely grateful for the support the community has shown.
Olivares "was incredibly selfless. He centered his world around his daughters and his wife," Valentin said. "I hope wherever he is, he knows how loved he was and that people are not hesitating to jump in and help his family during this time."
Listen to "It's All Good: A Block Club Chicago Podcast":