ENGLEWOOD — Norfolk Southern Railway is taking over several South Side streets and alleys to continue its rail yard expansion after the City Council approved a long-delayed ordinance Wednesday.
The ordinance grants the company oversight of the streets and alleys between Garfield Boulevard and 59th Street and between Stewart Avenue and Wallace Street.
Mayor Lori Lightfoot introduced the legislation in July. Ald. Jeanette Taylor (20th), whose ward includes the land, blocked the measure for months, most recently at a January City Council meeting. 
Taylor voted in favor of the ordinance Wednesday, saying Norfolk Southern Railway finally agreed to meet some of the community's demands.
At a January community meeting, neighbors demanded the railway hire locally. Norfolk Southern has employed 50 residents since 2014 from South Side ZIP codes including Englewood, Auburn Gresham and Hyde Park. But only five employees from those areas "were actively employed as of November 2022," said Herbert Smith, director of government relations at Norfolk Southern. 
Norfolk Southern should also address environmental hazards and fix dilapidated streets caused by the weight of the company's trucks, neighbors said.
Taylor blasted the company for getting "rich off the backs of slaves" but not previously committing to "giving this community the little things they're asking for." 
"Now I ain't start this fight, but I'm good at finishing," Taylor said Wednesday. "… Norfolk Southern and the city have agreed to the terms that the community are asking, and that's all I was asking for… I'm only voting 'yes' because somebody made me keep my word, and I promised this community that I will fight for it and stand up for it, and they're OK with it, so I'm OK with it."
It is not clear Norfolk Southern committed to any of those asks, however.
In a letter obtained by the Tribune, Norfolk Southern officials did not mention doing an environmental study, listed no commitments on hiring and said railroads are monitored by federal, not city, officials. The letter was sent to Ald. Howard Brookins (21st), chair of the council's transportation committee.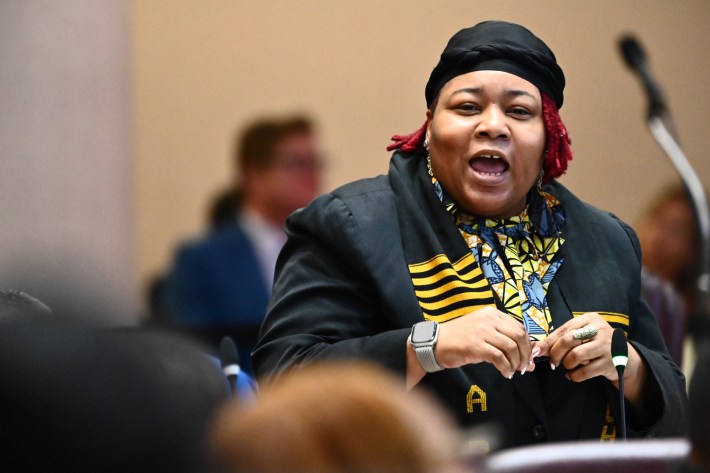 Norfolk Southern Railway has been working in "phases" since 2013 to build and expand its 47th Street rail yard, the company's largest in Chicago. Now that the ordinance has passed, the company will move forward on its third phase to construct a truck trailer parking lot between Garfield Boulevard and 59th Street. 
Norfolk Southern began its effort to acquire South Side land in 2008. The Virginia-based company began quietly buying up private homes and tearing them down to make way for the 84-acre project. Company officials have said the expansion is needed because Chicago is a critical juncture for freight transportation.
Mayor Rahm Emanuel's administration sold 105 vacant, city-owned lots for $1.1 million to the railway company from Garfield Boulevard to 61st Street and Wallace Street to Stewart Avenue.
That section of land once housed hundreds of residents whom the rail company bought out or forced out using eminent domain to clear the land. "The Area," a 2018 documentary created by sociologist David Schalliol, followed Englewood residents who tried to stop the company's efforts for six years.
A redevelopment deal signed that same year gave the railway company oversight to shut down streets and alleys between the land the company owns. The company can permanently shut the streets to traffic as long it follows city guidelines. 
In 2014, the city agreed to a land swap with the company and acquired a 1.7-mile abandoned rail line in exchange for more city-owned land near the railway's 63rd Street yard. That rail line north of 59th will now be the future home of the Englewood Trail.
The redevelopment deal was signed before Taylor was in office, she said Wednesday. She's "ashamed" someone signed the agreement without setting any requirements for the betterment of the community, Taylor said. 
"There is no way in the world they're set up in the middle of a Black and Brown community, and they do the bare minimum," Taylor said. "And I'm almost ashamed and embarrassed that somebody would sign off on some crap and did not do any follow through because they did not make sure people got jobs in the community. They did not make sure they were going to do hiring fairs. They did not make sure that the Black folks from that community got that contract. What does that say about us?" 
Brookins praised Taylor for her "tireless advocacy."
The 47th Street rail yard expansion is a $100 million project, Brookins said. Norfolk Southern Railway has only spent $15 million so far, Brookins said. 
"I'm sure Ms. Taylor will make sure that this $85 million that is yet to be spent, that Norfolk Southern will do right by our communities in hiring and letting people know," Brookins said. "This is a great project and a much-needed project for the vitality of the city of Chicago in getting…train traffic in and out and around our city."
Subscribe to Block Club Chicago, an independent, 501(c)(3), journalist-run newsroom. Every dime we make funds reporting from Chicago's neighborhoods.
Click here to support Block Club with a tax-deductible donation. 
Thanks for subscribing to Block Club Chicago, an independent, 501(c)(3), journalist-run newsroom. Every dime we make funds reporting from Chicago's neighborhoods. Click here to support Block Club with a tax-deductible donation.
Listen to "The Ballot: A Block Club Chicago Podcast":