EDGEWATER — A development firm has unveiled its proposal for an all-affordable apartment building on a city-owned lot on Broadway — though it needs city leaders to sign off on the plan.
Bickerdike Redevelopment Corporation this week showed neighbors refined plans for its proposed development at 5853 N. Broadway, which houses a Streets and Sanitation depot.
The project would replace the yard with an 11-story building with 90 affordable apartments. The apartments would be comprised of 35 one-bedroom, 40 two-bedroom and 15 three-bedroom units, Bickerdike CEO Joy Aruguete said at a community meeting Tuesday.
The three-bedrooms would include two bathrooms, while the other units would have one bathroom.
There would be 19 parking spaces, Aruguete said, with the development qualifying for a reduction in required parking because it's close to the Red Line. The building would also have 90 bike parking spots.
Building amenities include a third-floor terrace, on-site management offices and ground-floor meeting rooms. There would also be solar panels on the roof and the terrace.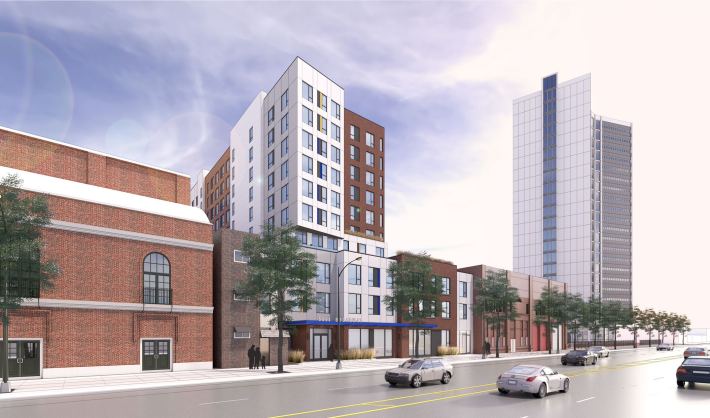 Apartments would be considered affordable to households making 60 percent of the area median income. That comes out to $43,600 in yearly income for a one-person household and $56,280 for a three-person household.
"This is really serving the people," Aruguete said. "People who clean your house, people who teach your kids."
The proposal was first announced publicly in December 2021. An early version estimated the building could be 12 stories and include as many as 94 apartments and 35 parking spaces.
The project has been fine-tuned after talks with city officials. Design changes after city input include a building setback from the sidewalk after three stories plus a modified facade that uses multiple textures and finishes.
The firm plans to apply for city funding for the project this summer and then zoning and development approval in the fall, Aruguete said. If all goes well, the project could break ground in summer 2024.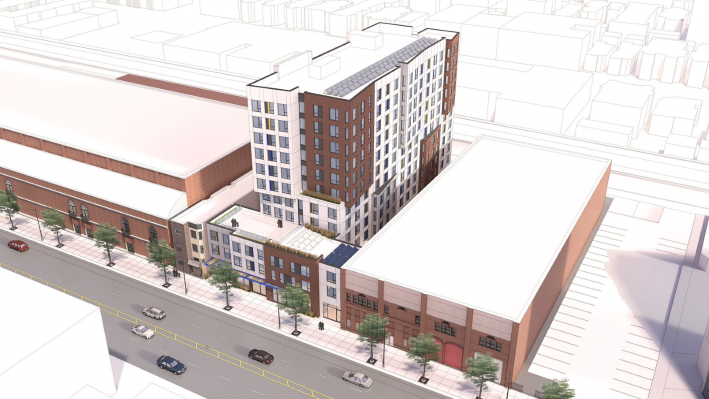 The Streets and Sanitation depot on Broadway has seen reduced operations after workers and trucks moved to other yards, including one on Ravenswood Avenue, Ald. Harry Osterman (48th) previously said.
With a need for affordable housing in the area, Osterman said the city-owned lot would make a good site to add apartments. The property's location next to the Broadway Armory park facility makes it even better suited for housing, officials said.
Osterman sought out the help of Bickerdike, a prominent affordable housing developer that just delivered an all-affordable project on a formerly city-owned parking lot near the Logan Square Blue Line station.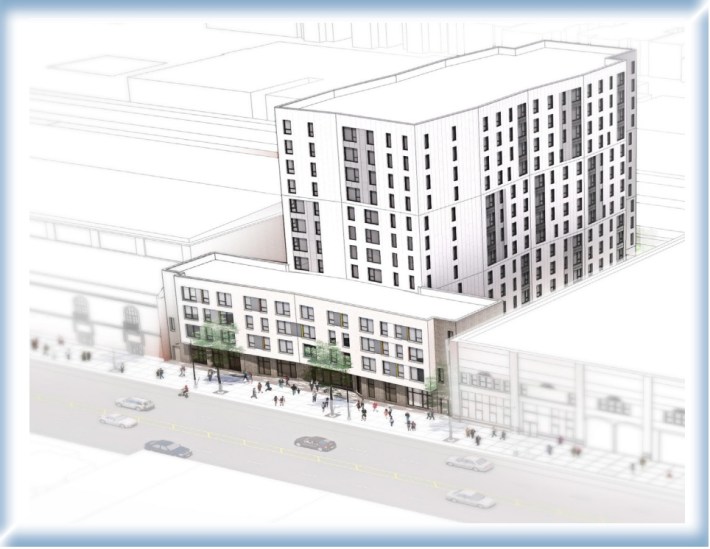 Bickerdike officials fielded questions about their Edgewater proposal at Tuesday's community meeting, including residents asking about adding more family-sized apartments.
Aruguete said the greatest demand "by far" that Bickerdike sees is for one- and two-bedrooms.
"We think this is going to speak to what the demand is," she said.
Osterman, who is retiring this spring, said he is using his last months on the job to move the affordable housing project forward.
"I am deeply invested in seeing this project through," he said at the meeting. "Thing are on track."
Listen to "It's All Good: A Block Club Chicago Podcast":