NEAR WEST SIDE — University of Illinois Chicago faculty members went on strike Tuesday as hundreds of supporters joined a rally on campus to support their push for higher pay and more job security.
About 300 members of UIC United Faculty formed picket lines on campus Tuesday, spokesperson Charitianne Williams said. The union has been without a contract since August and began their walkout after a 12-hour negotiating session with university leaders over the weekend failed to resolve outstanding issues.
The union represents about 800 professors. It does not include faculty at the Colleges of Medicine, Dentistry and Pharmacy, and the School of Law.
"We started bargaining this contract back in April, and we've made some progress since then. But we have not won yet," union president Aaron Krall said.
It was not immediately clear how many classes were affected by the strike. University leaders said students were told to check Blackboard and email for information on canceled classes. Students should attend classes and labs if they've not been notified of cancellations, school officials said.
UIC enrolls 34,000 students, almost 22,000 of which are undergraduates.
Union members have encouraged students to join in their demonstrations and work on previously assigned readings.
The union and university leadership are scheduled to return to the bargaining table Wednesday.
In a statement, interim UIC Chancellor Javier Reyes and Karen Colley, acting provost and vice chancellor for academic affairs, called the strike "disappointing" and "not in the best interest of the university or our students."
"UIC values the faculty for their key role in upholding and championing the university's academic mission. Based on the shared principles between all involved, the university remains optimistic that a fair and beneficial bargaining agreement can be achieved," the leaders said in the joint statement.
Some of the outstanding faculty union demands are:
Higher minimum salaries
Salary increases that keep up with inflation
Learning disability assessments for students
Earlier reappointment notices for non-tenure track faculty
Due process for tenure track faculty
Union members also want a three-year contract versus the four-year agreement proposed by university leadership.
"We want to support our students. We want to support the staff. We want to support the mission of our university especially the mission for undergraduate education," Krall said.
Mayoral candidate Brandon Johnson, Chicago Teachers Union members, Ald. Byron Sigcho-Lopez (25th) and Rep. Lakesia Collins, whose district includes UIC, all attended the rally.
A key talking point was mental health of students on campus. Union leaders are pushing for expanded mental health resources on campus, such as free psychological assessments for students, according to bargaining documents.
"If we care about kids' academic success, if we care about their future, it is vitally important on this campus to have the mental health support and the other diagnostic testing and other support they need to thrive," said Randi Weingarten, president of the American Federation of Teachers.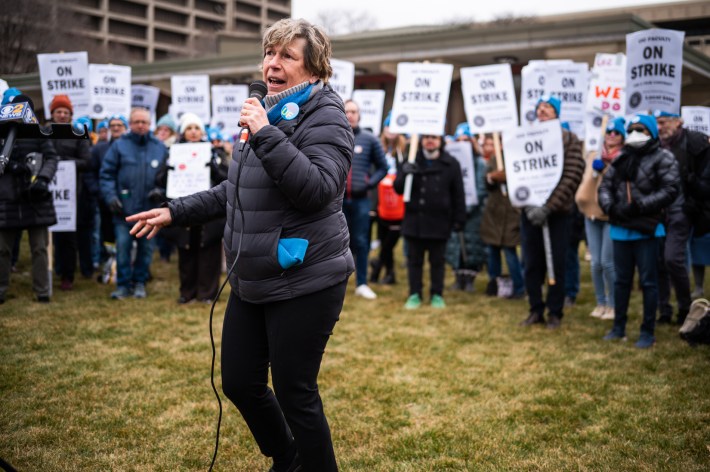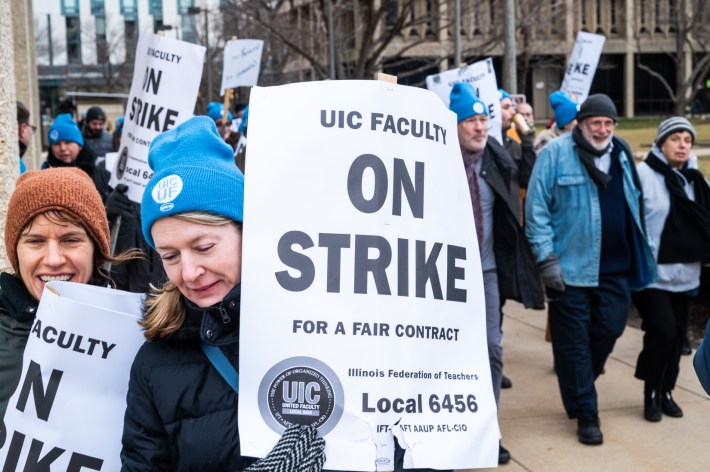 The university has committed to investing nearly $4.5 million over six years to boost student mental health services, Reyes and Colley said.
This would increase staffing at the university's counseling center, lead to salary enhancements for staff, the creation of a social work trainee field unit, the opening of a wellness drop-in space on campus and more.
UIC faculty nearly went on strike in 2019, following protracted negotiations that centered around similar issues, like pay raises and minimum salaries. The walkout was ultimately called off.
"We need to make sure that our non-tenure [faculty] has permanent employment," Collins said. "To know that you could be working here for 15 years and not know if you will have a job the next month? That's insane."
See more photos from Tuesday's rally: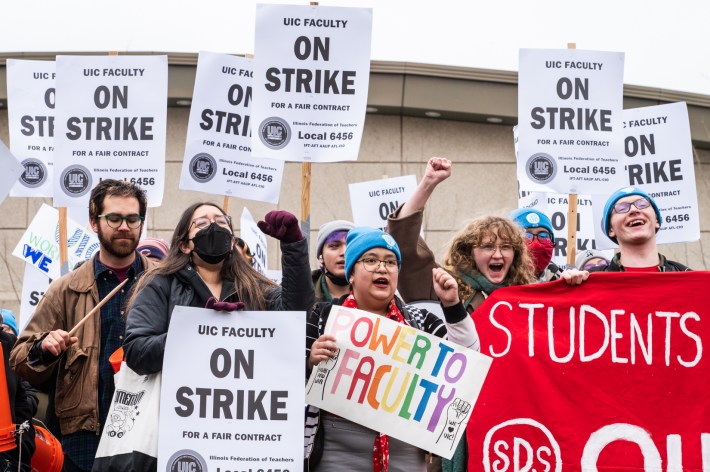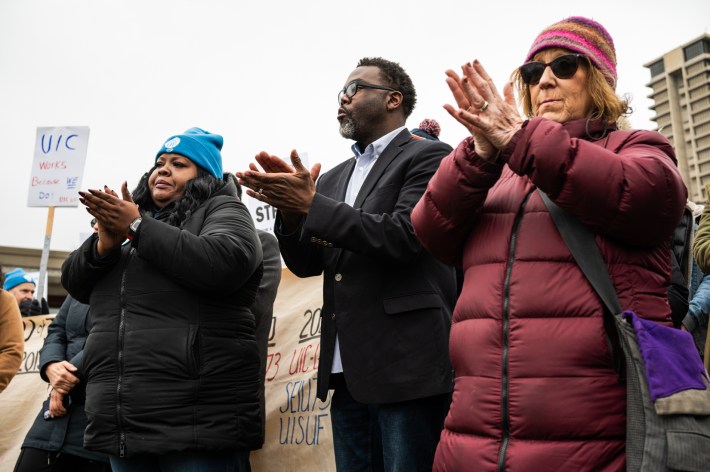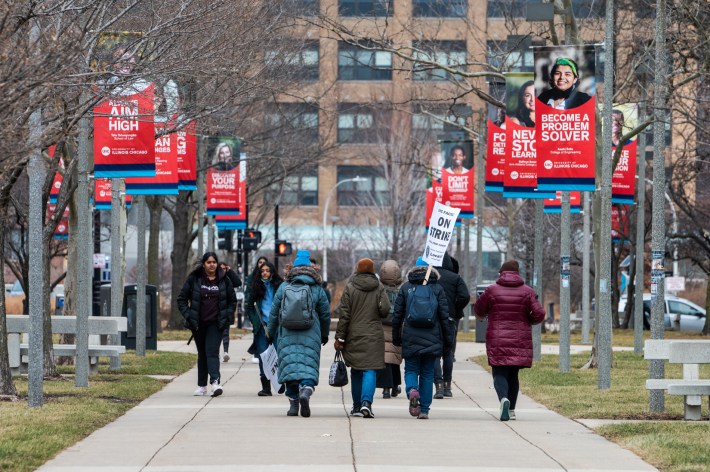 Listen to "It's All Good: A Block Club Chicago Podcast":