THE LOOP — The head of the CTA is blaming the transit agency's poor performance on New Year's Eve — when trains were free for late night revelers — on a huge number of workers calling in sick.
It's not unusual for CTA workers to "call off" on holidays, but the CTA has in the past been ready to replace them. But this year, with a shortage of train operators in the ranks, the CTA couldn't deliver the number of free trains it promised.
CTA President Dorval Carter Jr. on Friday told the agency's board "extremely higher than normal employee call-offs" were to blame for the New Year's Eve problems.
"Unfortunately, sometimes we fall short," Carter said. "There is no question in my mind that New Year's Eve was one of those times."
Friday's CTA board meeting was the first since the the agency's New Year's hangover. Members of the public teed off on the agency during the public comment section, saying they waited for trains that didn't show up.
The CTA promoted increased service on the Blue and Red lines on New Year's Eve, advertising free train rides sponsored by Miller Lite. Carter did not say how many workers called off, and CTA officials did not provide a number after Friday's meeting.
CTA worker unions, represented by Local 308 and Local 241, did not immediately respond to requests for comment. 
Carter said he would work with the unions and employees to come up with better ways to incentivize staff to come to work. Disciplinary measures could only go so far, considering the worker shortage, he said. 
"We have serious absenteeism that we have to deal with now," he said. "I can't fire employees. We don't have enough employees as it is."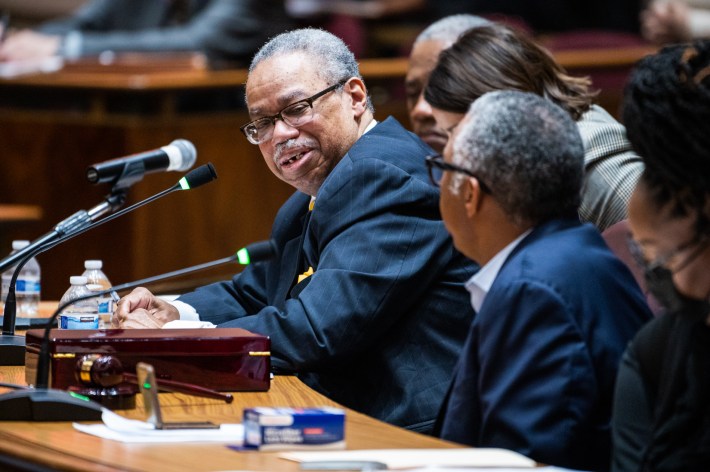 Olivia Gahan, who rode the train on New Year's Eve, said only one of four Blue Line trains scheduled to arrive between 11 p.m. and midnight showed up at her station.
Overall, Gahan said there were supposed to be 42 trains during the free hours on New Years Eve and only 19 of them showed up — a number CTA leadership did not dispute. Wait times stretched over an hour, she said.
"While we're sympathetic to the CTA workers shortage, it's also deeply disappointing for the continued inaccurate communication issued by the CTA staff," Gahan said. "This is incredibly frustrating. This was negligent. This was inaccurate information."
It is normal for lots of workers to call out sick on holidays, Carter said. The CTA usually has numerous part-time, back-up workers known as an "extra board" ready to jump in, but even that reserve workforce is severely depleted because of the CTA's broader shortage, Carter said.
The disproportionate number of call-outs, combined with the dwindled "extra board," compounded to create the New Year's Eve mess, he said. 
"We are operating very close to the margins," Carter said. "I am trying to both put out a level of service that is within the constraints of the workforce that I have, but recognizing that in order for that to work, my workforce has to show up."
The issues on New Year's Eve were emblematic of larger problems facing the city's transit authority, which has been struggling to meet service demands as it deals with a severe worker shortage.
Although Carter said that the CTA has made significant improvements in its schedule in recent months, including reorganizing arrival times to prevent "ghost" trains and buses and hiring more than 400 new workers, the problems and complaints persist.
The CTA only delivered 75 percent of its planned rail service, and 83 percent of its bus service in December, down from the previous two months.
Carter blamed a pre-Christmas cold snap that impacted service, as well as chronic employee absenteeism, especially on the holidays. 
"December service delivery fell short in comparison to the steady progress that we've seen in previous months," Carter said.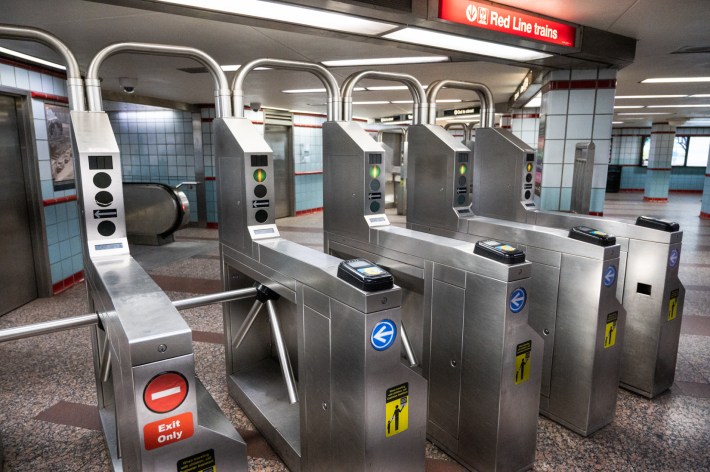 The transit authority has worked tirelessly to try to reduce unexpectedly long wait times on buses and trains, in particular by spreading out route schedules, Carter said.
While fewer trains and buses will run during rush hour, he said wait times will decrease during non-peak hours. He said initial data from the first week of changes on about 50 bus routes has shown that they have helped eliminate "ghost" buses, delivering on about 90 percent of expected routes, he said.  
Rider Rachel Cohen said she often had to wait for five to six Blue Line trains during rush hour because they were so crowded. Her partner recently waited 45 minutes for a train.
"Every stop in the Blue Line is absolutely packed from the hours of eight in the morning till nine in the morning…and then again, from four to six," Cohen said. "It's gotten to the point where if I can't get out of work before four, I stay until seven because I know that I'm going to get home at the same time. This is a huge problem."
The resident-led Commuters Take Action group has tweeted and retweeted numerous complaints from riders about overly crowded trains, long wait times that force them to miss connections, no trains showing up or scheduled trains disappearing from trackers.
While the seven-member transit board, which has four members appointed by the mayor and three by the governor, was largely supportive of Carter, they did push to hear more about solutions to the service and worker issues. 
Carter told the transit board that he understood rider complaints, and that providing service while also dealing with the worker shortage was a tricky balancing act. He said that "the easy solution" to the worker shortage would be to simply cut service. But he also didn't want trains to get more crowded than they already were. 
"Finding the sweet spot between those two issues is not easy. It is not a science. It is an art," Carter said. 
The CTA has received more than 1,000 bus driver applications in recent months, Carter said, and he vowed scheduling would continue to improve, along with bus and train tracking technology. 
"As we get our workforce back, I am putting our service back," Carter said. "This is not a service cut."
Watch our "On The Block" TV show on The U, CW26 and MeTV.
Listen to "It's All Good: A Block Club Chicago Podcast":