RIVER NORTH — After more than 20 years Downtown, Rock Bottom Brewery suddenly closed Sunday night without explanation.
A sign on the door of the craft brewery and restaurant at 1 W. Grand Ave. confirmed it was closed. "Thank you for the many great years of support we will closing this Rock Bottom location 1/8/2023," it read.
Reached by phone, general manager Jon Jones said he could not say why the restaurant closed.
"We just decided to close," Jones said.
Jones referred Block Club to the restaurant's hospitality group SPB Hospitality for more information. The hospitality group could not immediately be reached for comment.
Before craft breweries were more prevalent, tourists and locals alike flocked to Rock Bottom for its sprawling beer list, which featured craft brews that couldn't be found elsewhere.
Goose Island had already opened a brewpub by then, but big Chicago names like Half Acre and Revolution were still years away.
With multiple levels, including a rooftop deck, Rock Bottom was a destination for beer fans looking for something different. In 2003, it also was home to the first Festival of Wood & Barrel Aged Beer, a nationally renowned event known as FOBAB that now attracts thousands to UIC's Credit Union 1 Arena.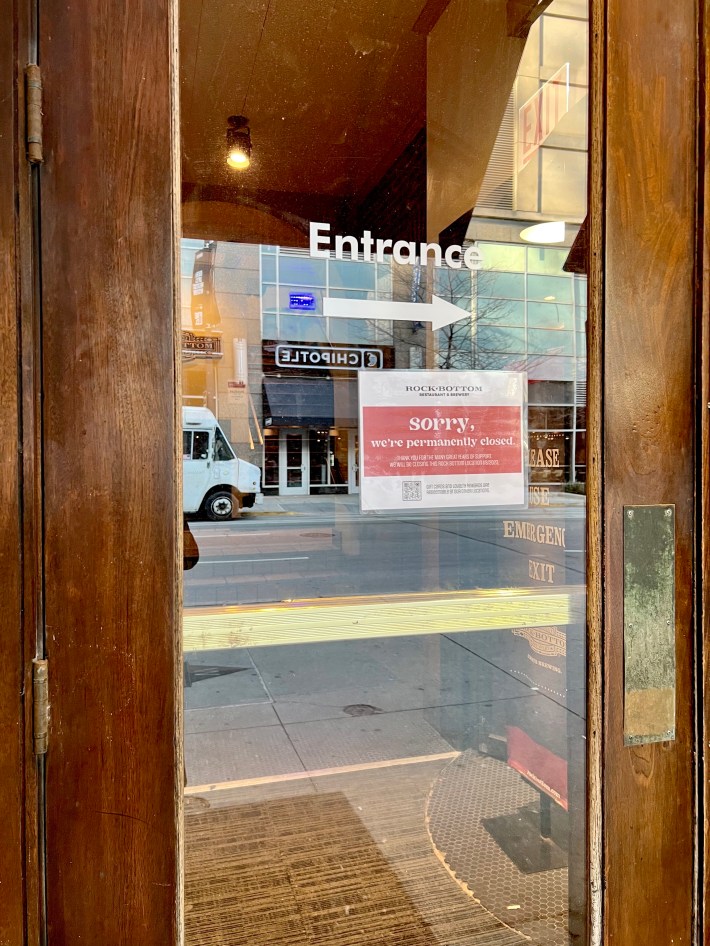 The Downtown closure comes after Rock Bottom closed locations in Milwaukee and Minneapolis late last year.
In 2020, Craftworks Holdings, the previous parent company of Rock Bottom, filed for bankruptcy. The company previously said the move was an "effort to reduce debt" and "better position" its breweries and restaurants for "long-term growth," according to a 2020 press release.
At the time, the parent company owned 338 restaurants, including chains Logan's Roadhouse, Old Chicago and Gordon Biersch.
In 2020, SPB Hospitality bought the restaurants from Craftworks for $93 million, according The Wall Street Journal.
Listen to "It's All Good: A Block Club Chicago Podcast":