LAKEVIEW — Rosemary Feit forgot her gloves for her regular evening walk last week and was surprised by how frigid the temperatures were already dropping.
The last time Feit's hands were this cold, she recalled, it was December 2021 and she was tying posters to the dozens of oak trees lining Paulina Street, raising awareness in her neighborhood that they were going to be removed so the city could perform water main work.
A year later, that construction is wrapping up, and all 29 trees once flagged for removal have been spared, said Josh Mark, director of development and infrastructure for Ald. Matt Martin's office (47th).
"Having that moment during my walk was this nice moment of synchronicity," said Feit, who was among a group of neighbors pressuring the city's Department of Water Management to find alternatives to the water main replacement that didn't affect the trees.
"When we were tying those posters around the trees, we were so worried they were all going to be cut down, but now I can see all that work to get the community aware paid off."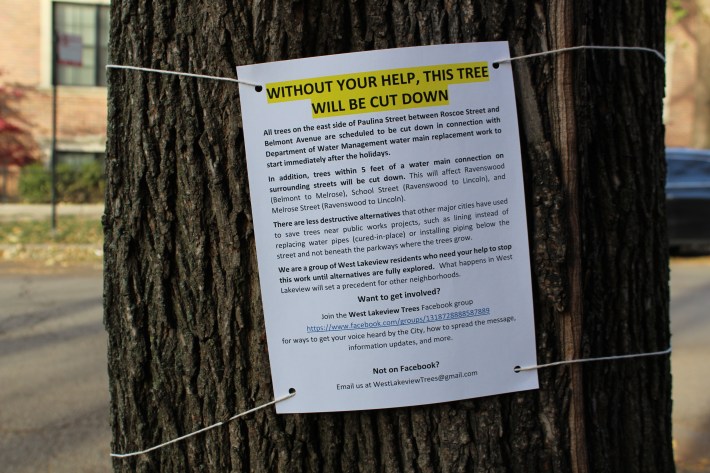 Most of the trees that were at risk are along the east side of Paulina Street between Belmont and Lincoln avenues in West Lakeview. Anthony Falada, general superintendent of construction for DWM, said during a December 2021 community meeting that 19 trees along Paulina and 10 trees along School and Melrose streets were flagged for removal.
The trees are above pipes that were installed in 1889, and the pipes needed to be replaced to prevent breaks or leaks, officials said.
But after months of pressure from neighbors and Martin to find a way to restore the water main without disrupting any trees, DWM announced a plan in February that would save most — and eventually all — of the trees.
Rather than digging up the old pipes to lay new ones, the department moved the water main to the west side of Paulina, far enough away from the curb to minimize its effect on the trees, Mark said.
For the remaining 10 trees along School and Melrose streets, the Department of Water Management was able to dig and replace the drains without impeding on any of the trees, Mark said.
"Saving any number of trees is good, but saving dozens is huge, and the trees in question are huge, old oak trees," Mark said. "It feels really good to thread that needle while not impeding on a very necessary, once-in-a-century construction project."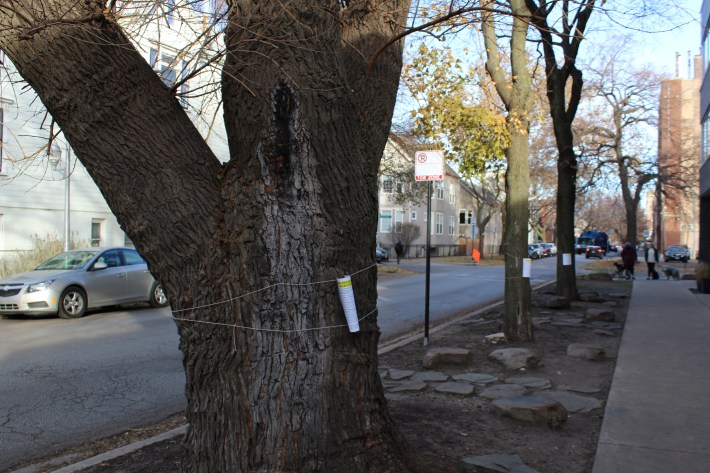 Neighbors who joined Feit in the effort to save the trees celebrated their community's ability to create positive change for their neighborhood.
"Every time I walk down the street, I'm just blown away thinking that we almost lost all those trees," said neighbor Caroline Teichner. "The fact they were able to do it without even touching a single one of them is incredible.
Teichner hopes they can be a model or resource for other communities facing similar projects that might remove their trees, she said.
Neighbor Ilya Soussa said she has "complex emotions" about the saga's ending.
"I walk down the street and see our glorious trees, and I'm so grateful for it, but I don't understand how it required so much effort to get to this point," Soussa said. "And I recognize that nothing really structural has changed to prevent this sort of effort from being needed in other areas in the future."
The neighbors said they want to see the city's Urban Forestry Advisory Board, approved in 2021, strengthened so it can advise all city departments on best practices to preserve trees while completing work around the city.
"We got lucky because a lot of stars aligned for us in a positive way," Feit said. "That's not always going to be the case, depending on where you live in the city and where your alderman is on the issue."