BUCKTOWN — Ald. Scott Waguespack (32nd) will run unopposed for the second election in a row to represent Bucktown and parts of Lakeview and Lincoln Park in City Council.
Waguespack was the only candidate to submit nominating signatures necessary to claim a spot on the Feb. 28 ballot for the 32nd Ward Council seat, according to the Chicago Board of Election Commissioners.
Also running unopposed are alds. Brian Hopkins (2nd), David Moore (17th), Walter Burnett (27th) and Matt Martin (47th).
Waguespack was first elected to represent the 32nd Ward in a close runoff election in 2007. He then won handily in 2011 and 2015 before running unopposed in 2019.
For years a progressive voice in City Council who butted heads with former mayors Richard M. Daley and Rahm Emanuel, Waguespack has emerged as a close ally of Mayor Lori Lightfoot.
Waguespack endorsed Lightfoot in her 2019 bid for mayor and was named chair of the powerful City Council finance committee when she took office.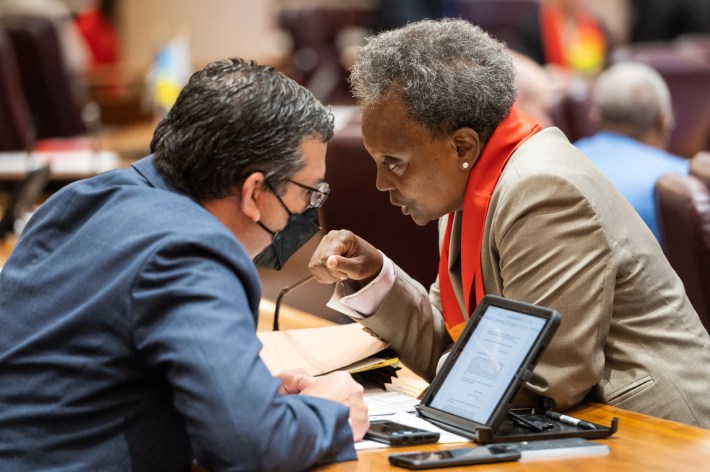 Waguespack said Monday he was "pleasantly surprised" to learn no candidates had submitted petitions to challenge him in next year's election, essentially guaranteeing him another four-year term in City Council.
Waguespack said the lack of a challenger means he can focus on ward issues such as public safety and continue "cleaning up" the operations of the finance committee, which was for years run by Ald. Ed Burke (14th). Burke was indicted in 2019 on federal racketeering, bribery and corruption charges.
"We have so much work to do still that it feels good not to have an opponent so we can focus on work. I just feel like I still have so much more work to do that this will be helpful to be able to focus on that," Waguespack said.
Under the new city ward map approved this year, the 32nd Ward boundaries will shift east and slightly north to include all of Bucktown, parts of Roscoe Village and Lincoln Park and the Lincoln Yards megadevelopment along the Chicago River.
Lincoln Yards controversially received $1.3 billion in city subsidies in April 2019 after a drawn-out City Council fight.
Waguespack voted against those subsidies, and he has vocally opposed the development.
But this spring, Waguespack advocated for including the site in the 32nd Ward during the remap process, butting heads with Ald. Brian Hopkins (2nd), who hoped to keep it in his control.
Ultimately, the map supported by Waguespack and members of the council's Black Caucus was approved by a 43-7 vote in May.
Waguespack said while Lincoln Yards is moving forward, there's still work his office can do to hold Sterling Bay and other partners accountable to the surrounding community.
"I think what we're going to do is try to make sure that everything that's done is transparent and as open to the public as possible," he said. "And where there are things that we can do, that we respond appropriately with the neighborhood in mind, as opposed to just the developer."
Listen to "It's All Good: A Block Club Chicago Podcast":