ALBANY PARK — A pair of Albany Park sisters who love entertaining have started a business creating charcuterie boards inspired by their Hispanic heritage.
De Charcuterie Sisters co-owners Dinorah Rangel and Erica Lopez opened the charcuterie business earlier this month. The sisters are Puerto Rican and Colombian, and Rangel's husband is Mexican; they draw on all three cultures for their charcuterie boards, adding items such as cucumber slices seasoned with Tajin and guava alongside queso fresco and cured meats such as salchichón, Rangel said. 
"We're both Latinas, and we're trying and incorporate that element into our boards to make them unique and stand apart from other people who are doing the boards with the basic meat and cheeses you normally see," Rangel said. 
The board prices range from $70 for a small board that serves one to four people to $375 for a grazing board that can serve many more. Other types of boards — like for butter, skewers or even just renting a board — can also be ordered online.
The business might be new — but it was years in the making.
Rangel always enjoyed a good party, but it wasn't until she organized her son's first birthday that she realized she had a knack for hosting events and catering, she said.
"Every parent wants to go all out for their kid's first birthday," she said. "I had a huge Mickey Mouse party, and everyone was in awe of the decorations and the food I made." 
From that point on, Rangel's friends and family always asked her to help them with their gatherings, she said.
"For the last 14 years, every time there's a family party, I'm the one putting everything together and telling everyone what they need to bring," she said.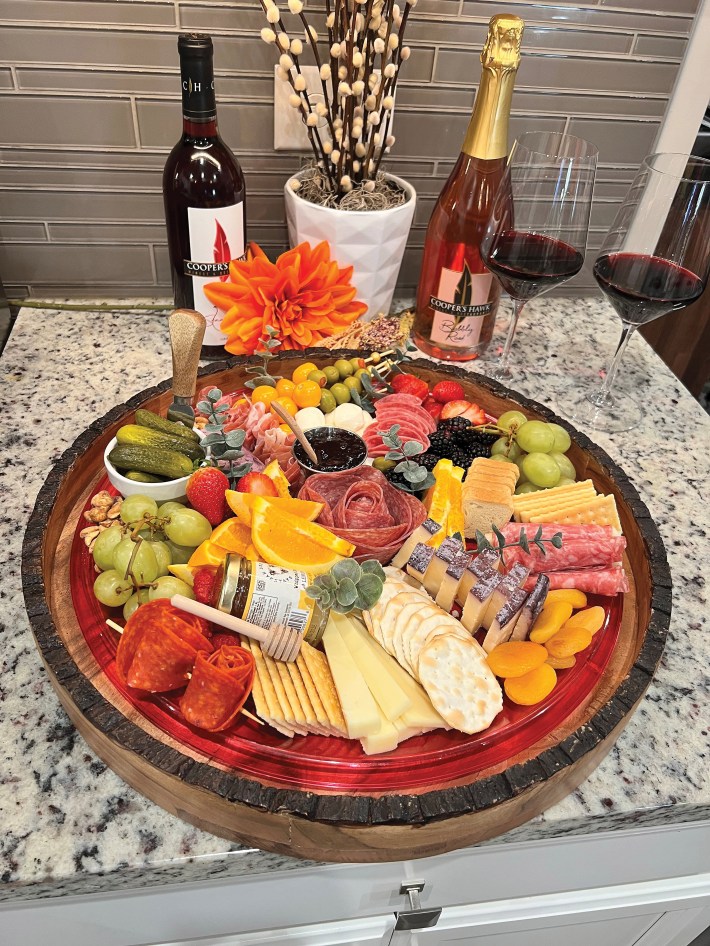 That experience led Rangel to open a sandwich shop, Antojos & Shakes, in 2018 in Humboldt Park. But the business wasn't doing too well in winter 2019, just before the pandemic hit Chicago, and it closed soon after, she said.
"But we host a lot of parties in our family, so I kept on doing the charcuterie boards," she said. "My family and friends were just like, 'These are awesome. Can you make them for other events?'"
That encouraged Rangel — and then her sister, Lopez, who is an interior designer for hotels, and she talked, and they decided to launch De Charcuterie Sisters.
The two are creating custom Halloween boards for clients where they make horror icons like Jason Voorhees from "Friday the 13th" and other spooky treats — including skulls, skeletons and eyes — out of charcuterie items.
"As a designer, my sister brings a different type of creative ideas to the table. She's looking at color. She's looking at placement of items. And so together, we just make a great team," Rangel said.  
For Thanksgiving, the sisters plans to offer butter boards with holiday-themed flavors that include pumpkins. They are already busy planning their designs for Christmas, Rangel said. 
The sisters also offer single-serve charcuterie cups and cones that allow people to enjoy their creations without having to share a communal board. These are useful because of the pandemic and if there are younger children running around the party, Rangel said. 
Rangel's day job is as a paralegal — but if De Charcuterie Sisters continues to grow, the sisters plan to open a physical location where they'll also have other party supplies and wine alongside charcuterie boards to go, she said. 
"We hope to be able to quit our full-time jobs and make this our full-time passion," Rangel said.
Listen to "It's All Good: A Block Club Chicago Podcast":