FULTON MARKET — An image of Kanye West has been removed from a mural in Fulton Market as the rapper made antisemitic remarks in recent weeks.
The 14-foot mural was created by Chicago-based artist Jason Peterson at the intersection on West Lake Street near North Sangamon Street. It showed a black-and-white image of West over words painted in white and black-and-white stripes.
A video posted to Twitter on Wednesday showed someone painting over West, replacing him with a silhouette.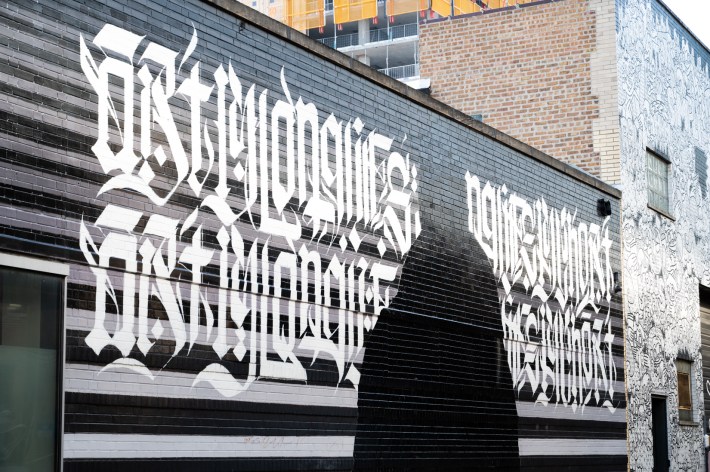 Peterson posted to his Instagram story later Wednesday, showing a photo of the mural with West completely blacked out with a caption saying, "We need better role models."
Peterson told Block Club he removed West at the request of the building owner, who is Jewish. He declined to comment further.
Multiple brands, including Adidas and Balenciaga, have cut ties with the rapper in recent weeks as he's made antisemitic and other bigoted remarks.
Earlier this month, West posted a text message between himself and Sean "Diddy" Combs in which he claimed Combs was "controlled by Jewish people." He wrote on Twitter that he would soon go "death con 3 on JEWISH PEOPLE," according to The Associated Press. Twitter and Instagram locked him out of the accounts.
West was also criticized this month for wearing a "White Lives Matter" T-shirt to his fashion show at Paris Fashion Week.
In a 2018 interview with TMZ, West said slavery "sounds like a choice." According to CNN, West also said, "I love Hitler, I love Nazis," during a TMZ interview that did not air.
West was born in Georgia but spent much of his youth in Chicago, where he honed his musical abilities.
Second Kanye Mural Defaced
Another mural of West, created by Hyde Park artist Chris Devins, can be found at 1215 W. Fulton Market. Devins unveiled the mural in September, saying it was inspired by "old Kanye." 
In the mural, West wears a black suit with a silver watch and black sunglasses. On Thursday, the mural was seen partially defaced with the word "trash" written across West's body.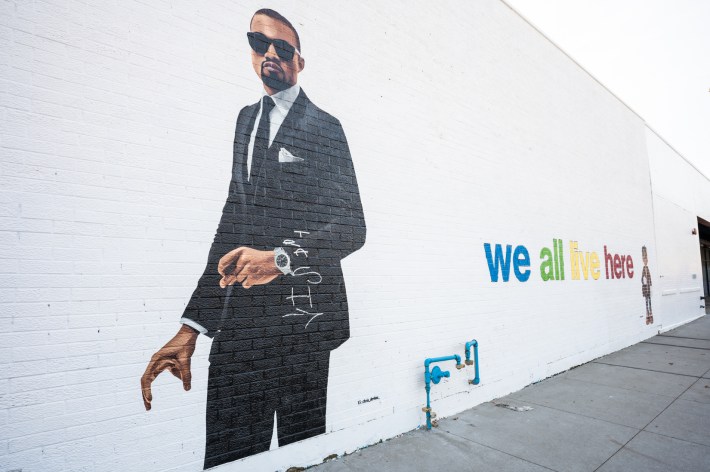 Block Club asked the muralist in September, before West's public antisemitic remarks, if he was worried about previous controversies surrounding West. Devins said he's not a fan of everything West has done. 
Devins pointed to the drama circling the rapper's divorce from reality star Kim Kardashian, but he said he overall believed that should not stop him from his artistic freedom.
Devins still believes that to be true, he said.
"I stand with my Jewish friends and family members against the irresponsible statements Kanye West has been making in the press lately.  I do not condone or tolerate anti-Jewish statements of any kind.  My partner is Jewish, as is her family," Devins said. 
"I do not believe however, that Art should be censored, instead I think the mural should stay up as a reminder of the power of celebrity and the need to wield that power responsibly.  As such, I will not be undoing my mural."
Devins said he believes the latest controversy brings up important questions about public art and spaces.
"George Washington held slaves; should we remove all of his statues? Christopher Columbus' 'discovery' of the U.S. led to the slaughter of millions of the original people on this land. Should we remove all of his statues around the U.S. and cancel his holiday?" Devins said. "These are great questions that should be debated."
The muralist asked for the public to not "act reflexively or impulsively" and said he plans to repair his mural of West.
"Does Kanye West's erasure from our society prove his point?" Devins asked.
Listen to "It's All Good: A Block Club Chicago Podcast":