PILSEN — A Portage Park construction company is asking for help finding a construction crane that was stolen from a job site in Pilsen last week. 
Vunzai Coen, CEO of Coen Construction Services, said her company was recently hired to do work on a rooftop deck in Pilsen near Halsted and 17th streets. But sometime between the evening of Oct. 20 — after workers left for the day — and Monday, when they returned, their JCB 535-140 crane was stolen from the job site, she said.
Police confirmed the theft was reported.
The machine, which transports and brings equipment to high levels, is valued at $85,000-$100,000 and wouldn't have been easy to move, Coen said.
"We had the keys in our pocket — somebody had to hotwire it, had a flatbed and took it with them," she said. "That's how we move it sometimes. It's really, really slow; you shouldn't have those machines on public streets."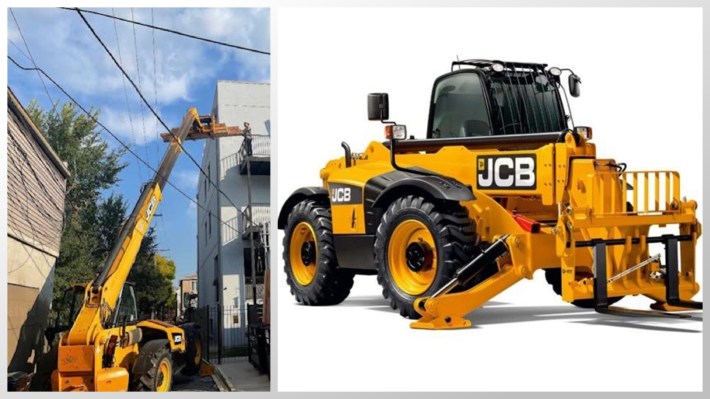 Since it's been gone, Coen's woman- and minority-owned firm has had to cancel jobs, she said.
"It's costing me so much time and money," Coen said. "We have unhappy clients; we lost the clients. … And now the hardest thing is my team, which you know, they're going to have to walk, carry every single piece of material that's needed on a fifth-floor walkup until we find something to rent."
Coen said she filed a police report for the stolen machinery, but police don't have any leads yet. The machinery was insured, but it's been difficult to find a rental in the meantime, she said.
Because it's a small company, Coen said they don't have the resources to secure a job site with fences or security cameras like others can.
Coen said she hopes there are people in the neighborhood who saw something or have footage of the area that could help. 
"Somebody knows something," she said. 
Theft of construction equipment or machinery is not uncommon, according to the National Equipment Register, which keeps a database of stolen equipment to help owners and insurers. They estimate $300 million-$1 billion in heavy equipment is stolen every year, either for cash or other purposes.
Earlier this year on the Far South Side, construction equipment was stolen and used to open and rob an ATM in Rogers Park, according to reporting from the Chicago Sun-Times. 
Even if equipment is found, it can be difficult to determine who the owner is because it isn't always registered to an owner the way a car is, according to the National Equipment Register.
Coen said this debacle has made her realize how prevalent these thefts can be.
"As a small business, I did not know that we would be at risk like this," she said. "We're not flush with cash. We're not huge yet."
Listen to "It's All Good: A Block Club Chicago Podcast":