LAKE MEADOWS — Prentice Butler is running to take over the 4th Ward after 11 years of serving it behind the scenes.
Butler, Ald. Sophia King's (4th) chief of staff, is campaigning to take over her seat as King challenges Mayor Lori Lightfoot in the 2023 election.
Butler joins a growing field of candidates, including Khari Humphries, Tracey Y. Bey and attorney Ebony Lucas. He said hopes to continue the work King has done in her two terms as alderwoman and focus on affordable homeownership, commercial development and strengthening public schools, he said.
The 4th Ward includes Kenwood, Oakland and parts of Bronzeville.
"This is part of is a lifelong commitment to public service," said Butler, who grew up in South Shore. "My family was always involved in the community. My mom ran a day care, and she and my dad were always going to the polls on Election Day. I picked up the bug at a young age."
While an undergrad at University of Chicago in the early aughts, Butler worked with Pamela Boseman-Evans — now chief of strategic initiatives for YWCA Metropolitan Chicago — and first lady Michelle Obama, who was then executive director of the university's community service center. They taught him how to respect and talk to the community, he said.
"When you're in the university, there's a tendency to stay within the walls and not engage the community. It's kind of like a top-down approach, like, 'We're better than you,'" Butler said. "They taught me that you don't engage them in that way. This is a partnership, and you should be listening to what the needs are."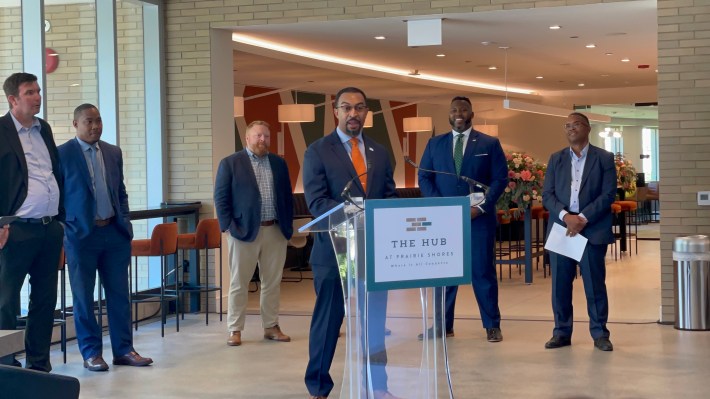 After college, Butler joined the Boy Scouts of America as a district executive, then he worked at a bankruptcy law firm where he discovered his interest in law. There, he realized the best way to improve housing would be policy work after speaking with families doing bankruptcy consultations and having a front row seat to the subprime mortgage crisis, where he watched the systematic erasure of Black wealth, he said.
Butler enrolled in night classes at Loyola University Chicago for a master's in Chicago Studies, where he dove into coursework on the city's racial, economic and political dynamics. He served as the city chair for Young and Powerful for Obama during his reelection campaign in 2012.
But it was Butler's organizing work around green job initiatives with Southsiders Organized for Unity and Liberation that showed him what it meant to truly galvanize people and work with them to "really get the common good out of it," he said.
"All these programs we did to try to educate members of the community about what it means to be civically engaged, not just voting for this person but building the infrastructure to really make change in your community," Butler said.
Butler joined the 4th Ward service office in 2011 under then-Ald. Will Burns, staying on after Burns left for a job in the private sector. Working for Burns and King, who succeeded Burns in 2016, allowed Butler to learn the importance of empathy, something that's missing in today's political landscape, he said.
To that end, Butler wants to see an expansion of the Crisis Assistance Response and Engagement program to the 4th Ward, he said. The program has mental health experts respond to crises instead of police.
The Hales Franciscan alumnus sees the 4th Ward post as an opportunity to improve the city overall, as he thinks Chicago's best days are ahead, he said.
"We should focus on the future of the city, on the more positive elements. When I talk about the middle class I knew growing up in Chicago, the factory work, the city and county government jobs that provided stability for all of our communities … you should be able to build a family here, buy a house, live your life," Butler said. "People are angry because they feel government has failed them. It's important to be ready to address those issues on Day One."
Listen to "It's All Good: A Block Club Chicago Podcast":