WEST LAWN — Growing up in Englewood, Niehla Ollie digested two cultures.
"My mom, [Brenda,] was from the Bahamas," Ollie said. "There was a lot of peas, rice, fish and conch. My dad, [Cleo,] was from Mississippi, so he cooked a lot of Southern dishes.
"I observed and was assigned tasks. I knew the ingredients that went into the recipes. I became an intuitive cook."
The range of flavors Ollie was exposed to early in life is coming in handy now that she's launched her own company, Homegirl's Hummus.
The West Lawn resident makes a variety of hummus at a commercial kitchen near Midway Airport. She packages it and sells it at farmers markets in Logan Square and suburban Evergreen Park and Hickory Hills.
They've been a hit, with customers coming back to try out new flavors, Ollie said.
There's Prosperity, a spinach jalapeño variety; Refresh, lemon garlic basil; Zen, garlic; Sacral, sun-dried tomato; and Revolution, black bean.
Last week, Ollie added sweet potato hummus called Harvest and roasted red pepper called Phoenix, which were also well received, she said.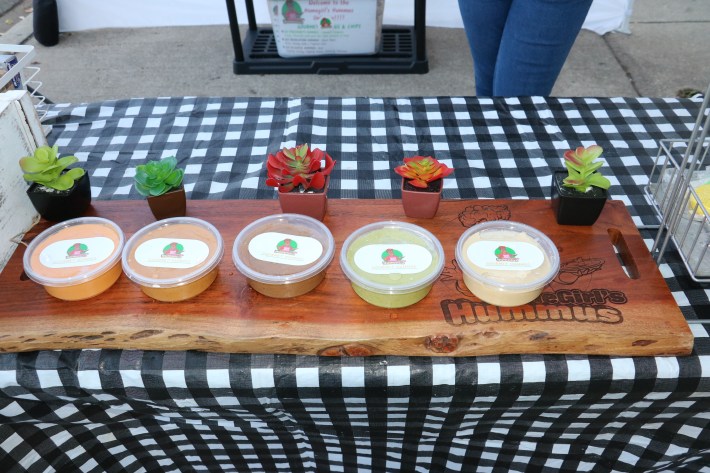 The business started when Ollie lived in Los Angeles and worked as makeup artist. She caught the hummus bug and starting experimenting with flavors.
"The first time I had hummus, I craved it," Ollie said. "I wanted to recreate something. I added artichokes, giardiniera and other things. My dad was the first person to try it, and he gave me good feedback." 
After Ollie's dad died, she put her plan for a hummus company in action.  
"I realized how quick time flies and wanted to make this work," she said.  
When the pandemic hit, Ollie moved back to Chicago to care for her mother. 
Since early 2021, she has worked three days per week in a commercial kitchen preparing her hummus with all fresh ingredients.
"I am pleased to know people are eating something that tastes great and is also good for them," Ollie said. "You can use it as a condiment, as a dip. You can use it with so many foods." 
Gabriel Alvarez, of Logan Square, buys several containers each week and shares them with students in his culinary arts class at Kennedy King City College. 
"I am a hummus lover, and I decided to give it a try," Alvarez said. "Usually, hummus products have a flavor sprinkled on top and it tastes like paste. Niehla blends everything into the hummus.
"They are all great and packed with flavor from start to finish, never leaving you wishing it just had a little more of the flavoring ingredient."
Maya Williamson, a close friend of Ollie's since 2006, is another a loyal customer. 
"I first tasted Niehla's hummus when she was in Los Angeles, and I was hooked," said Williamson, of Chicago Heights. "I tried to make it myself, but I couldn't do it like she did.
"… I have four kids; they'll always ask me, 'Did you get the hummus?' It's something I can't do without."
Ollie is now making herbal teas to sell, as well. There's hibiscus with ginger spice and English lavender green tea. 
"I don't drink coffee because I don't like to be wired up," Ollie said. "The hibiscus tea I drink in the morning helps me focus. Some of the customers told me the English lavender green tea helps them fall asleep."
Listen to "It's All Good: A Block Club Chicago Podcast":