CHICAGO — More than a dozen LGBTQ people, organizations and allies will be inducted into the Chicago LGBT Hall of Fame next week.
The 14 inductees will be honored during a ceremony 6 p.m. Tuesday at the Chicago History Museum, 1301 N. Clark St. The event is free and open to the public, but registration is required and can be done on the event's website.
The inductees join hundreds of names that have been recognized by the Chicago LGBT Hall of Fame for their contributions to the city's lesbian, gay, bisexual and transgender communities. They're organized by individual inductees, or people who identify as LGBT; organizations; and friends of the community, for ally individuals and organizations.
"There's a mix of people who are currently active and historical figures or organizations that are now defunct but have contributed something enormous," said Rick Karlin, co-chair of the Chicago LGBT Hall of Fame.
This year's individual honorees:
Rick Aguilar, a professional photographer who has documented the LGBT community for more than 30 years and donated his services to numerous LGBT organizations.
Zahara Monique Bassett, founder and CEO of Life Is Work, a Black- and Brown-, trans women-led social services agency on the West Side.
Dr. Maya Green, who helped establish clinics that serve LGBTQ people on the South and West sides. She also serves on the American Medical Association's LGBTQ Medical Advisory Committee.
Matthew Harvat, a DJ, producer and performance artist known as CircuitMOM, who's created events across the world to benefit LGBT organizations for more than 30 years.
Paul Highfield, a volunteer and fundraiser for more than 30 years who's delivered meals for Open Hand Chicago, the city's first in-home meals program for people living with AIDS; stocked shelves at the Groceryland food pantry; and coordinated events for the Legacy Project.
Thomas (T.L.) Noble, who was '70s disco royalty as the designer, talent booker and promotional maven for Dugan's Bistro.
Joey Soloway, an award-winning television and stage writer, director, producer and activist. They honed their craft at Chicago's Annoyance Theatre and created the groundbreaking Amazon series "Transparent."
Dan Wolf, a Holocaust survivor and owner of Lakeview's the Bagel who died in July. Wolf worked to support the LGBT community during the AIDS epidemic and for decades following.
LGBT organizations being honored:
Windy City Performer Arts, which originated in 1979 with the creation of the Windy City Gay Chorus. Since then, the organization has advocated for gender expression and sexual orientation equality while entertaining the community.
Outspoken, a monthly LGBT storytelling showcase at Sidetrack, which gives a platform people of varying ethnicities, ages, genders, physical abilities and other backgrounds to tell their stories.
Homocore Chicago, a concert promotion organization founded in 1992 that gave queer and all-women punk bands a safe place to perform and raised money for LGBT community groups.
Friends of the community:
Patricia "Patty the Pin Lady" Latham, who's being inducted posthumously for her work selling ribbons and pins to fundraise for the LGBT community through Open Hand and later Vital Bridges. She donated more than $80,000 throughout her years of work.
Illinois Holocaust Museum & Education Center, which advocates for LGBT rights and the inclusion of LGBT history in classrooms, museums and places of public memory.
Season of Concern Chicago, a fundraising and support organization in the theater community that's provided financial assistance to people affected by illness, injury or health-related circumstances. It's also donated to local HIV/AIDS service organizations for more than 30 years.
The inductees were chosen through a year-long nomination process with a goal of reflecting the diversity of Chicago's LGBT community, Karlin said.
"I've only been co-chair for about four years, but my goal is to try and make the inductees as diverse as the community is," Karlin said. "For too long, everything has been about gay white men receiving recognition for doing the work, but other people have been doing the work who just didn't get the recognition."
Right now, 40 percent of inductees are people of color and 10 percent are transgender, Karlin said.
"We would like to expand that," Karlin said.
The induction ceremony marks the first time the Chicago LGBT Hall of Fame has held an in-person event since 2017, Karlin said.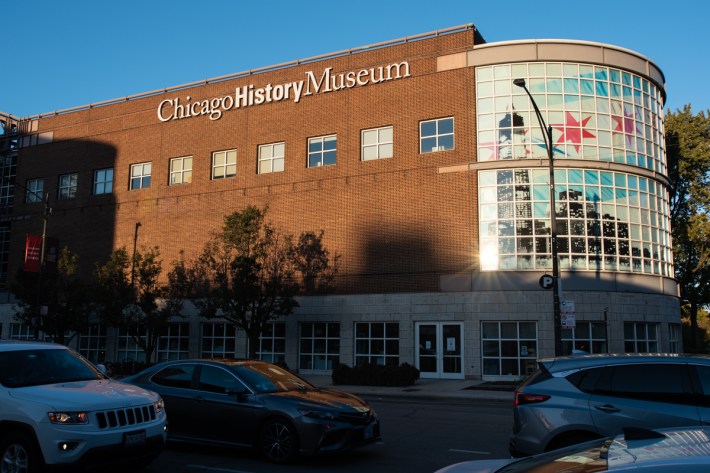 The organization was established in 1991 by Mayor Richard M. Daley as a way to honor the city's LGBT community, Karlin said. At the time, it was called the Chicago Gay & Lesbian Hall of Fame and the first induction ceremony took place during Pride Week in Daley's office.
The Hall of Fame relied on support from the city until 2016 when then-Mayor Rahm Emanuel pulled the plug on its funding when cutting resources for a number of city programs, Karlin said.
At that time, it was renamed the Chicago LGBT Hall of Fame and had one more induction ceremony in 2017, Karlin said. Since then, the program has been supported by the nonprofit Friends of the Chicago LGBT Hall of Fame with approval from the city.
The LGBT Hall of Fame held two virtual induction ceremonies during the pandemic in 2020 and 2021, Karlin said.
"So we're excited to be back in person to hold this ceremony and hopefully next year we'll be able to bring back some of our fundraising events," Karlin said.
One of the organization's goals is to engage more younger LGBT people with the project who might be able to run the Hall of Fame after its current leaders retire, Karlin said.
"We're also trying to become a little more interactive by doing Instagram posts and other social media things," Karlin said. "We're also always looking for more volunteers and need the public support. We're completely self-sustaining at this point, so it can have a huge impact."
It's important to document and celebrate LGBT history so it doesn't get erased, especially as attacks on the community are on the rise, Karlin said.
"It's important that we're not erased from history and that our contributions are acknowledged," Karlin said. "Especially in these days when so many places are trying to erase our history."
Listen to "It's All Good: A Block Club Chicago Podcast":