LAKEVIEW — Smylie Brothers Brewing Company has closed its 10,000-square-foot brewery in Lakeview a year after it opened.
The restaurant and brewery, which still has a flagship location at 1615 Oak Ave. in downtown Evanston, closed for a final time Sept. 5, according to a note posted on its door.
"It is with deep regret that we inform you that Smylie Brothers Brewing Co. located here at 3827 N. Broadway has closed its doors permanently," the sign reads. "It has been an absolute pleasure to serve the local community for the near 12 months that we were open, and we are so grateful for the support you have given us."
Smylie Bros quietly opened its Lakeview location in September 2021. The restaurant and brewery is known for its Texas-style barbecue and wide-ranging beer menu. Owner Michael Smylie did not return a request for comment.
Smylie started the business about nine years ago in Evanston, and he told Block Club last year he'd worked for years to bring the business to Chicago.
Construction on the restaurant, which transformed a large industrial space into a sprawling dining room, started in 2020, but it was halted halfway through because of the coronavirus pandemic.
The restaurant's interior featured three bars and hundreds of seats around tables and leather booths. One of the brewery's main features was its unobstructed view of the brewhouse, which sits behind the main bar.
"Part of it is a show," Smylie said. "We want to give people something to see, so we've got a 40-foot bar that lets you see the inner workings of how we brew beer."
The brewery had a beer menu covering everything from classic European styles to popular American beers, Smylie said. One of Smylie Bros' bestselling beers is a helles-style lager, which Smylie described as "bright and clean."
Smylie got into craft beers while attending Colorado State University in the '90s. He started brewing his own beers at home after graduating, he said.
"When I got back to Chicago, there was really nothing here besides Goose Island," Smylie said. "I got this beer-making kit as a holiday gift and got my start trying to recreate some of the beers I really enjoyed out West."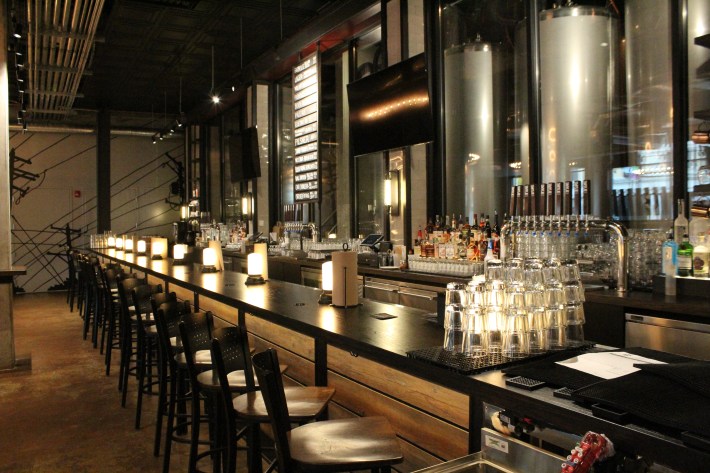 Smylie Brothers' food drew inspiration from family recipes Smylie picked up from his dad, who was from San Antonio, Texas.
"What I love about barbecue is it's typically shared with a group of family or friends, and that's what I wanted to bring to this community," Smylie said.
Smylie Bros' Evanston location will remain open 4-8 p.m. Thursdays, noon-9 p.m. Friday-Saturday and noon-8 p.m. Sundays. The brewery is closed Monday-Wednesday.
Listen to "It's All Good: A Block Club Chicago Podcast":