PORTAGE PARK — Maritza Camacho's dream of opening her own gym is finally a reality in Six Corners after five years of planning and dreaming.
Camacho opened Uplifting vGym, 4906 W. Irving Park Road, at the end of July after it took off virtually during the pandemic. But even before 2020, the personal trainer longed to have her own gym and help people get into powerlifting and women's fitness, end stigmas and boost self-confidence in a specialized setting.
Uplifting vGym combines all the facets of Camacho's fitness journey: powerlifting, her coaching and personal training background, CrossFit exercises and women's health. The gym offers one-hour personal training sessions, weekend HIIT classes, a powerlifting program and a recovery program for athletes regaining their mobility and strength after an injury.
In partnership with other health and fitness professionals, Uplifting vGym also hosts courses on women's health, nutrition, particular muscle stretches and more — whatever its athletes are interested in, Camacho said.
"I consider myself a hybrid of all these little great, different ways to train, and that's why I feel like I can tailor to variation as opposed to just a specific group," said Camacho, of Albany Park. "My goal is really to promote that there's a fitness level for everybody."
To keep the gym a private and intimate space, Uplifting will cap its customers to 35 people. Fifteen athletes regularly use the space, many of whom followed Camacho to Six Corners after she began the business out of her boyfriend's Albany Park garage in 2020.
The pandemic pushed Camacho to try her luck at her own business.
When life went remote and Camacho stopped working at XSport Fitness, she contemplated throwing in the towel and returning to retail. With a daughter and a mortgage, she needed to have stable income.
Then, some of Camacho's clients who were eager to keep up their fitness regimen during lockdown reached out and asked for her to teach an online class. Soon, she was hosting HIIT classes on Zoom and personal training sessions out of her basement, and people kept tuning in.
When vaccines rolled out and people felt comfortable gathering again, Camacho's boyfriend, Diego Suarez, had an idea: Why not use his garage to host mini fitness classes or one-on-one instruction?
"Seeing how many people were joining her Zoom classes and the limited amount of space in her basement," it felt like the natural next step, said Suarez, who also power lifts.
The couple invested in workout equipment, and the project quickly outgrew the garage's small walls. It was time to expand and, luckily, Suarez had locations in mind.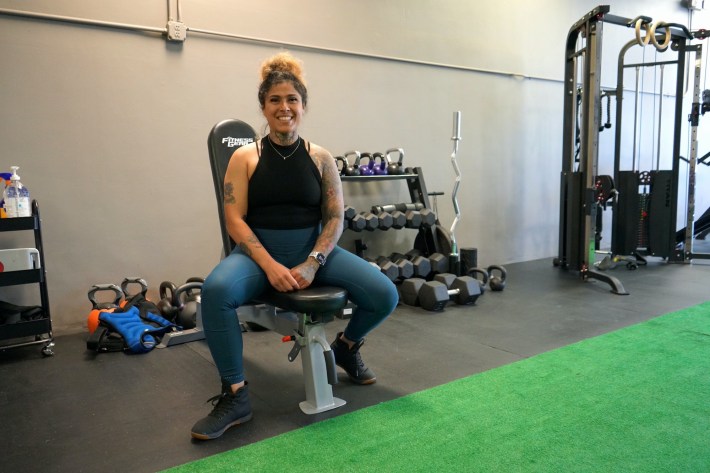 Suarez runs his own roofing company and is a contractor for a few Six Corners buildings. He asked the owner of the Irving Park Road building, which was an escape room business that closed during the pandemic, if it was available.
Because Suarez knew the owner, it was a quick yes, he said. After small delays, he and Camacho enlisted family and set to work rehabbing the building — which meant taking down "rooms inside of rooms," Camacho said.
The gym's lease began in June. Within weeks, the team had gutted, repainted, fixed the walls and moved all of its equipment into the new space.
Suarez, who was able to finance the equipment through his other job, said the experience is a reminder, "Whatever else you are doing, just to keep at it."
"I'm very happy and excited just to see we can actually grow," Suarez said. "It's cool that we started in a basement, then a garage and to an actual gym. The only way it's going to be going is up — there is no going back now. We would always talk about it, like five years ago, how amazing it would be to have our own gym with calibrated equipment."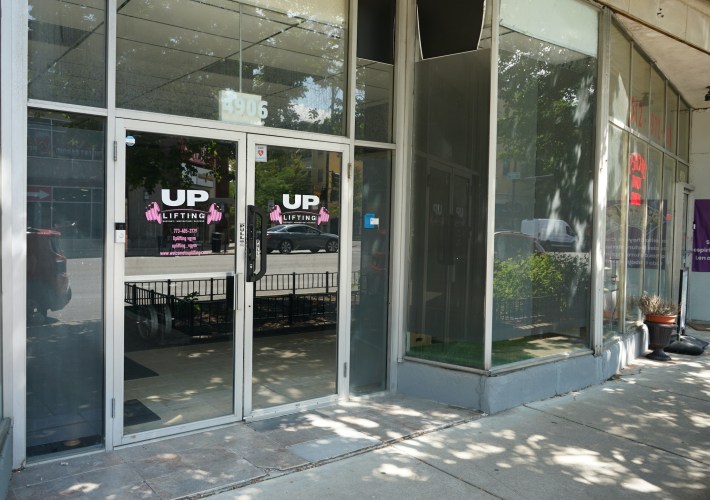 The gym is close to a Retro Fitness and a CrossFit gym, but Camacho sees the competition as positive because it adds opportunities and options to the area — and hopefully encourages women who may not see themselves attending traditional gyms to think differently about fitness.
"My hope is that I can be seen as that added value and help other people feel more comfortable, confident, inspired to start their own journey," she said. "I think COVID also helped push a lot of us in that direction, like, 'OK, you got knocked down, we'll figure it out.' If you were working this hard, then why not work that much harder for yourself?"
Camacho, who is Mexican, wants to also show Latina women have a space in the fitness world. Growing up, she experienced judgment for wanting to power lift and be involved in a male-dominated sport. That mentality needs to change, she said.
Camacho hopes her experience and business journey can introduce more people to a sport that has shifted her perspective on life and act as a metaphor to follow their happiness — and she wants to remind others, especially her 12-year-old daughter, not to be so worried about how their body looks.
"In powerlifting, you get the benefits of potentially leaning up, you get stronger, but you forget that you have to cut [weight] and you forget that you're trying to look a certain way," she said. "Your shift then goes into, 'How much more weight can I put on that bar?' Seeing more women cheering each other on and being supportive … I want to promote that and help people understand that fitness and health are more of a process. It's not a quick fix to getting anywhere."
Listen to "It's All Good: A Block Club Chicago Podcast":