BUCKTOWN — A Mexican restaurant in Bucktown known for its vegetarian and vegan offerings has reopened in a new location — right next to its original home.
Quesadilla La Reina Del Sur, 2237 N. Western Ave., opened its new digs this month and is celebrating with a grand opening party Friday.
For more than a decade, the restaurant was directly south at the corner of Western Avenue and Lyndale Street. Earlier this year, the owners bought the building next door and began renovating the ground floor to become Quesadilla's next location.
The owners closed Quesadilla in May with plans to reopen soon after, but they were repeatedly delayed when the city pushed back inspection dates, general manager Miguel Alvarado said last month.
Now, the city has cleared the restaurant to open in its new spot, Alvarado said.
"We pretty much did a gut rehab on the place and we just fixed it up, spruced it up, new kitchen equipment," he said.
The menu remains the same as it was at the original location, featuring tortas, burritos and quesadillas made with meat substitutes and the option of adding vegan cheese.
Alvarado said he and his staff are happy and relieved to finally be open. He said a few new menu items are also in the works.
"As soon as [we] opened, the response was really nice from our customers. [They] were pretty much waiting for us to open again and to enjoy our food. And we felt the love, and it was just amazing to feel that," Alvarado said. "And [we] feel that we're part of that community and that our work is good enough for people to like."
Quesadilla La Reina Del Sur was started by Alvarado's brother, Bolivar Gomez, who began cooking as a kid while growing up in Mexico, where he had trouble finding vegetarian options, Alvarado said last month.
After coming to Chicago, Gomez worked in restaurants across the city before opening Quesadilla in Gage Park. He eventually moved the business to Bucktown. It's named partly after Mexican telenovela, "La Reina del Sur," because Gomez had a crush on one of the actresses, Alvarado said.
A few years ago, Bolivar Gomez was killed Mexico, Alvarado said. Their sister, Celia Gomez, took over the business, and Alvarado joined recently with plans to expand the restaurant's brand.
The expansion began in July when Quesadilla opened a location in Pilsen at 1519 W. 18th St., the former home to the Pi18en and Pl-zen restaurants and downstairs from Evans St. Liquors.
The location has a full bar, unlike the Bucktown location, which is BYOB.
"It's going well. We're slowly becoming a part of the community, and that's pretty much what we like and we expected. It is a new location, it is a little bit of a different market, but we're very excited to keep going with it and and just putting a lot of love and effort into it," Alvarado said.
Quesadilla La Reina Del Sur Bucktown's grand opening party is 7 p.m. Friday with live music and other festivities. The restaurant is open 10 a.m.- 10 p.m. daily.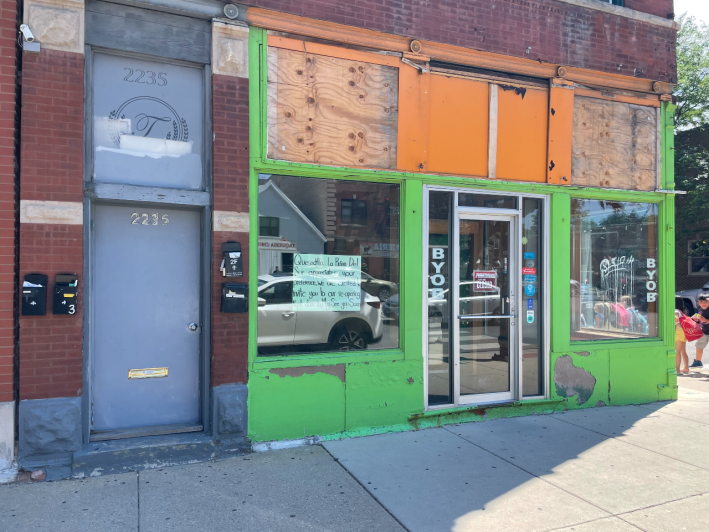 Listen to "It's All Good: A Block Club Chicago Podcast":