AUBURN GRESHAM — A staffer for longtime Rep. Bobby Rush is vying for a City Council seat in next year's election, hoping to oust the alderperson who has been in the role nearly two decades.
Ayana Clark, Rush's community advocate, is running for 21st Ward alderperson. She announced her candidacy late last month to represent the area, which covers parts of Auburn Gresham, Washington Heights, Brainerd, West Pullman and South Roseland.
If Clark is elected, she will be the first woman to hold the position and first new alderperson for the ward in 20 years. She is challenging incumbent Ald. Howard Brookins Jr. (21st), who is seeking his sixth City Council term in 2023.
"Too many politicians are ruling from a seat instead of being out in the streets with the people," Clark said in a video. "I don't want to be another politician. I want to be the plug. Our communities deserve to be plugged into resources, investments and opportunities."
Clark could not be immediately reached for further comment.
Clark grew up in Englewood. A single mother of two boys, Clark works with South Side organizations like Hustle mommies and Project H.O.O.D. She is an alumnus of the Obama Foundation Community Leadership Corp and the Congressional Black Caucus Institute, according to her bio.
Clark graduated with a master's degree from Purdue University Northwest while working and raising two young boys.
Clark was inspired to run for City Council after her 3-year-old son picked up a gun shell casing off their lawn and someone shot out her 6-year-old son's elementary school windows, she said in a news release. 
Clark's priorities as an alderperson would focus on developing abandoned properties by working with local entrepreneurs, boosting youth engagement, connecting residents to city services and improving infrastructure, she said in the release. 
Clark's work is "committed to uplifting the South Side of Chicago through service," Clark said in the release.
"For far too long, our communities have been held hostage by stagnation," Clark said in the release. "As a resident, I am disappointed at the gun violence plaguing our communities; but as a mother, I am angry.
"It's time for leadership that will put service before self and create a 21st Ward we can all be proud of. We can either sit by and pray the next four years will be different or take action and demand change."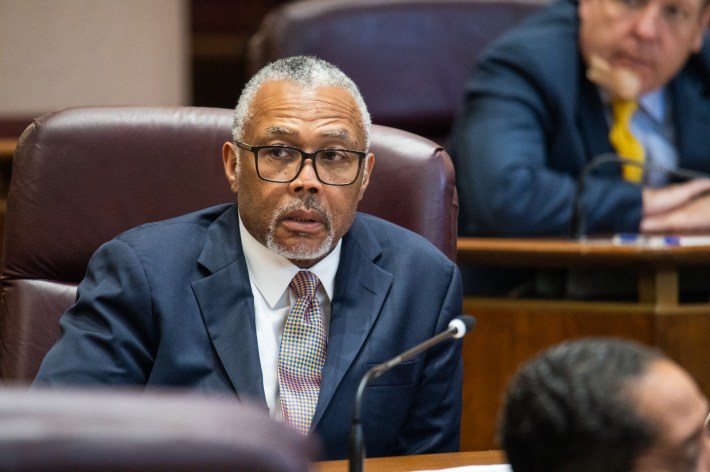 Brookins, a former public defender and assistant state's attorney, was elected to City Council in 2003. He also serves as the chairman of the council's transportation committee. 
In 2017, Brookins was fined $5,000 by the Chicago Board of Ethics for failing to keep track of hours worked by four aides, and his chief of staff, Curtis Thompson Jr., served a 15-month prison term after being convicted of bribery.
Brookins, a funeral director, announced last year he would run for one of the 10 countywide seats on the Cook County Circuit Court in the June primary election. He lost the bid to personal injury attorney Lisa Taylor and confirmed to Block Club he intends to seek re-election in City Council.  
Brookins' next goals as alderperson of the 21st Ward are already "things he's been doing" since he's been in office, Brookins said.
Over the past few years, Brookins has welcomed developments to the community, like Wild Blossom Mead and Winery and Cinema Chatham, he said. Unlike nearby wards that have lost grocery stores and banks, his residents have a band of places where they can shop and dine, he said. 
The area's newest development is Buddy Bear Carwash at 201-357 W. 83rd St., a $5 million project which received key approval from the Chicago Plan Commission on Thursday.
"Every day, I'm hustling," Brookins said. "Every day, I'm out talking to people and showing them my compassion in this city. We need quality goods and services. Business begets business."
One alderperson can't solve crime, either, Brookins said. 
"If there was a simple solution and one alderman could do it, you don't think someone out of the 50 of us would have figured it out already?" he said.
Instead, neighbors need to unite to "say enough is enough" and report what they see to save lives, Brookins said. That starts with building strong block clubs in communities — something he's doing, he said.
"It might be hard truth that everyone needs to listen to, but crime doesn't stop until the community does something," Brookins said. "As long as we are tacitly complicit by not standing up and taking a stance, we are powerless to stop it."
After nearly 20 years in office, the most fulfilling part of the role has been "seeing interns go on to do amazing things," and watching the kids in the community grow into young adults, Brookins said.
Brookins said he's committed to working to deter crime, bring in more investment and encourage young families to stay and invest in his communities.
Brookins plans to one day operate his family's funeral home business alongside his sister, he said. But his "heart is in the 21st Ward," he said.
"The job is never done," Brookins said.
Daliah Goree, a 26-year veteran of the Chicago Police Department, announced in July she also is vying for the 21st Ward seat. Goree, a native West Sider, graduated from Providence-St. Mel School and attended Triton Community College to study nursing before becoming a police officer.
Listen to "It's All Good: A Block Club Chicago Podcast":