ENGLEWOOD — A South Side nonprofit is now the owner of a beloved local organization and its Peace Campus on South Honore Street, which has turned vacant homes into a community hub.
Imagine Englewood if, a group that strengthens and empowers the Englewood area through youth services, is now the owner and operator of I Grow Chicago, an Englewood nonprofit created in 2014 to provide wraparound services to neighbors.
With the transfer of ownership comes the Peace Campus, which includes 16 properties consisting of five homes, two basketball courts, a nature playlot and a community garden. The campus at 6400 S. Honore St. provides immediate services and basic needs to Englewood families. 
Leaders at I Grow Chicago sought new leadership to take over their Englewood nonprofit and Peace Campus following the pandemic, said Michelle Rashad, executive director at Imagine Englewood if. 
Four South Side nonprofits — Teamwork Englewood, Grow Greater Englewood, Growing Home and Imagine Englewood if — and Metropolitan Family Services joined forces to keep the organization locally owned. 
Together, they formed We Grow Chicago, a "community-based coalition dedicated to providing free and comprehensive services to the Greater Englewood community," Rashad said. 
In 2021, Metropolitan Family Services briefly gained ownership of We Grow Chicago and the Peace Campus with the promise that an Englewood organization would one day run the collaborative. 
Imagine Englewood if accepted the torch late last month, making Rashad the executive director and lead operator of We Grow Chicago, the Peace Campus and its 16 properties. 
"We have a lot of issues that we face in the community, from unemployment to poverty, food insecurity and housing," Rashad said. "We believe that this collaborative approach to facing these challenges head-on will help us continue the legacy of the Peace Campus and help neighbors go from surviving to thriving in this neighborhood." 
When I Grow Chicago formed in 2014, 64th and Honore "was not one of the safest blocks in Chicago," Rashad said. There were vacant and neglected lots and homes — signs of disinvestment in the community, she said.
Leaders transformed the block into a "space of opportunity," creating a model for others to follow, Rashad said. We Grow Chicago will keep that legacy alive, Rashad said. 
"We wanted to make sure that the Peace Campus remained a community space where people can have the experiences and opportunities that put them on the right track," Rashad said. "It has been a great experience to align the missions of the organizations to ensure we're creating beautiful experiences for the entire family."
In the days ahead, the mission is to continue to build out the Peace Campus and buy more vacant properties, Rashad said. Only three of the five properties on the campus are open. 
One home will become a "high-tech media center" where youth can record music, practice game design and learn the skills necessary for career opportunities, Rashad said.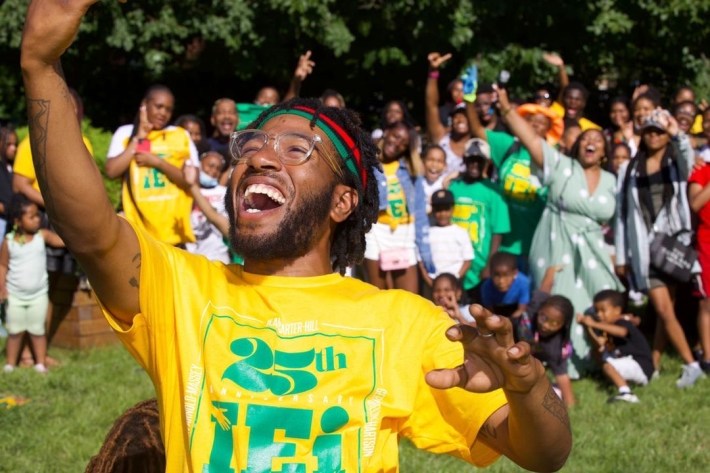 The second home will be a wellness center with on-site care and access to behavioral health services. 
"By taking what we do now and adding additional services, we're hoping we can create a model that can be duplicated in other parts of the city and other states," Rashad said. "We are what we need. We're collaborating in a way dedicated to improving the quality of life for our young people and our families." 
Keeping the Peace Campus Black- and locally run is a milestone for the community, Rashad said. There's more work ahead, but neighbors can trust it will be done by people who come from and love the community. 
"This is a win for Englewood," Rashad said. "When West Englewood thrives, Chicago thrives. There's so much more to come. The imagination is alive." 
Watch our "On The Block" TV show on The U, CW26 and MeTV.
Listen to "It's All Good: A Block Club Chicago Podcast":