WICKER PARK — A Wicker Park grocery store reopened Monday after its license was temporarily suspended last week following two failed city health inspections.
Aldi, 1753 N. Milwaukee Ave., was slapped with a "License Suspended" notice Friday from the Chicago Department of Public Health's food protection program, according to notices posted on its entrances. Those signs have since been removed.
The grocery store failed two inspections in July after city inspectors found hundreds of "small flying insects," according to city records.
Inspectors found "approximately 100 small flying insects" near produce containers in the retail area of the store and "approximately 100 small flying insects" on the walls of a rear storage facility, according to a July 19 report.
Inspectors also found "over 500 small flying insects" near dumpsters in an indoor garbage area, according to the report.
"Observed excessive food waste (produce) on the ground around the garbage dumpsters contributing to the pest activity in the store. Also the garbage dumpsters are full with garbage so that the lids cannot be fully closed. Management instructed to clean and maintain the indoor garbage area at all times and maintain adequate garbage pickup to eliminate pest activity," according to the report.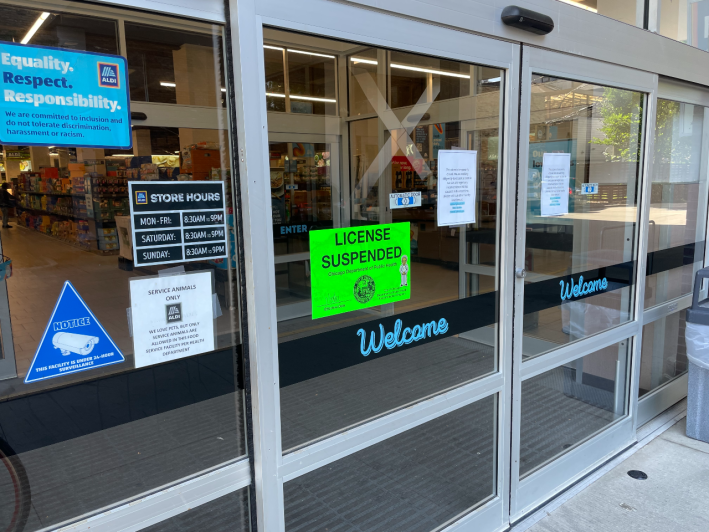 The store failed a follow-up inspection Wednesday.
That time, inspectors found "approximately 50 small flying insects surrounding and inside of the boxes and containers of produce in the retail display area," as well as "approximately 100" insects in the rear storage facility, according to the report.
"Additional pest control service is needed to eliminate the pest activity," according to the report.
Aldi also was not providing hand-washing soap in the men's and women's bathrooms, among other sanitary issues, and the ceiling of the women's bathroom was leaking, according to the Wednesday report.
After being closed over the weekend, the grocery store reopened Monday. An Aldi spokesperson did not return a request for comment.
This isn't the first time this year the Wicker Park Aldi has run into issues with the health department. The location failed an inspection in April, city records show.
An April 18 report found "garbage and litter" on the ground near dumpsters in the indoor garbage area and "waste receptacles without covers" in the women's bathroom.
The grocery passed a follow-up inspection April 26.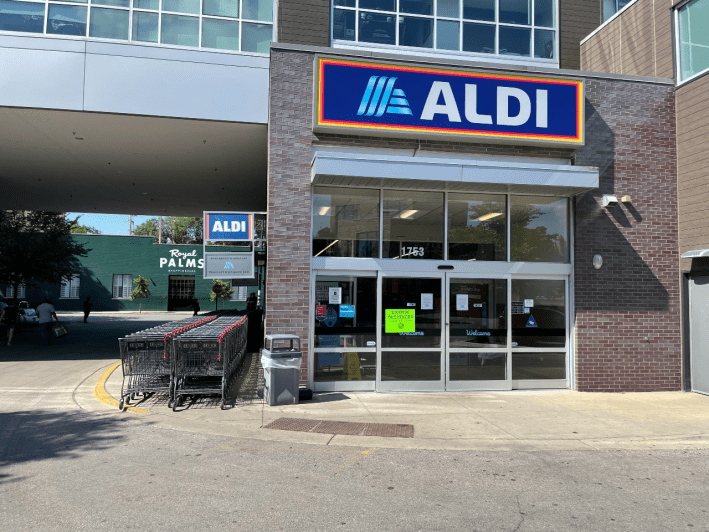 Listen to "It's All Good: A Block Club Chicago Podcast":