PILSEN — Pilsen residents are advocating for competing strategies on how best to address violence in the neighborhood after two recent murders shocked the 25th Ward. 
At a Monday meeting organized by Ald. Byron Sigcho-Lopez (25th) and others to address public safety, neighbors and leaders were split in how to move forward, with some calling for more police to patrol the ward and others calling for more investment in social programs that aim to keep youth out of gangs.
"The [current] strategies are not working. … We need to acknowledge that," Sigcho-Lopez told a crowd of 80 residents at Lincoln United Methodist Church, 2009 W. 22nd Place.
The meeting was in response to the slayings of Pilsen resident Michael Hernandez, 28, and Chinatown's Woom Sing Tse, 71.
On Dec. 3, Hernandez was sitting in his car outside his home on the 2300 block of West 23rd Place in Pilsen when someone pulled up in a a two-toned Subaru hatchback and shot him multiple times. He later died.
Neighbors and family called the Pilsen shooting "senseless and inexplicable" — Hernandez was slated to take the police entrance exam the next day. No one has been charged in the case.
On Dec. 7, Tse, 71, was walking to get a newspaper just a block home near Wentworth Avenue and 23rd Place when he was shot at more than 20 times. He later died.
Alphonso Joyner, 23, of Morgan Park, was charged with first-degree murder in Tse's death, which prosecutors called "an execution."
Sigcho-Lopez said he hasn't heard from police if the two shootings are related.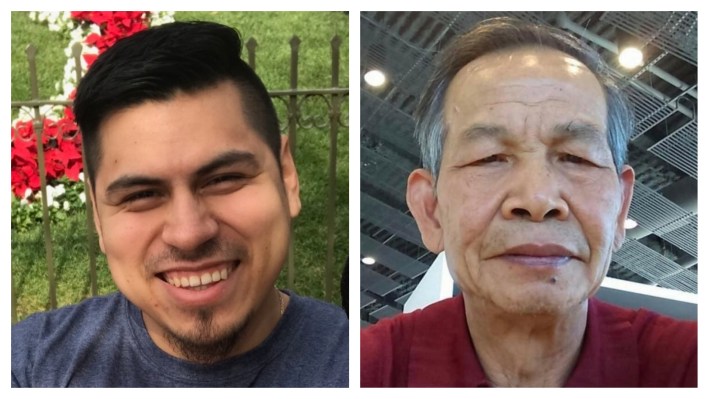 Tanya Lozano, CEO of nonprofit Healthy Hood Chicago and one of the meeting's organizers, told the crowd she advocates for a "holistic and comprehensive approach" to curbing violence. People need to address aspects like health to prevent violence in the community, rather than simply expanding police efforts, she said.
Lozano said Healthy Hood works with high school students to get them involved and engaged in the neighborhood so they don't enter gangs.
"It's our young people who are falling victim to the gang violence. It's our young people who are entering the gangs because of a lack of an alternative," Lozano told the crowd. "Gang violence is a symptom; the sickness is a broken and racist system that we need to address."
Andre Rodriguez, director of the S.H.I.N.E youth ministry at St. Paul's in Pilsen, also said more resources for youth and community programs are needed.
Rodriguez, 44, spoke to the crowd about his work in street outreach and how important it is to keep trying to engage kids.
"Nobody's recruiting them [into gangs;] they're joining voluntarily," Rodriguez said. "Sometimes they're looking for something to be part of, and when they can't find it, the street organizations will welcome them with open arms."
Other neighbors expressed concern with relying less on police and also asked for more action from Sigcho-Lopez.
One resident, who has lived in Pilsen since 2007, said she wants to see more communication from the alderman's office. She said she's called numerous times over the past couple of weeks about issues on her block, but she hasn't seen meaningful action.
"We need to stop talking about how we need to come together and actually come up with a plan," she said at the meeting. "I just feel like I'm out here by myself. … And I do support [the police], because when we call, they're the ones who show up."
Armando Salgado, a police officer and Pilsen resident, directly addressed Sigcho-Lopez, asking for him to work with police. 
"We need to be a team," Salgado said. "I agree 100 percent there are root causes [to crime], but, at the end of the day, we also have to have accountability, and gangs are a problem."
In response to Salgado, the alderman cited the Police Department's murder clearance rate. In 2020, police said they cleared 44.5% of homicides citywide, according to the Chicago Tribune.
"Instead of blaming each other, let's act as a community," Sigcho-Lopez said. 
After the community meeting, neighbors staged a peace walk around the Lincoln United Methodist Church. Lozano and other organizers led the march, shouting: "Whose streets? Our streets."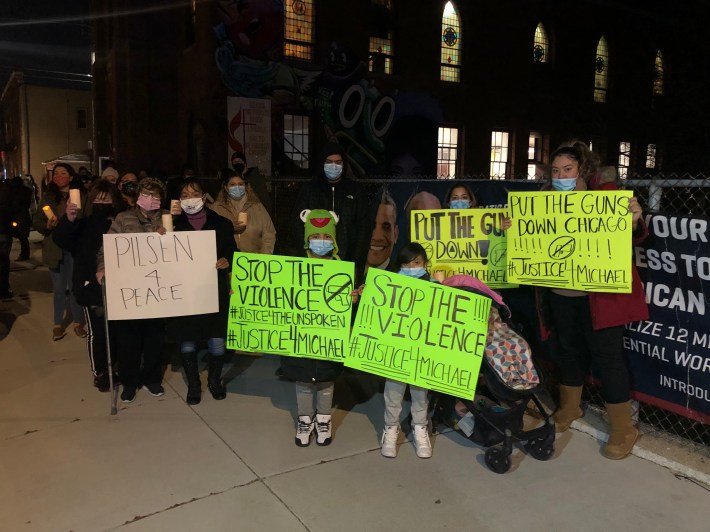 Listen to "It's All Good: A Block Club Chicago Podcast" here: