DOUGLASS PARK — The family of a woman found dead in a Chicago police officer's RV is calling on law enforcement to further investigate what happened to Treasure Nicole Hendrix — but they say they've been shut out by authorities so far.
Hendrix, 35, was found dead Aug. 19 in an RV trailer in the 1500 block of South Western Avenue, police said. The officer who owns the RV has since resigned from the department, police spokesman Thomas Ahern said.
Though an autopsy found Hendrix died of an accidental drug overdose, her family and friends said they have questions surrounding the circumstances of her death and have been met with silence from investigators.
On Sunday, Hendrix's family and their supporters held a march to protest the way police have handled the case. They carried pink balloons and pink flags and wore pink clothes to honor Hendrix, as pink was her favorite color.
After gathering in the parking lot where Hendrix's body was found — which is about a block from Cinespace film studios — dozens of people marched to the FBI Chicago Field Office at 2111 W. Roosevelt Road.
"We want answers. We want the FBI involved," said Tamiko Holt, a spokesperson for the family.
Hendrix's family put up a banner that said "Justice for Treasure" while the crowd shouted, "No justice, no peace."
The family said investigators haven't updated them on the case — and they have unanswered questions about what happened to Hendrix.
The autopsy found Treasure Hendrix had alcohol, cocaine, fentanyl, meth and MDMA in her system at the time of her death. But Tracey Maxey, Hendrix's aunt, said Treasure drank but didn't do hard drugs.
"She also had bruises on her face and swollen lips, like if she hit something or something hit her … She didn't do that to herself," Tracey Maxey said.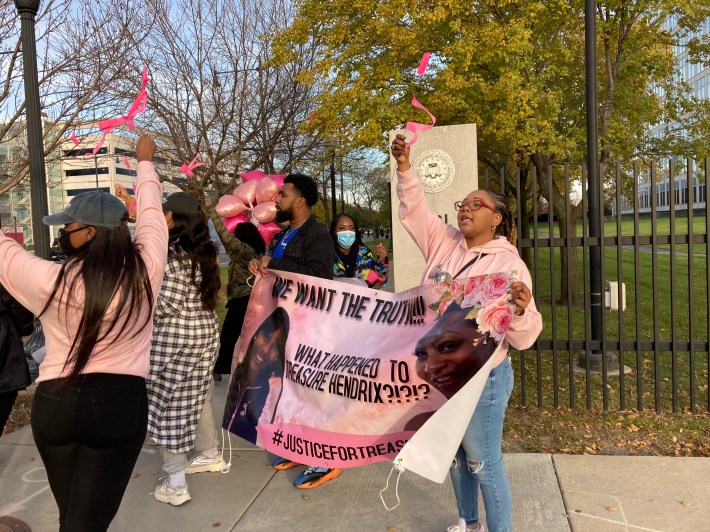 Hendrix's family has asked for a private medical investigation and is waiting for the results.
Ahern said there's an open death investigation for Hendrix and confirmed the officer who owns the RV where her body was found has resigned. Ahern did not respond to further questions.
The former officer could not be reached for comment. Block Club is not naming him since he has not been charged with a crime.
Hendrix's family said they are outraged by silence from police and the authorities.
"We had to become detectives ourselves because nobody told us anything. Nobody ever knocked on my door to tell me that my Treasure had passed," Maxey said.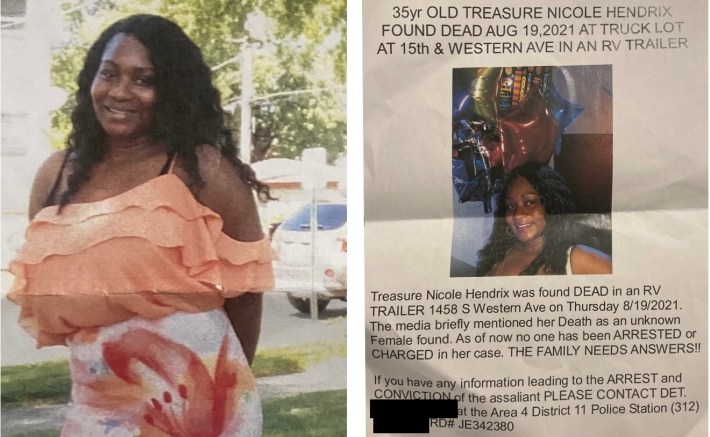 The day after Treasure Hendrix died, a man — who the family does not know — knocked on the door of Cynthia Hendrix, Treasure's mother, and told her Treasure's car was abandoned in a parking lot and they needed to contact police, Maxey said.
Once they reached police, Cynthia Hendrix and her sisters were told to speak with a detective, and they weren't given other information, Maxey said. The sisters drove around the area looking for Treasure Hendrix, unaware she was dead, Maxey said.
Treasure Hendrix's laptop was there — but completely wiped — and her phone and shoes were missing, the family said.
"When we found Treasure's car in the parking lot, it had been wiped out. Her laptop was there, but it was completely empty," Maxey said. "We met a gentleman that told us that the police was there the day before. He said that they took away the body of a Black woman from the RV parked near Treasure's car. That's how we found out my niece was dead."
That's also when Hendrix's family started trying to figure out what happened to her.
They reached out to the morgue to ask for autopsy results, asked police for information and spoke with anyone who could have details about Hendrix's death, Maxey said.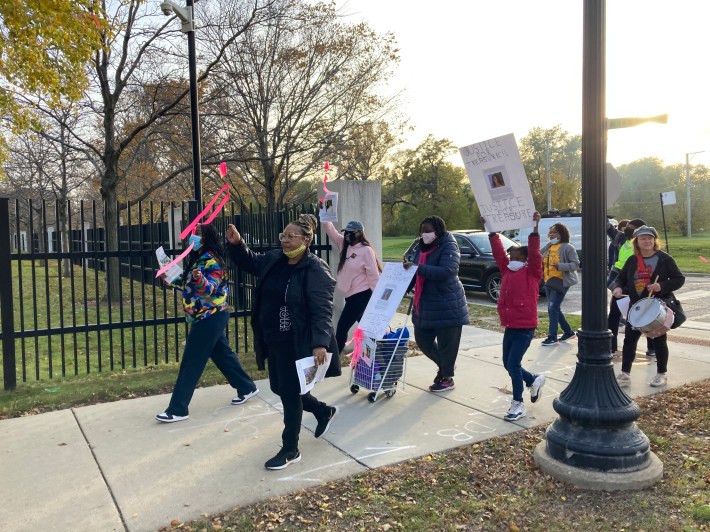 That's how they learned the officer who owned the RV resigned about a week after Hendrix's death, Maxey said.
The officer and Treasure Hendrix were friends and had known each other for four or five years, said mother Cynthia Hendrix, who also met him one night when he invited her for dinner with her daughter. He knows where she lives but has not shown up to tell her what happened, Cynthia Hendrix said.
While Treasure Hendrix's family investigated, they also shared her story on social media, where word of her death and the questions surrounding it went viral.
Holt, the family's spokesperson, said she got involved in the case after seeing flyers the family had put up asking for information.
"I'm a Black woman that cares," Holt said. "I don't appreciate what happened to Treasure Hendrix, and I'm scared to find out just how many other Black women get investigations that go exactly this way." 
Lolita Hendrix, an aunt of Treasure Hendrix, spoke at the end of Sunday's march, pleading with people to share information and tell them what happened to property in Hendrix's car.
"Treasure was a beautiful spirit, and she deserves respect, she deserves dignity and she deserves someone to comfort her mom, and tell her, 'I'm sorry your daughter passed away,'" she said.
Maxey said their family wants a "proper investigation."
"Why did the officer resign?" Maxey said. "Why didn't he call Treasure's mum to let her know what happened? Why was my niece's laptop wiped out? There are too many unanswered questions."
Listen to "It's All Good: A Block Club Chicago Podcast" here: