ENGLEWOOD — A new public art piece in Englewood builds off one resident's yearslong effort to spotlight all the positive people, places and community unity in the neighborhood.
The #GoodInEnglewood mural, unveiled Tuesday at the Englewood Planned Parenthood, 6059 S. Ashland Ave., was commissioned by the health center to showcase the "brightness" in the community. It was painted by Jerrold "Just Flo" Anderson, a co-founder of the Englewood Arts Collective.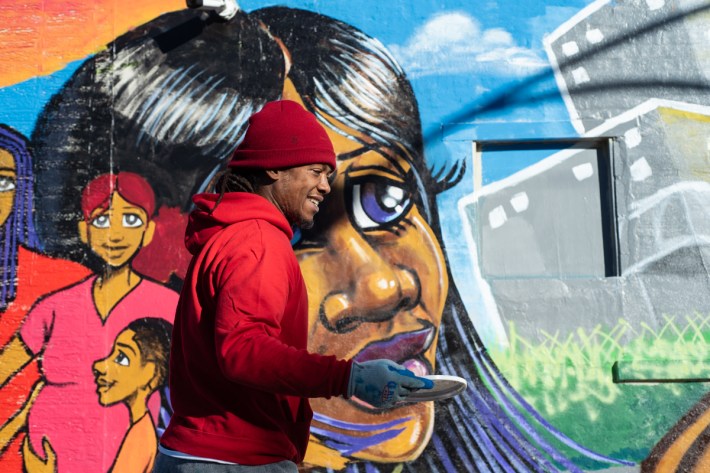 The mural features pops of green and blue around images of families embracing, teachers greeting students, essential workers waving and a Green Line train racing through the community. A rich, yellow sun glistens, and "Englewood" runs across the center.
Deonn Strathman, Planned Parenthood's director of community engagement, said the piece is a "perfect snapshot of the community."
"This mural will serve as a welcoming beacon for years for patients and visitors throughout the center and the community as a whole," Strathman said.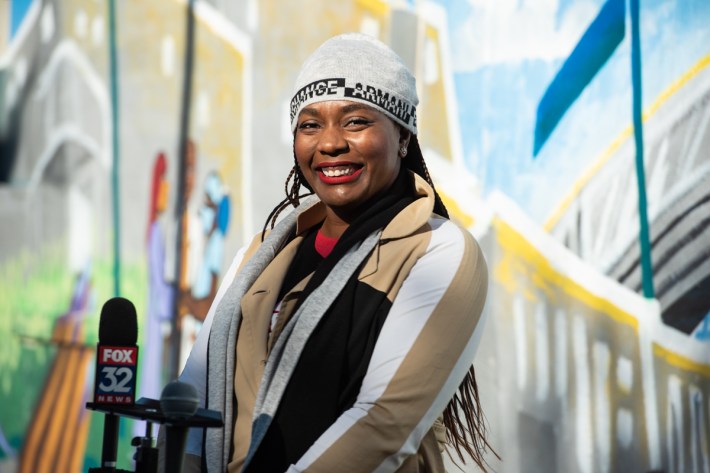 Englewood native RaShanah Baldwin coined #GoodInEnglewood on social media more than a decade ago to counteract negative and oversimplified news stories about the community. She posted about local businesses, homeowners, educators and organizers to show there's much more to Englewood than violence.
Over the years, more neighbors have adopted the hashtag to share their positive stories about the community.
"We understand that violence exists in our neighborhoods, and we understand that issues exist," Baldwin said. "But #GoodInEnglewood gave more of an in-depth look into the community. That hashtag became a way to change the narrative and to control the narrative."
Strathman said Baldwin's message aligned perfectly with what the center's patients and neighbors needed to see in their neighborhood.
"If you look in the media, it seems like the media always has very negative things to say about the Englewood community," Strathman said. "But the community is so strong and takes care of each other so much. I think adding to and showing the beauty of the community is a good way to uplift folks."
Anderson said when you stand back and look at the piece, a vision of the neighborhood's greatness comes to life.
"There is vibrance that the community has to offer that's often left unseen," Anderson said. "I tried to add a wide variety of the people who help shape and build the community. The mural comes together to show how through our schools, businesses, homes and communities, there's connectivity there."
Anderson said it's no secret Englewood has its ups and downs. But he wanted his mural to highlight the ups.
"I wanted to try to show our community coming together," Anderson said. "… I don't want us to forget the light that shines in all of us that this community is reflecting."
Baldwin said the mural perfectly embodies what she hoped to achieve with her hashtag.  
"It brings me back to the old school, the way of us working together and doing neighborhood things," Baldwin said. "I love it. It brings back what the community is supposed to represent instead of letting others tell our narrative."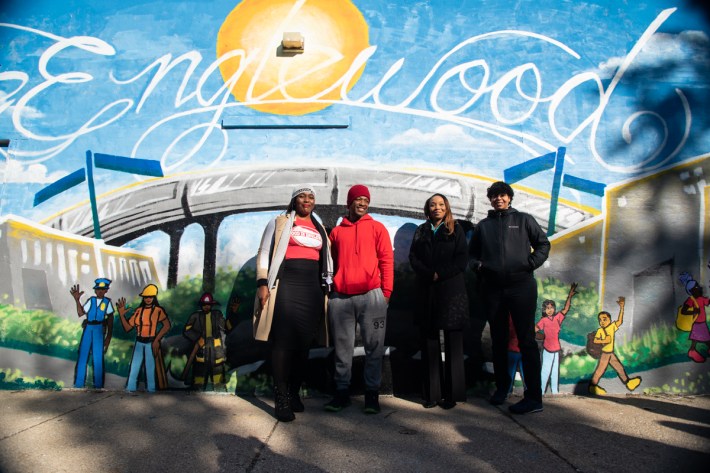 Listen to "It's All Good: A Block Club Chicago Podcast" here: