CHICAGO — Thousands of shareable electric scooters will again be available for rent next spring.
Following two limited pilot programs to test drive e-scooters, City Council approved an ordinance Thursday to put 6,000 e-scooters on city streets next spring. For the first time, the scooters will be allowed Downtown, but new technology will shut them off if they're ridden on the sidewalk.
Nine aldermen — Brian Hopkins (2nd), Pat Dowell (3rd), Anthony Beale (9th), Raymond Lopez (15th), David Moore (17th), Roberto Maldonado (26th), Brendan Reilly (42nd), Michele Smith (43rd) and Harry Osterman (48th) — voted against the ordinance.
Under the plan, each scooter will include "geo-fencing technology" that can detect when a rider is on the sidewalk, triggering an alarm. Officials with scooter companies Bird and Lime said they will also provide scooters that can slow to halt if on sidewalks.
Scooters will be available to ride from 5 a.m. to midnight and must be locked to a physical structure when parked, such as a bike rack or light pole, according to the plan. Companies must also ensure their scooters are relocated each morning to locations throughout the city, including in areas on the city's South and West sides. 
Ald. Daniel La Spata (1st) said e-scooters will help Chicago present "every sustainable and equitable form of mobility for constituents that we can."
"We need to be a city that is not rolling back on our former patterns where being a single person in the car is really the most expensive, congested way to get around," he said.
Lopez, who voted against the push, said his ward saw "the good, the bad and the ugly" during the city's two scooter pilots. He had to be the "scooter police" during the pilots after fielding complaints, he said.
"My residents called my office weekly about these scooters being tied up to their disability poles and to everywhere else, being an eyesore in the neighborhoods," he said. "Now I understand that this is the way of the future, that we're doing more to get cars [off roads] and give our residents alternatives, and I appreciate that. But we have to balance the quality of life in our neighborhoods,"
Ald. Howard Brookins (21st), who shepherded the ordinance through his Committee on Transportation and the Public Way, said there were "growing pains" during the pilots, but scooters will help the city combat climate change.
If there is enough demand, the city's transportation commissioner has the authority to green light thousands more e-scooters to the licensees, up to a total of 12,500 citywide.
Each company that obtains a license will pay $1 per scooter per day for up to 2,000 scooters initially. The city expects the scooter licenses to bring in $4.4 million in upfront revenue. Tax revenue would also flow into city coffers from residents through a 9 cent lease tax for every dollar in ride expenses.
While the e-scooters would still be banned from the lakefront, they will be allowed in other parts of Downtown, city officials said during a committee meeting Wednesday.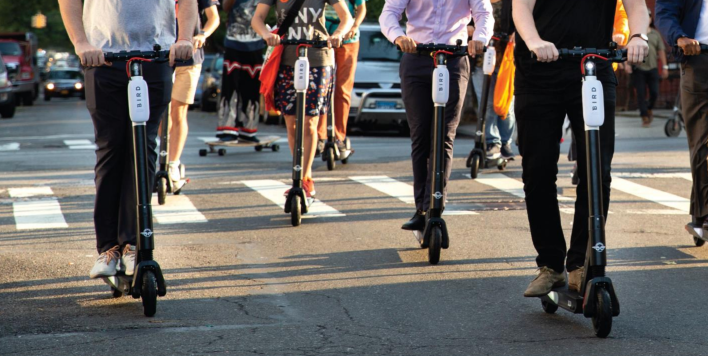 "We believe that the e-scooters offer an affordable, convenient and environmentally friendly way for Chicagoans to get around the city," said Kevin O'Malley, deputy commissioner of the Department of Transportation.
Parking guidelines and new technology to slow the scooters to a halt if they are ridden on sidewalks appear to have satisfied many alderpeople who expressed frustration with e-scooters at a summer hearing. Mayor Lori Lightfoot's administration supports the scooters becoming a permanent transportation option.
Ald. Andre Vasquez (40th) said he initially had "reservations" about the scooter program, but "the virtual fencing to keep folks off sidewalks" and ability to lock them to a physical structure brought him around. 
"Recognizing really the need for having multimodal transportation as a way that supports, not only our environmental goals, but also really helps our small business districts by bringing in different traffic that's not just through vehicles allows more productive sustainable businesses," he said.
Even Ald. Carrie Austin (34th), who in June said, "I don't want them in 34, period," didn't vote against the proposal. On Wednesday, Austin asked that the scooters be located near libraries and exercise trails in her Far South Side ward.
Ald. Harry Osterman (48th) pressed transportation officials to block scooters from certain areas in his Far North Side ward on Wednesday, saying, "Candidly, I don't trust their ability to keep them off sidewalks."
Osterman said he has "a lot of elderly folks that get run down" by bicyclists on the sidewalks along Sheridan Road, and he "doesn't want to add to the chaos."
Osterman was told if he wrote a letter to Gia Biagi, commissioner of the Department of Transportation, to identify where in the ward he wanted to block scooters, it would be "the start of that conversation." Biagi has the authority to block scooters from certain areas if they present a safety risk.
"We would follow the ordinance, and if it's safety, if it's convenience … we would follow that and see if it's in the right interest of the program," O'Malley said.
Gang Database Appeals
An ordinance giving the Chicago Police Board the authority to overturn the Chicago Police Department's inclusion of Chicagoans in its overhauled gang database — which was meant to be in place in September but has yet to be unveiled — was blocked Thursday.
A 2019 report from the city's top watchdog found the Police Department utilized 18 different forms and portals to maintain its list of suspected gang members, but the databases lacked oversight, didn't inform individuals that they were on the list and wasn't regularly audited for accuracy.
A follow up report from Inspector General Joe Ferguson, released this spring, said the Police Department continues to utilize the gang database despite its flaws. At the time, the Department said it would launch a new database with stricter guidelines on who is included by September, but it has yet to follow through on that pledge.
Those who find themselves on the new database will be able to request the Police Department remove their names, and if CPD denies the request the person will be able to appeal that decision to the Chicago Police Board under the plan.
The rules to govern the appeals process, the amount of staff needed to handle the appeals and what criteria will be grounds to overturn a decision by the Police Department are all details that need to be worked out, Police Board officials told alderpeople during a committee meeting on Wednesday.
But members of the committee expressed skepticism that they should green light the Police Board to begin work on the appeals process when the Police Department has yet to unveil the new gang database.
Although it only takes any two alderpeople to block a vote on any ordinance until the next City Council meeting, Alds Andre Vasquez (40th), Roderick Sawyer (6th), Raymond Lopez (15th), Jeanette Taylor (20th), Michael Rodriguez (22nd), Rossana Rodriguez Sanchez (33rd), Carlos Ramirez Rosa (35th) and Maria Hadden (49th) joined together to stall the vote.
New Plumbing Rules
More gender neutral and all-gender restrooms in restaurants across the city could be the byproduct of a series of "interim changes" to the city's plumbing rules approved Thursday.
Among the changes to the plumbing code is a provision to allow "small storefront businesses, including restaurants with a capacity of 30 people or less, to provide one single user restroom," Matthew Beaudet, commissioner of the Department of Buildings told the Zoning Committee on Tuesday. 
Beaudet sold the change as a boon to restaurants and other businesses seeking to open in the city by reducing construction costs. A small restaurant might be able to provide an extra dining table in lieu of separate, gendered bathrooms, he said. 
Larger restaurants and businesses could take advantage of other tweaks included in the ordinance, including providing all-gender restrooms with private stalls and shared sinks, in an effort to "reduce floor space and use floor space to generate revenue," he said. 
The changes will create restrooms that are more "welcoming not just to transgender people, but to everyone," he said. "For example, a parent that doesn't want to send their child into an opposite gender restroom alone, or an elderly person who needs assistance from an opposite gender caretaker," he said. 
The city anticipates a larger overhaul of the city's plumbing code in 2022 as officials seek to modernize the city's construction codes, Beaudet said.
The package approved Thursday will also expand the use of PVC pipe in residential and commercial buildings to handle drainage and sewage in an effort to reduce construction costs. Copper pipes are still required for drinking water lines.
Subscribe to Block Club Chicago. Every dime we make funds reporting from Chicago's neighborhoods.
Already subscribe? Click here to support Block Club with a tax-deductible donation.