ALBANY PARK — Up until a few months ago, a group of Albany Park neighbors spent a lot time hanging out in their alley to beat the pandemic blues. The alley is where they'd play basketball, baseball and bags or just hang out.
"It was the best place to socialize," neighbor Michael Waechter said. We could all hang out and do socially distant get- togethers."
But then the "slimy, greenish, oily goo" came.
No, this isn't a bad horror film: City garbage trucks have been leaving behind "garbage juice" in Chicago alleys, which has residents frustrated — and thoroughly grossed out.
"It smells awful. It smells worse than sewage. It's got a stench you wouldn't believe," Waechter said.
Ald. Carlos Ramirez-Rosa (35th), who represents the area where Waechter and his neighbors live, said his office has received several complaints over the last few months about leaky garbage trucks, all from residents of Albany Park.
Earlier this week, Ramirez-Rosa raised the issue with the commissioner of the city's Department of Streets and Sanitation during a city hearing.
"No one wants to walk down a stretch behind their home, whether they're walking their dog or taking their garbage out … sometimes kids play in alleys. For a variety of reasons, people do not want to have this source of odor, it's gross," Ramirez-Rosa said.
Ramirez-Rosa said the "garbage juice" could also pose a health risk. In Vermont, "garbage juice," or what's technically called leachate, ended up in a lake that is a drinking water supply for hundreds of thousands of Canadians. There, the stuff contained PFAS chemicals, which had environmentalists concerned.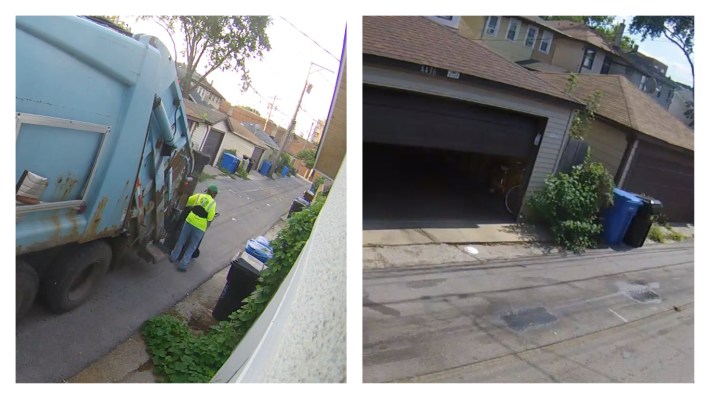 Chicago's Streets and Sanitation commissioner said old trucks are to blame for the sludge in the city, Ramirez-Rosa said. The pandemic has caused global supply chain issues; trucks that would've normally gotten new parts haven't, Ramirez-Rosa said. But the commissioner said his department will work on repairing old trucks to prevent "garbage juice" from invading residents' alleys.
Ramirez-Rosa said he hopes the city is focused on a long-term solution, and doesn't just put a band-aid on the issue.
"It's just a bigger question of: Does Streets and San have the parts we need? Do we need new trucks?" he said.
Garbage trucks have leaked several times in Waechter's alley from mid-July through mid-September, Waechter said. At first, neighbors didn't know what was causing the putrid stench. But then a Nest camera captured a truck leaving a slimy trail.
Waechter and his neighbors stopped hanging out in the alley after the oily puddles appeared. They were grossed out by the horrible stench but also worried about the potential health risks.
Like Ramirez-Rosa, Waechter said he wants to see a permanent solution to the problem. He questioned whether trucks need to emptied more frequently.
"Not to place blame on any of the operators — they're fantastic people — but at some point … if there's that much in the truck, maybe it gets rerouted and emptied," he said.
Waechter and his neighbors are continuing to steer clear of their alley because they're worried about tracking the "juice" into their homes.
"You really don't want this stuff in your home. You don't want it in your garage. You don't want it on your shoes. It's really not good," he said.
Subscribe to Block Club Chicago, an independent, 501(c)(3), journalist-run newsroom. Every dime we make funds reporting from Chicago's neighborhoods.
Already subscribe? Click here to support Block Club with a tax-deductible donation. 
Listen to "It's All Good: A Block Club Chicago Podcast" here: