ROGERS PARK — Katje Sabin's backyard in Rogers Park is an urban oasis. The late afternoon September sun is soft and warm. A cool breeze blows through rows of flowers, tomato plants and other late summer flora. 
In the center: a chest-high stack of bustling beehives, home to about 20,000 bees. Sabin calls them "the girls," and she has been lovingly caring for them alongside her husband since the spring. 
The couple got into beekeeping when they moved to Rogers Park in 2014 and volunteered at what is now the Howard Area Community Garden on Juneway Terrace. Until then, Sabin and her husband, ​​William Gilliland, a biology professor at DePaul University who studies fruit flies, only joked about having bees, Sabin said. 
Now, they oversee a bustling operation in their backyard, helping them discover an emotional, community-centered space that is just as rewarding as a honey harvest. Their neighbors have even planted clover across their yard for the bees to collect nectar, and they frequently ask about the bees. 
"I love it. This is the coolest hobby. And it's really cool how people have gotten into it," Sabin said.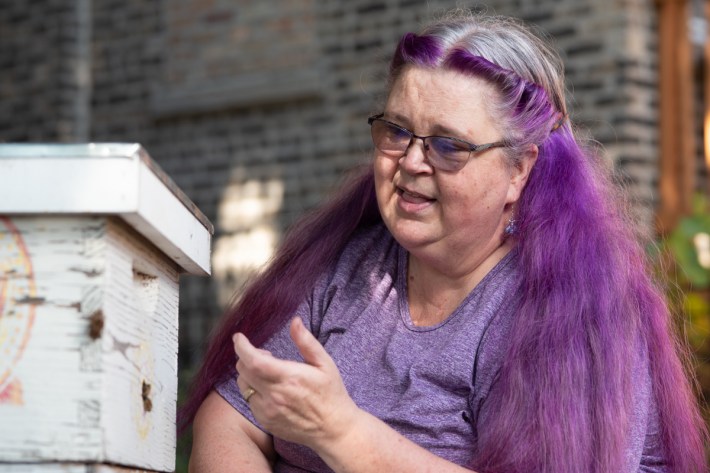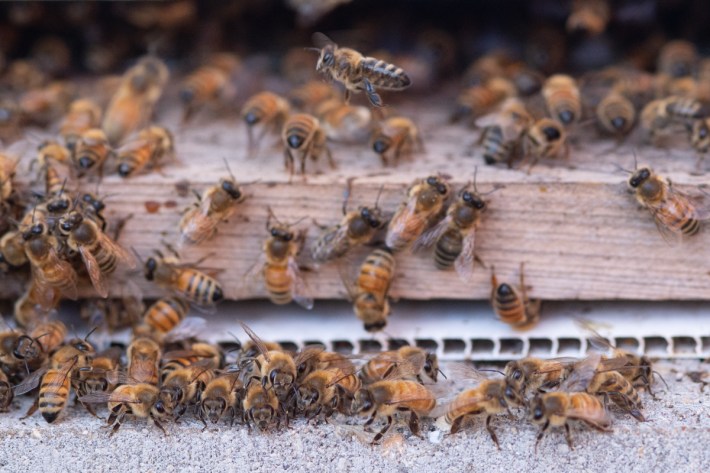 Sabin said the couple wanted to bring bees to the community garden but did not feel ready to do it on their own. With the help of neighbor Mark Brouwer, who had experience, they were able to take their first steps into beekeeping.
That garden had one hive survive the winter, which can be a difficult feat in an environment like Chicago.
"Mostly we just watched them and didn't mess with them, kept the area clear and made sure that animals didn't mess with it," Sabin said.
Then, in 2019, Sabin and her family moved to their current residence near Loyola's Rogers Park campus. The backyard was overgrown, Sabin said, and the couple were nervous their landlord might not approve of a backyard beekeeping operation. 
"We tried to earn his trust and work with him," she said. "And he finally said, 'Yeah, sure, let's go for it.' We got the bees this spring."
They started with two hives, a common practice for new beekeepers, as it allows for comparison between hives to see what might be working and what isn't. The queens from those two initial hives failed, likely due to the way they were bred, Sabin said. The couple then acquired a new queen and her own hive and were able to successfully integrate all of the bees into one hive.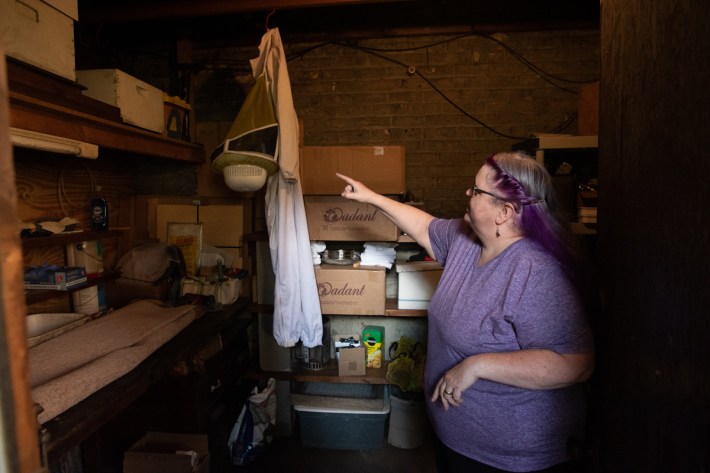 Sabin said the support she and her husband have received from other beekeepers has been a major factor in the success of their hives and part of what makes the hobby so enjoyable, even though the community has largely been online for the past year and a half because of the pandemic. 
Two of Sabin's neighbors who are longtime beekeepers and Marcin Matelski, the head beekeeper at the Garfield Park Conservatory, have guided Sabin and her husband.
"The community has a very cool tradition of helping new beekeepers. There's a lot of talk of finding a mentor, and mentors don't charge for this service," Sabin said.
With raising bees comes the possibility of collecting their coveted and delicious golden byproduct: honey.
Extracting honey can require expensive equipment that can be rented from local beekeeping groups. Sabin's first two hives produced enough honey for her to freeze and store for the winter, when the bees will need the extra nourishment. That initial harvest was also enough for Sabin to set aside a small amount of honey to taste: a shimmery light gold that is sweet and bite-y.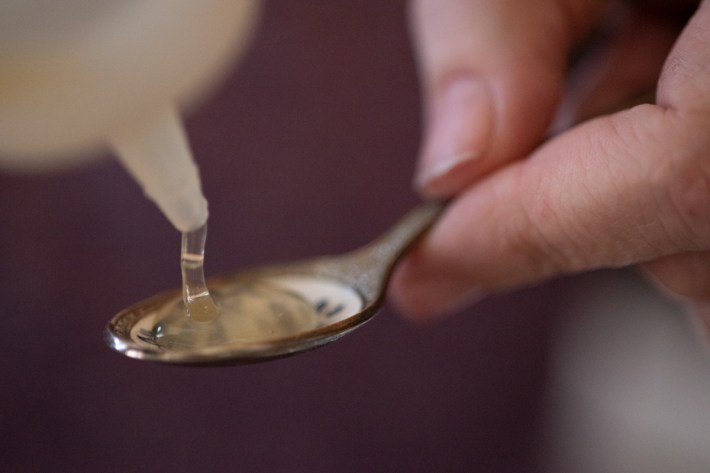 The daily work of tending to the bees has opened Sabin's eyes to an entirely new ecosystem.
"I love to sit and watch them. It is a different way of knowing and sharing information that we don't understand," she said. 
In addition to learning more about the world of bees themselves, Sabin has learned about the ever-changing politics and traditions of beekeeping communities. 
"There's a Facebook group for women in beekeeping that I'm in, because beekeeping is kind of an old boys group," she said.
The group has members from around the world who share knowledge, guidance and support related to beekeeping. 
"Some of the old guys are not so happy about all these little backyard beekeeper girls," Sabin said. "In the women's beekeeper group, when one of the women has a partner or a parent die, they'll say, 'Would you tell your bees for me?' And that always touches me. It's all very cool and there are a lot of traditions." 
Subscribe to Block Club Chicago, an independent, 501(c)(3), journalist-run newsroom. Every dime we make funds reporting from Chicago's neighborhoods.
Already subscribe? Click here to support Block Club with a tax-deductible donation. 
Listen to "It's All Good: A Block Club Chicago Podcast" here: