BELMONT CRAGIN — Serenity Broughton loved visiting her grandparents' house on the Northwest Side. The 7-year-old relished "girls nights" with her grandmother, spending time with the grandfather she called "paw paw" and playing with her siblings nonstop.
"She was an active child. … She never would sit down," said her grandmother, Mary Ivy.
Dozens gathered Thursday night to memorialize Serenity, who was killed outside her grandparents' house Sunday in a shooting that also wounded her 6-year-old sister, Aubrey.
Serenity and Aubrey, who live in South Shore, were leaving their grandparents' house in the 6200 block of West Grand Avenue and getting in the car with their mom when someone fired shots. Serenity was shot in her chest and torso and pronounced dead at Loyola University Medical Center in Maywood.
Aubrey was shot in her chest and armpit and hospitalized. She has since returned home and is recovering, her family said.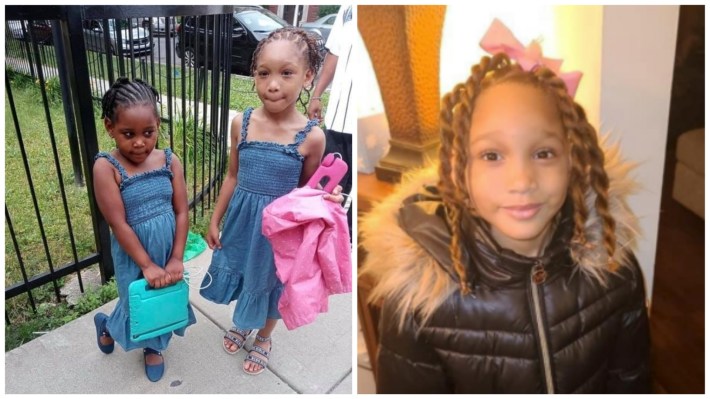 Over the chorus of summer cicadas, pastors led the group in prayer as the sun began to set. At the end of the vigil, the group shouted Serenity's name as they released balloons into the darkening sky.
Mourners remembered Serenity as a "happy child" who liked going to church and playing with her siblings.
"She didn't deserve what happened to her," Ivy told reporters.
Serenity and Aubrey were practically inseparable, Ivy said. "They'd always come in the room together," she said.
Anti-violence workers and advocates, church leaders and aldermen representing Belmont Cragin — Gilbert Villegas (36th) and Felix Cardona Jr. (31st) — called for justice for Serenity's family and for an end to Chicago's gun violence epidemic, which has claimed the lives of many children.
"We're losing babies, innocent children to this crazy [violence] that we have in our city, in our community," said Elizabeth Ramirez, with Parents for Peace and Justice, as she held back tears. "We need the community to get involved, to be that voice for us. Enough is enough already."
Villegas, who represents the area where Serenity was killed, urged anyone with information that could lead to an arrest to come forward.
"This is a call to action. We need help from the community. If you know something, say something. If you saw something, say something," Villegas said.
Serenity is among several children in the city who have been victims of gun violence recently.
Jaslyn Adams, also 7, was killed in April when attackers — one of whom wielded an AK-47-type weapon — ambushed her and her dad in a Homan Square McDonald's drive-thru. Two people, including one the alleged shooters, have been charged with murder. A third remains at large.
Savanah Quintero, 14, was killed leaving a Back of the Yards convenience store in June. Officials said three people approached the teen, and one pulled out a gun and shot her. The alleged shooter is being held without bail.
In July, a 1-month-old girl was shot in the head in a mass shooting in Englewood. Her uncle, a well-known neighborhood leader, said she was recovering from her injuries.
Also in July, a 2-year-old boy was shot outside a home in West Humboldt Park.
In April, Kayden Swann, 21 months, was shot during a road rage incident on Lake Shore Drive near Grant Park. He was hospitalized and left intensive care later that month. The alleged shooter is being held without bail.
A GoFundMe to help Serenity and Aubrey's family has raised nearly $40,000 as of Thursday. Anyone with information about the shooting can submit anonymous tips here.
Ivy said Aubrey is healing well, "running around" and "in good spirits."
"I'm just thankful to have one of them," she said. "I thought when they were laying out there, I thought I lost both of my grandkids. I give [God] praise for that."
Subscribe to Block Club Chicago, an independent, 501(c)(3), journalist-run newsroom. Every dime we make funds reporting from Chicago's neighborhoods.
Already subscribe? Click here to support Block Club with a tax-deductible donation.