NORWOOD PARK — After 20 years, the owners of a Far Northwest Side dive bar are ready to pass the torch.
Joe and Patty Valentino are selling side-street bar Newark Nook, 6443 N. Newark Ave., and plan to retire. The bar, often referred to simply as The Nook, has been in the neighborhood since 1929 and has gone through several owners.
"I hope somebody continues it as a neighborhood bar," Joe Valentino said. "They are going to put their own spin on it, however they want to do it, but I would love to see it stay in the neighborhood."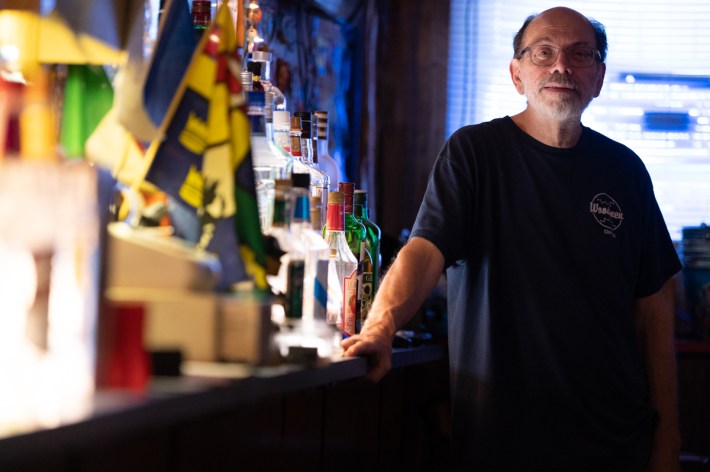 Valentino said the bar is so old that concrete facts and documentation are hard to find.
"When this place was built, it was all farmland and prairie — everything else built around it," he said.
Valentino's met several old-timer customers who shared stories with him about coming to the bar with their parents, including one family whose parents owned the bar several decades ago.
"They wanted to see the place, so I showed them the upstairs and they said that's where they lived. Their family raised their kids there," he said. "Then they came back when their parents died to have a goodbye drink."
The previous owner lives next to the bar and owned it for 40 years, but the Valentinos changed the vibe to attract more police, firefighters and veterans.
Valentino's children are officers, one in Chicago and the other in Niles. When he became the owner, he honored them by adding law enforcement patches to the walls.
That caught the attention of his patrons, who also wanted to represent their departments. Pretty soon, he was getting patches from police officers, fire officials and military members from all over the country.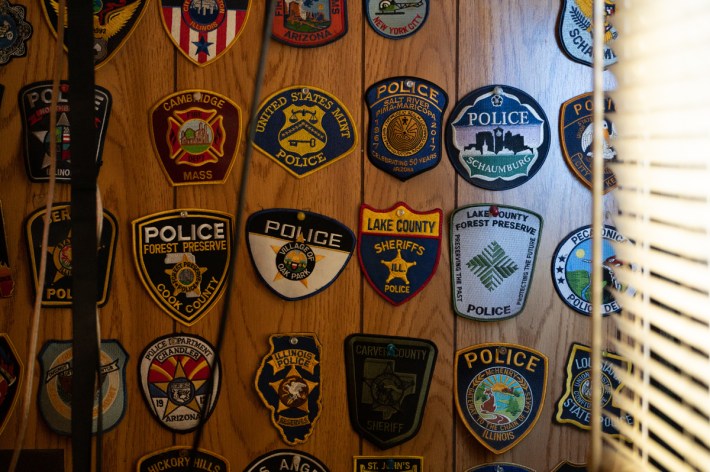 Valentino reckons he's collected at least 400 patches in the past 20 years. Depending on who takes over the bar, the collection could be a bonus for the new owner.
"More than likely I will take them down unless a fireman or a policeman buys the bar and wants them. I would consider it. But, honestly, this collection is unique," he said.
Over the years, the bar has transitioned to be a place for neighbors and city officials alike to relax and get to know each other. Tucked away between residential homes and side streets, The Nook is still being discovered by new and old residents, the owner said.
"When construction was on Devon Avenue, traffic would get diverted to Newark and people would find out about the bar," Valentino said. "It's funny when people walk in and say, 'I can't believe it; how is there a bar here?' It's the same thought me and my wife had."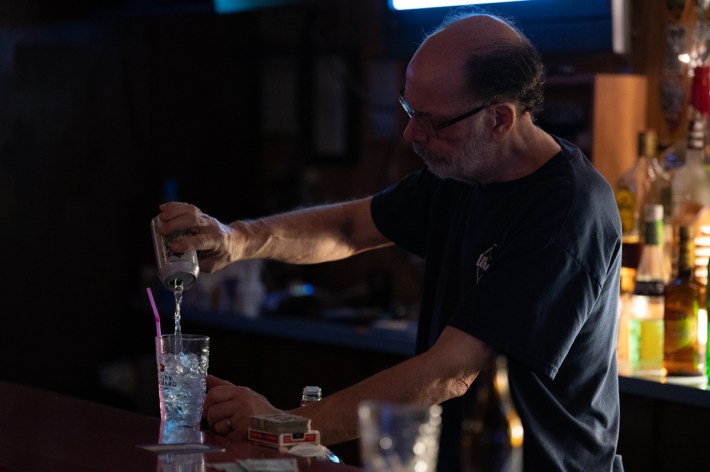 Philip Schwartz, the bar's realtor who recently moved a few blocks away, was surprised to find a bar so close to his house. It's filled with regulars.
An avid history and Chicago bar lover, Schwartz hopes the next owner can keep the traditional watering hole alive.
"It's a great thing for the community to have and it's a chance to meet your neighbors," Schwartz said. "It's a piece of Chicago history that once it's gone, it's gone forever."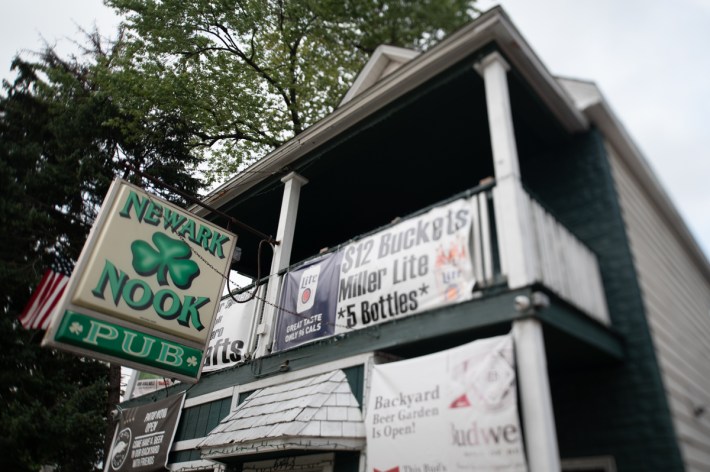 Once found on almost every Chicago street corner, dive bars and taverns like Newark Nook are dying out. The pandemic has exacerbated the closings.
A 2019 episode of WBEZ's Curious City found there were about 870 neighborhood bars left — compared to the end of 1933, when there were more than 5,000 taverns.
The Newark Nook is being offered for $400,000 and sits on an oversized lot. The backyard has two patios used as beer gardens, plus extra space to host events as it has for the past nine decades, from celebrations to memorials for locals, Schwartz said.
The building's first floor includes the bar, two patron restrooms, an office and storage. Above the bar are two one-bedroom apartments. The Valentinos live in one of them but plan to move when the bar is sold.
Schwartz has received many calls of interest but has not given any tours. Anyone interested can call him at 312-715-8569. 
The owners said they will miss the friends made at the bar but plan to come back and visit.
Joe Valentino has a slice of advice for the future owner: "Just try and have fun with it."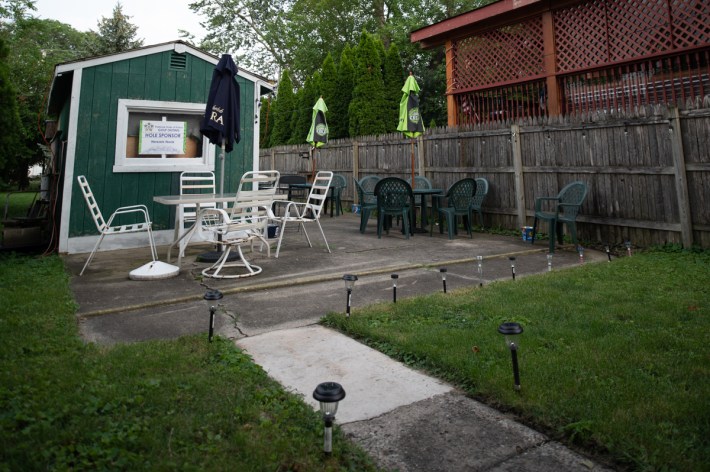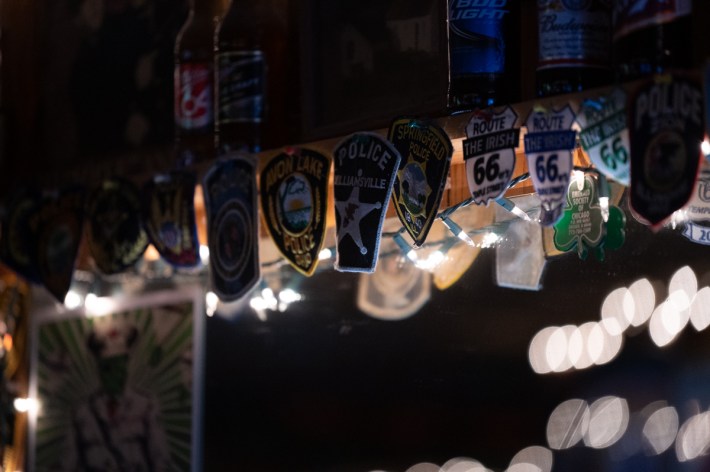 Subscribe to Block Club Chicago, an independent, 501(c)(3), journalist-run newsroom. Every dime we make funds reporting from Chicago's neighborhoods.
Already subscribe? Click here to support Block Club with a tax-deductible donation.
Listen to "It's All Good: A Block Club Chicago Podcast" here: