JEFFERSON PARK — The killing of Chicago Police Officer Ella French has left the city's police community reeling, prompting many to call for better leadership and structural department changes that officers say could have prevented her death.
French, 29, was shot and killed at 9 p.m. Saturday during a traffic stop in Englewood. Her partner was also shot and remains in critical condition.
Hundreds have gathered for prayer vigils around the city in recent days to remember the slain officer. At a prayer vigil for French held at the 16th district police station in Jefferson Park Wednesday, at least 1,000 people gathered to pay their respects and honor her life, as well as show support for those on the force.
Commander Maureen C. Biggane of the 16th district thanked the crowd for coming out to support them.
"I feel like mama bear and you want to take this pain away and we can't," Biggane said. "This support truly means the world." 
Officers, not permitted to speak to the media on the record, spoke to Block Club anonymously about how they are coping with French's killing.
"It's absolutely heartbreaking and one of the reasons why it's heartbreaking for me and a lot of other officers is that it didn't have to happen," said a longtime officer with the 16th district. "Her death makes me more disgusted with the department. It enrages me."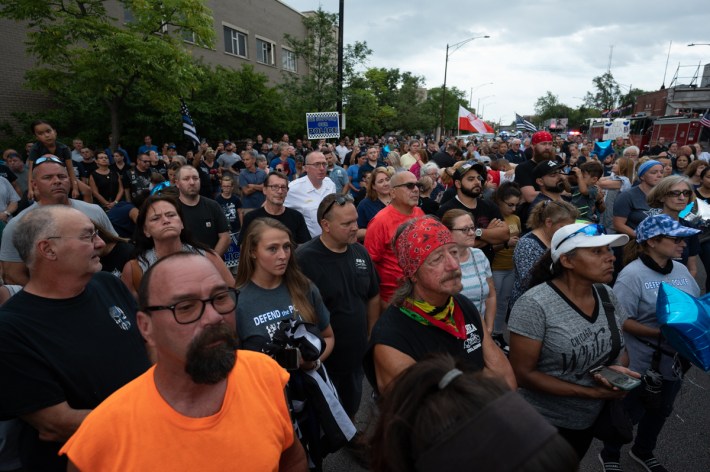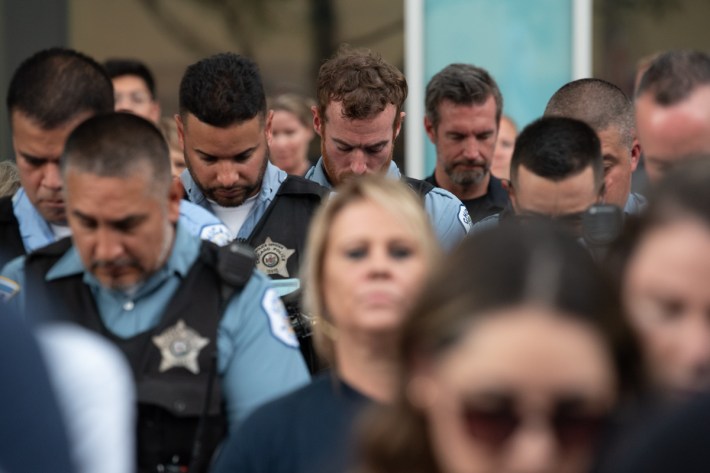 He said officers have faced more hostility than ever in recent years, and believes the anti-police sentiment ultimately contributed to her death.
"Everybody is scared to do their job because they feel unsupported by the department and unsupported by the city," he added, calling the job "thankless" as of late.
But he also blamed the department for putting her on a team in a violent neighborhood with little experience and failing to properly support officers who "are asked to sacrifice everything."
RELATED: Top Cop Blasts Federal Judge, Calling Release Of Alleged Straw Buyer In Slain Officer's Case An 'Outrage'
French had about three and a half years of experience as an officer and was part of CPD's Community Safety Team, created last year. The unit is intended to help forge stronger community ties on the South and West sides. It was started with about 450 officers, and 200 more were added last September, according to the Sun-Times.
"Now, you create a team and you put officers with the least experience on the team and you drop them in the worst neighborhoods in the city — how does that happen?" the officer said. "How does an officer not get killed as a result of the incompetence of CPD's leadership? This is disgusting."
A female officer who works on the North Side and attended Wednesday's vigil said she wants politicians and the media to stop vilifying officers. She said French's death reinforces how officers have been feeling in recent years: like nobody cares about them.
"We are good enough to work your streets, we are good enough to work your neighborhoods but not good enough to have a say in what actually goes on in these neighborhoods," she said, adding that the narrative that all officers are racist is wrong. "Anytime anybody speaks out about a bill or against a politician and they are law enforcement, they get attacked, they get complaints filed against them and they get threatened with their job."
She said officers deserve more respect for putting their lives on the line, and that starts with Mayor Lori Lightfoot and better representation from the department.
"We get up every day and we go to work. Last summer, some of us worked 30 straight days on 12-hour shifts with no days off. We didn't do that because we wanted to — we did that because that's what we signed up to do," she said.
The officer said he feels Lightfoot and Supt. David Brown seem primarily focused on telling officers what they're doing wrong, instead of listening to them about what they need.
Another officer said he feels better represented by the Fraternal Order Of Police union, despite its president being "rough and the edges" at times.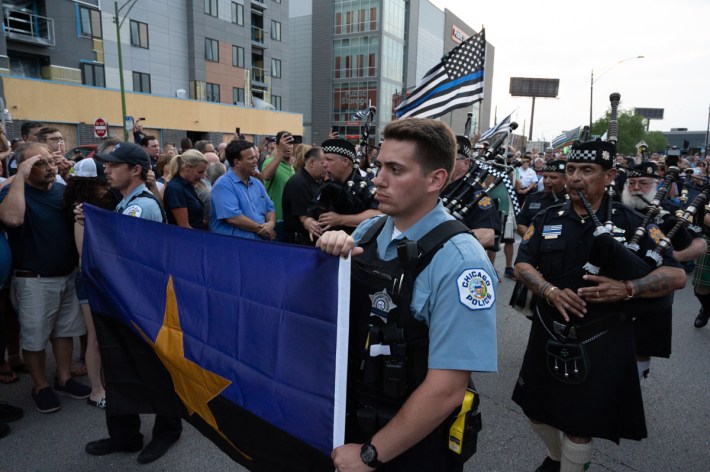 "FOP, in general, is a strong voice for the officers," he said. "They say what a lot of offices are thinking but can't say… that's necessary and important. You have to have somebody who is speaking on behalf of the officers."
Officers said better training and more resources for mental health are key to helping them feel supported. They'd also like to see legislation that would impose tougher sentences on repeat offenders.
Echoing that sentiment, Supt. Brown slammed a federal judge Wednesday for setting a low bond for the Indiana man charged with illegally buying and providing the gun used in the slaying of French, calling it "an outrage."
"This decision sets a dangerous precedent that straw purchasers … are not a danger to society, despite the fact that his alleged actions directly led to the murder of a Chicago Police Officer and left another in critical condition," Brown said.
Officers who spoke to Block Club said that despite the politcal climate around policing, they are happy to see hundereds come out to support them in the wake of French's death. They hope people remember that they are not the bad guys and want to help the community.
"At the end of the day, I am a wife, I am a mother and I am a neighbor before I am police. I don't get to have a say with what goes on in my community because these politicians are bullies," one officer said. "We want to serve and protect the people that we love — even people we don't know."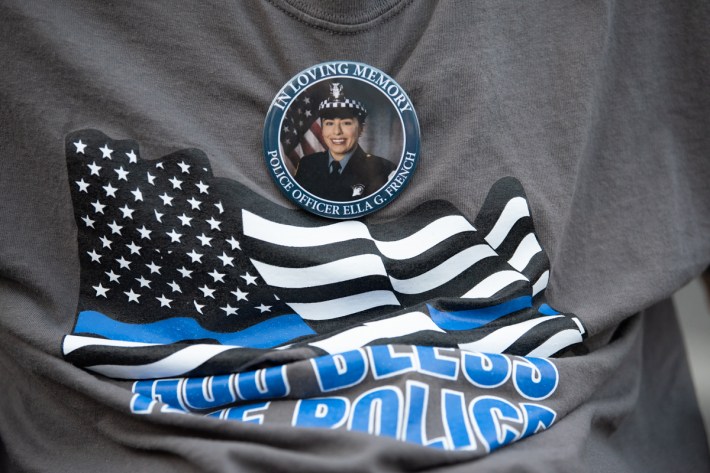 Subscribe to Block Club Chicago. Every dime we make funds reporting from Chicago's neighborhoods.
Already subscribe? Click here to support Block Club with a tax-deductible donation.