Editor's note: This story contains descriptions of substance use, rape and trafficking.
Melissa Hernandez started the Puerto Rico Project to help people struggling with homelessness and unsafe substance use. Photographer Keerti Gopal documented Hernandez's efforts to make Chicago safer.
BELMONT CRAGIN — Melissa Hernandez is a Belmont Cragin resident, mother, outreach director at Above and Beyond Family Recovery Center for addiction recovery and founder of the Puerto Rico Project.
Hernandez started the Puerto Rico Project in 2015 to provide essential services and support to Puerto Rican victims of addiction and trafficking in Chicago.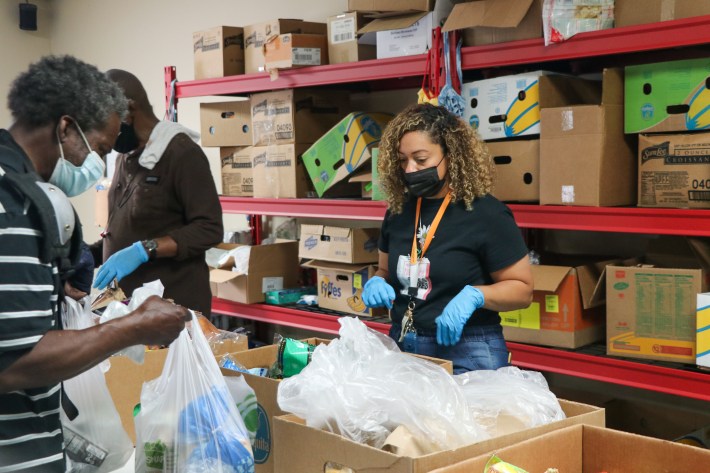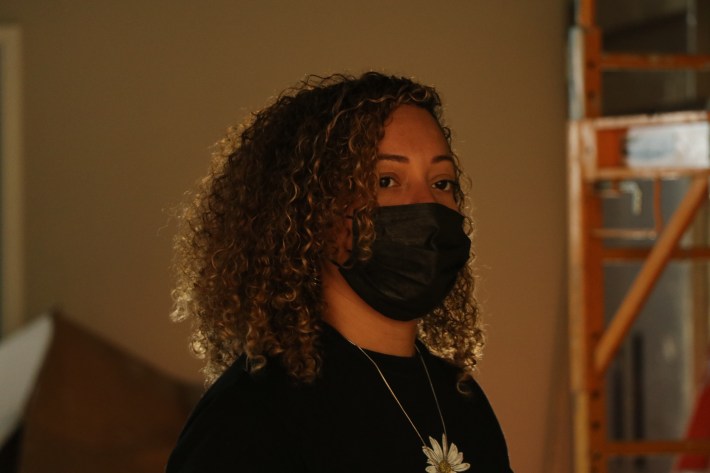 While Hernandez was growing up, she was sexually abused and exposed to drug dealing and abuse, she said.
Hernandez became addicted to drugs as a teenager, and she was sex trafficked at 17.
"To be honest, I kind of look back sometimes and I'm like, 'How the hell did I survive all this shit?'" she said.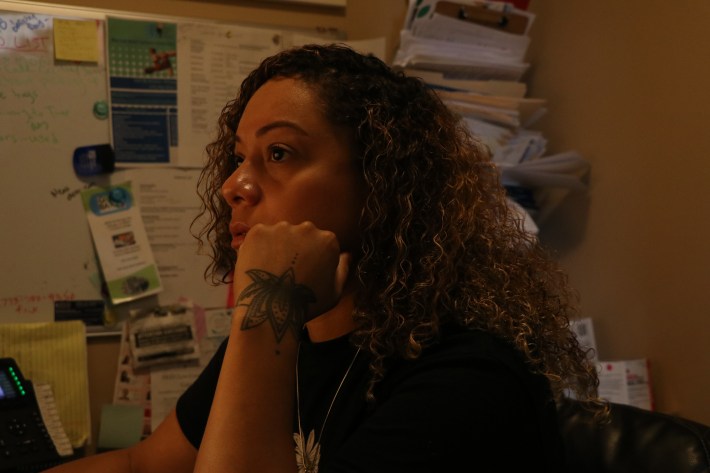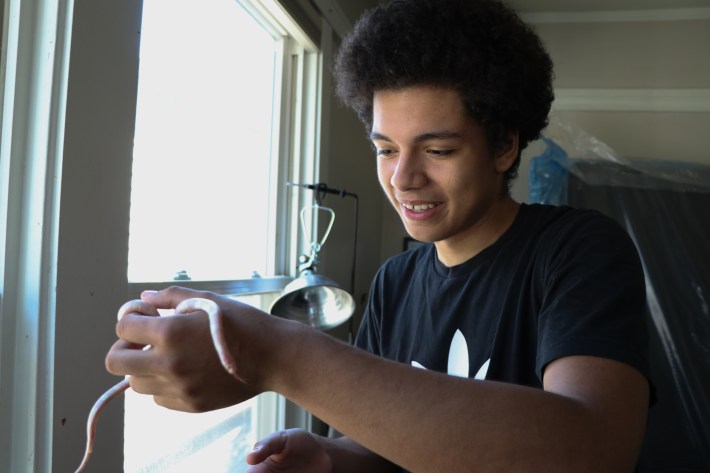 Hernandez had her first child in 2004. She said becoming a mother was a turning point for her.
"When I became a mother, it was the most torturous, depressing, beautiful [thing] … all at the same time. It's so conflicting," Hernandez said. "It's like, I want to do all these amazing things and make all these changes and give my children all these things I never had, have them experience the world — and I couldn't do shit. I couldn't even afford dinner. I struggled to pay rent."
Hernandez's desire to provide for her children inspired her to go to trade school, where she became certified as a dental assistant. She said that when she first experienced the school environment, she suffered from panic attacks.
"The transition was just like the most scariest shit ever," she said. "The transition [to school from] being trafficked, addicted to drugs, being in jail, all that stuff … [it was] scary as hell."
"When I see people who haven't really experienced a lot or even a quarter of what I did, they just maneuver so freely, you know. I used to get so jealous," Hernandez said. "Like, oh my God, I wish I was like that. How come they don't have fear? How come they don't get nervous? What is it?
"I didn't understand it. But I pushed through.
"I graduated on the dean's list. I became obsessed with my work. And that was the first time that I started something and completed it, 'cause I was always starting something, [then] fear got in the way and I stopped."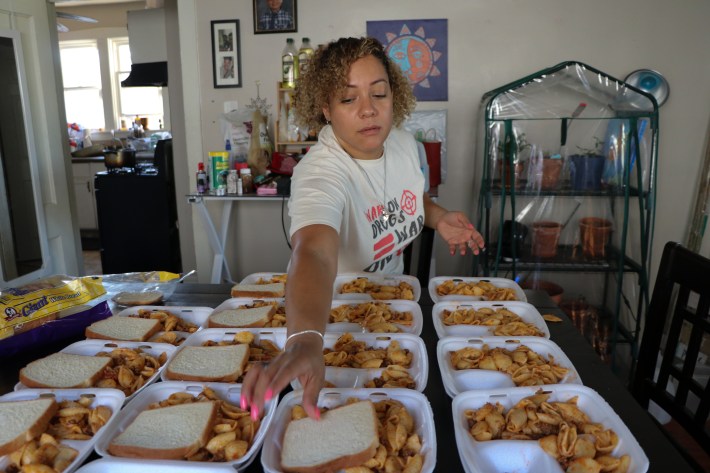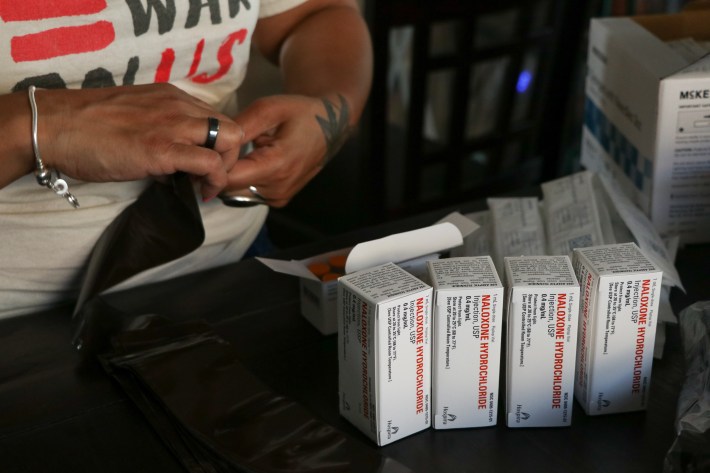 After several years working as a dental assistant, Hernandez went back to school, this time to study liberal arts, taking classes in fields like sociology and cultural anthropology.
Hernandez was inspired to begin reaching out to Chicagoans experiencing homelessness during a sociology class at Wilbur Wright College.
"[My professor] was talking about how society lacks empathy, and I remember sitting right there and I was like, 'She's right. F-cking society, man.' … And then she was like, 'I just wanna remind you that you are society.'"
Hernandez gasped, re-enacting her reaction from class. "I was like, … 'She's right. Oh my God, I'm the problem. … I play a role in this, too!' It actually became a mission."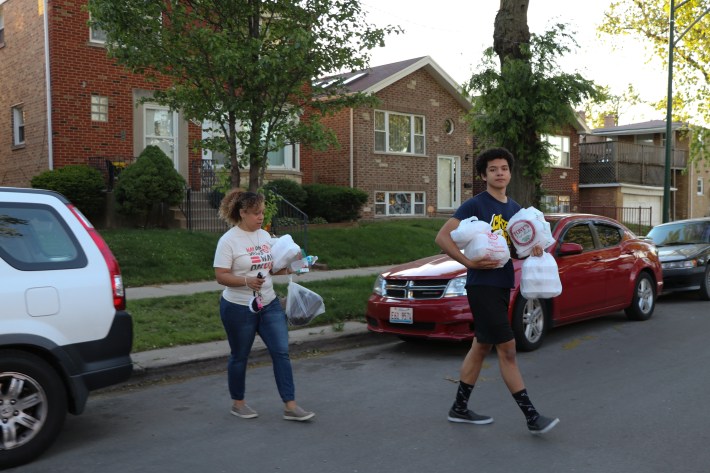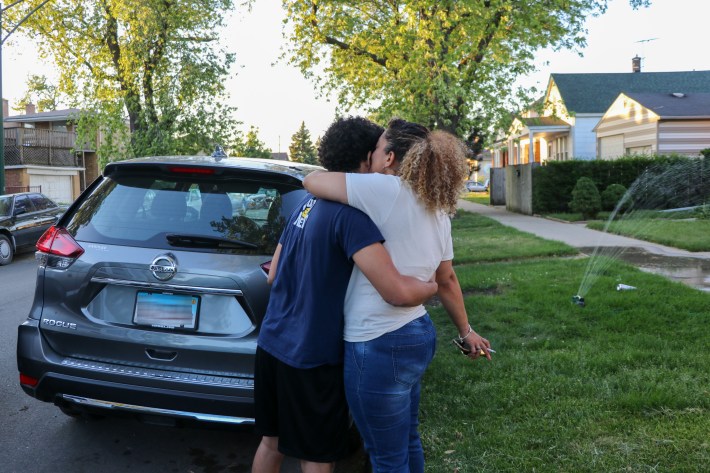 That day in class, Hernandez decided she would start feeding people experiencing homelessness.
"I was like, 'F-ck it, I'm gonna do it myself,'" she said. "I literally had $1 to my name and a quarter tank of gas."
Hernandez got gas money and a few groceries from friends and family, and she began conducting outreach with her oldest son, Jimmy.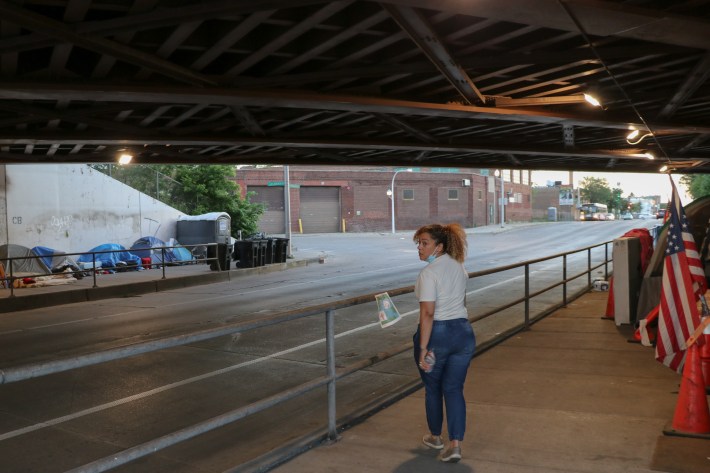 Hernandez provides foods and supplies — everything from Naloxone, to reverse overdoses, and clean syringes to shoes and bus passes — to people using drugs and struggling with homelessness. She's connected people to treatment programs.
In 2015, as her outreach increased, Hernandez — who is Puerto Rican — heard about communities of Puerto Rican victims of trafficking and addiction in Chicago, she said.
Hernandez learned that over the past decade, government officials from a range of Puerto Rican municipalities had encouraged hundreds of people struggling with addiction to buy one-way tickets to cities in the mainland US — including Chicago — with promises of drug treatment, housing and employment. According to Vice News, nearly 800 people struggling with heroin use were sent to cities on the mainland, including at least 120 to Chicago.
WBEZ found the facilities to treat these people were often unlicensed or unsafe, and large numbers of people sent to Chicago ended up experiencing homelessness and living without support.
"We started getting a lot of phone calls that there's a whole bunch of Puerto Ricans who are hungry who needed our help and nobody's helping them," she said. "We went over there, and I swear to goodness when I talked to the first guy, this energy went from my head all the way down to my feet. And I'm like, 'I belong here. I gotta help them.'"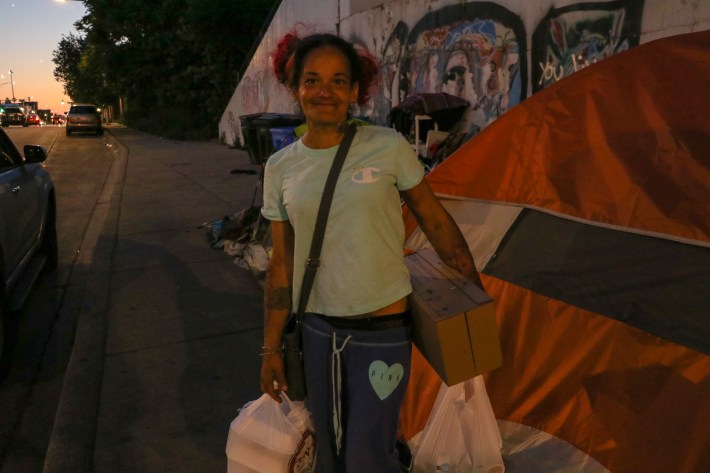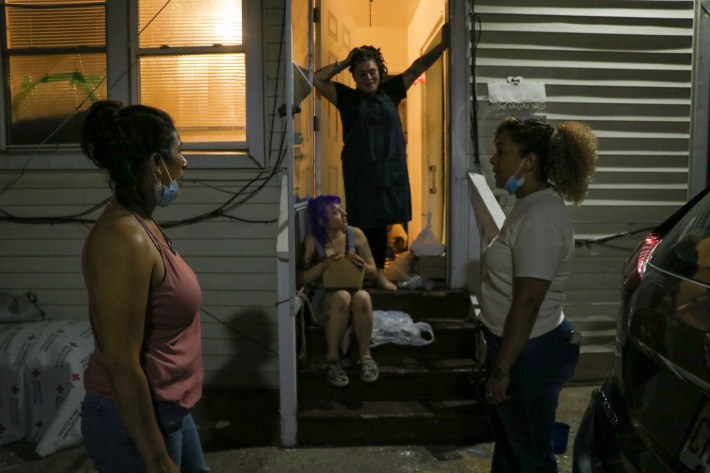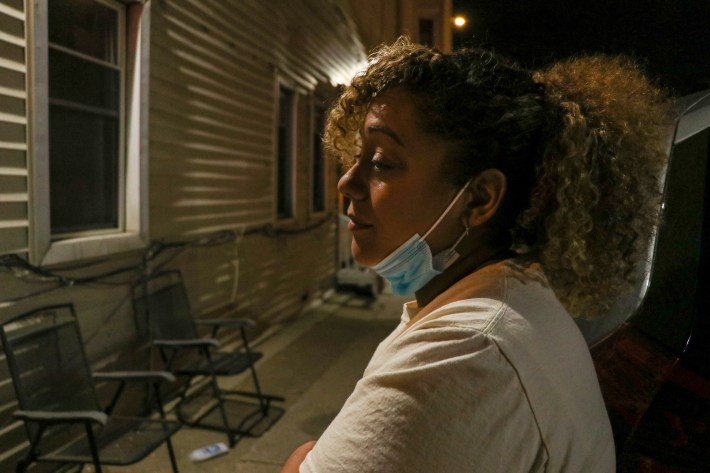 Hernandez said race is an essential part of the conversation around drug use — and one that is often overlooked.
According to The New York Times, "prior to the 1980s, whites and nonwhites were equally represented among first-time heroin users." Despite this, discriminatory drug laws violently and punitively targeted communities of color, with Black and Latino people arrested and incarcerated at drastically higher rates than their white counterparts.
The 2000s brought about a shift: In the decade leading up to 2015, nearly 90 percent of first-time heroin users were white. As growing numbers of white Americans began dying from opioid overdose, the nation and its lawmakers started paying attention. In 2017, the federal Department of Health and Human Services declared the opioid epidemic a national public health emergency.
"When people say, 'Oh, yeah, the opioid crisis.' That shit just f-cking hits a nerve, for the simple fact that it's always been a crisis in our communities," Hernandez said. "It became a crisis when the suburban whites started dying from it … and I was like, are you f-cking kidding me? We had grieving moms in our communities of color since the beginning of time. Our fathers, mothers, brothers, sisters been dying since the beginning of time; nobody gave a f-ck. I was like, no, nobody cares about our grief."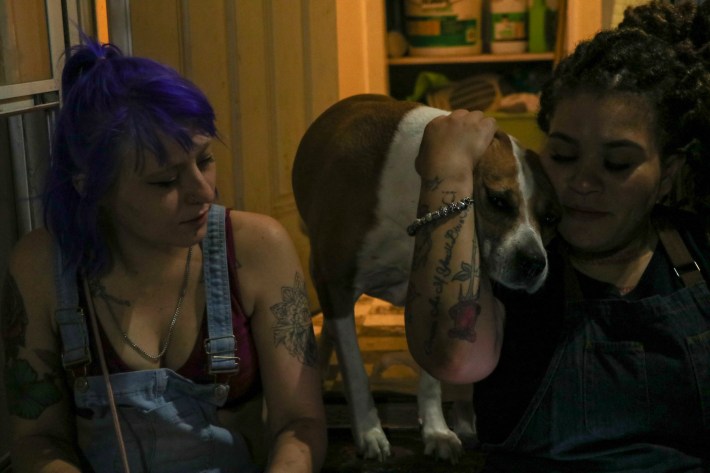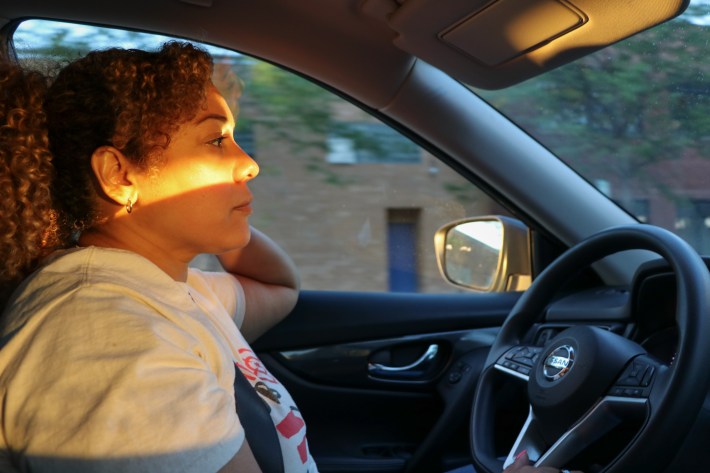 Hernandez's next goal for the Puerto Rico Project is to acquire a mobile shower unit. People who wish to donate to the group can do so online.
Hernandez plans to focus on the Puerto Rico Project for another year before running for alderwoman in her ward. When asked why she wants to take that step, her answer was simple.
"Because my heart is with the community," she said. "I'd like to lift their voices up."
Subscribe to Block Club Chicago, an independent, 501(c)(3), journalist-run newsroom. Every dime we make funds reporting from Chicago's neighborhoods.
Already subscribe? Click here to support Block Club with a tax-deductible donation. 
Listen to "It's All Good: A Block Club Chicago Podcast" here: