LOGAN SQUARE — Dill Pickle Food Co-Op leaders said they are struggling to keep the neighborhood grocery store open amid a union fight and financial woes dating back years.
Dill Pickle, the only co-op grocery store in Chicago, is in serious danger of closing after a tumultuous few years, general manager I'Talia McCarthy said.
McCarthy and other Dill Pickle leaders are pleading for the community's support to prevent the co-op from closing. But it may be too late: The co-op is $5.6 million in debt with only two to three weeks of cash remaining, McCarthy said.
"We are looking at closing our doors in a couple of months the way things are continuing right now," she said.
Dill Pickle workers went on strike earlier this month, the culmination of a months-long union fight. Fewer than 10 employees walked off the job July 2-3, during a typically busy holiday weekend. That action cost the already-struggling co-op thousands of dollars, McCarthy said.
The general manager said the co-op made around $8,000 in sales July 2, when it usually makes $22,000. July 3, the co-op made just $4,000 in sales, compared to the $27,000 it typically makes, she said.
"How most people live check to check to pay their bills — that's where we're at right now. We don't have any reserve in cash to be able to lose that much in sales … ever," McCarthy said.
But the union fight, which escalated during the pandemic, is just one of many reasons the co-op is facing a "financial reckoning," McCarthy said.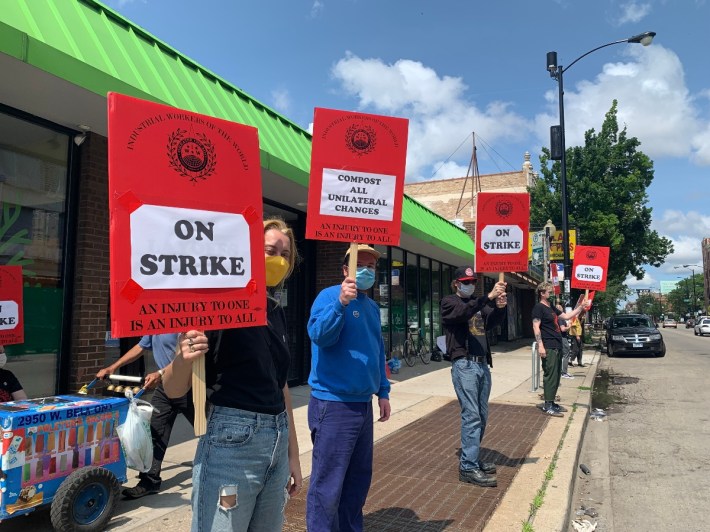 The co-op's issues started in 2017 when previous leadership failed to raise enough money to move from its tiny location on Fullerton Avenue to its much larger current location at 2746 N. Milwaukee Ave. McCarthy said they were short around $150,000. The co-op also took a big hit when a former interim general manager and employee stole $170,000 in 2019.
Meanwhile, Dill Pickle was failing to hit sales projections, McCarthy said. While it saw a spike in sales in the early days of the pandemic, store leaders were also spending a lot of money on protective gear and other measures to keep employees and customers safe, McCarthy said. In the middle of the chaos, the city temporarily shut down the store after it failed a health inspection.
The pandemic ultimately has had a negative impact on the store. Sales plummeted as restaurants and bars reopened, McCarthy said. When union workers went public with their demands, the already struggling store's reputation suffered, leading to an even larger dip in sales, she said.
Now, the co-op is struggling to pay its vendors, even after laying off 11 employees in May. The co-op employs less than 40 people, down from about 65 last spring.
The co-op stocks fruits, vegetables and perishables from local farms and independently run vendors. It also has a deli and a beer and wine section.
"The only hope for us to continue to operate is our community," McCarthy said in an email to owners. "Your support — your grocery dollars, owner loans, equity increases — means everything."
'We Have So Much Common Ground'
After months of battling, Dill Pickle management and the workers' union reached key agreements last week during a bargaining session both parties described as productive.
Management agreed to update the co-op's mask policy, implement a new pay scale and continue to offer paid lunches. One issue revolving around scheduling is still being ironed out, McCarthy and union workers said.
While the union is encouraged by the progress, there are still outstanding issues management hasn't properly addressed, union members Jessico Dickerson and Alex Thomas said.
The unfair labor practice complaints workers filed with the National Labor Relations Board have not been resolved, Dickerson and Thomas said. In the complaints, the workers — represented by the Industrial Workers of the World — accused management of bad faith bargaining, improperly disciplining employees and changing the terms of the union contract without authorization.
Some employees are owed back wages because management wasn't adhering to the agreed-upon pay scale, Dickerson and Thomas said.
But the union fight will come to an abrupt end if the debt-ridden store closes.
Asked for the union's response to the co-op's dire financial situation, Dickerson and Thomas said most of their demands won't cost management any money except for the back wages, which they expect to only cost a few thousand dollars.
The two acknowledge the co-op is in financial distress, but they said the union isn't the cause. Management is refusing to address legitimate labor disputes, and while the disputes are damaging the co-op's reputation, they could "easily" be resolved, said Thomas, a union steward.
During the union battle, some shoppers have boycotted Dill Pickle. But those shoppers will return if management resolves the union's issues, Dickerson said.
"If we can sway sales with our social media posts, we can sway posts back the other way," Dickerson said. "All management has to do is consistently respect the union."
Said Thomas: "I don't want to write a post mortem yet. I don't want to think in that kind of mindset. The union and management can turn this around. The ball is in their court now."
In a recent email to owners, McCarthy said management is "deeply committed to a healthy, respectful partnership with our unionized workforce."
"We must balance the financial stability of the store and our commitment to our owners and vendors, we intend to say yes whenever possible to requests made by the Union," she said. "We have so much common ground — fair and equitable treatment of our employees is paramount."
McCarthy is urging neighbors to shop at the Dill Pickle as the co-op flounders. Store leaders have lowered the cost to becoming an owner. It now costs $100, down from $250. Payments can be made monthly. The store also accepts owner loans.
McCarthy said they've applied for a loan through the federal government's Small Business Administration, but the loan will only go so far to improve the co-op's grim financial situation.
The Dill Pickle was founded in 2005. The co-op saw success early on, grossing $1.3 million in sales its first fiscal year of operation. When previous store leaders moved the store to a much larger location on Milwaukee Avenue in 2017, community leaders and residents alike were thrilled.
"It would really be a shame to see such a great community-based organization leave Logan Square, and so I just urge everyone to please … continue supporting this little independent community-owned grocery store," McCarthy said. "We have so much to offer, and I'm really hoping we can pull through this."
RELATED:
Subscribe to Block Club Chicago, an independent, 501(c)(3), journalist-run newsroom. Every dime we make funds reporting from Chicago's neighborhoods.
Already subscribe? Click here to support Block Club with a tax-deductible donation.
Listen to "It's All Good: A Block Club Chicago Podcast" here: