HUMBOLDT PARK — Neftali Reyes Jr. was on his way to fulfilling his dream of becoming a professional baseball player when he was shot and killed in 2017.
"His dream was taken away, and so were my dreams for him," Reyes Jr.'s dad, Neftali Reyes Sr., said.
A new mural honoring the 19-year-old Roberto Clemente High School graduate and other young victims of gun violence was unveiled this week. The mural, located under a viaduct at 1798 N. Humboldt Blvd., was painted by a trio of local artists — Sandra Antongiorgi, Rae Wilson and Andy Bellomo — and funded by Ald. Roberto Maldonado (26th), who represents the area where Reyes Jr. was killed.
Dozens of tearful community members, some wearing T-shirts with Reyes Jr.'s photos on them, gathered at the mural Wednesday for an official ribbon-cutting and a balloon release. Reyes Jr.'s family and friends used the event to recount memories of the slain teen, a talented baseball player who "learned to catch before he could walk" and an affable honor student who had a full life ahead of him.
"He played the game he loved with a big heart, but his love for life was even larger," Neftali Reyes Sr. said.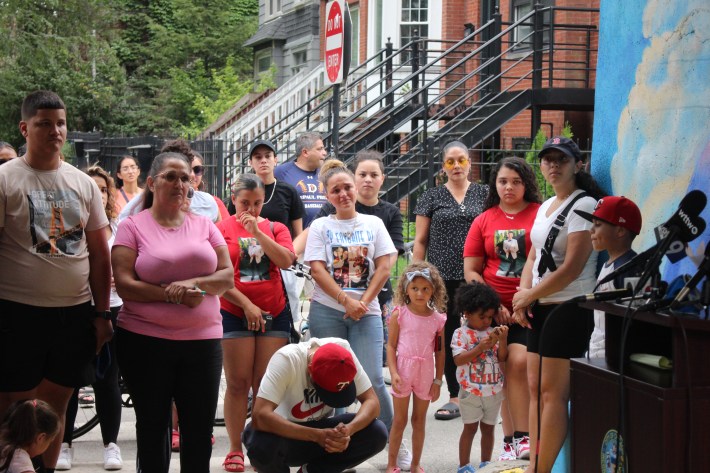 Reyes Jr. grew up in Humboldt Park. He graduated from Roberto Clemente High School with a full-ride baseball scholarship to Claflin University in South Carolina. While playing college ball, he injured his arm, which forced him to take a break from pitching.
Tragedy struck when he returned home to Chicago.
Around 4 a.m. on Dec. 29 of that year, Reyes Jr. was driving in the 2300 block of West Grand Avenue in West Town when three people in a Hyundai Santa Fe rammed into him "several times," causing him to crash, according to news reports.
After the crash, the group pulled up and someone fired shots, hitting Reyes Jr. in the chest. He was rushed to the hospital, where he was pronounced dead.
Now, a giant portrait of Reyes Jr. looks out onto Humboldt Boulevard, a reminder of a young man gone too soon. Beneath the mural are messages from other families who have lost loved ones to gun violence. Those victims are also represented in a plaque across Reyes Jr.'s portrait, declaring the viaduct, "The Tunnel of Blessings."
"This tunnel, these walls, hold stories," said Antongiorgi, one of the artists behind the mural. "They hold stories of the day she took her first step, the day he hit his first home run … all these stories are here and this is why it's so important. We want you to remember these lives. They can't be forgotten. None of these families want you to forget. I don't want you to forget. Because when we forget these stories, these faces, we normalize all of this. We can't do that."
Maldonado said it took a year to convince the city to let him fund the project using 26th Ward menu money, but would not say how much it cost to complete. The mural would not have been possible without the perseverance of Annette Flores, Reyes Jr.'s mother, who fought for it at every turn, the alderman said.
Flores has been a constant presence at anti-gun violence rallies in the neighborhood and across the city since her son was killed.
"Today, as a mother of a gun violence victim, who was forced to live this devastating journey, I share my love, my pain and my continued roar and call for accountability," she said. "Our youth deserve it; our children need us."
After the official unveiling of the mural, Flores and other family members released white balloons into the air and cried and embraced as they watched the balloons drift off into the gray sky.
"We hope that their lives inspire change in Humboldt Park and in the many violent neighborhoods in our city," Neftali Reyes Sr. said. "We hope that it encourages the young generation to strive for better through the hardships. We hope that young adults become mentors in this community to create a better future."
Subscribe to Block Club Chicago, an independent, 501(c)(3), journalist-run newsroom. Every dime we make funds reporting from Chicago's neighborhoods.
Already subscribe? Click here to support Block Club with a tax-deductible donation.