AVONDALE — In the four months Juan Aviles has lived in a tent in Fireman's Park, he has formed close bonds with other residents of the Avondale homeless encampment.
"My mom passed away and my family — they don't care about me," Aviles said, tears welling up in his eyes. "I don't really care, I got my family right here," he added, gesturing to the other residents, who also live in tents in the park.
But now the city plans to clear the area as part of its regular cleanups of public spaces, and Aviles and other residents are worried they'll lose their personal belongings — and the community they call home. Backed by local aldermen and neighborhood leaders, the residents are demanding the city call off the cleanup and instead help the encampment's residents find stable housing.
"Kicking people while they're down is not a solution to homelessness. Coming and telling people that they have to take down their tents — their only place of shelter — is not a solution to homelessness," Ald. Carlos Ramirez-Rosa (35th) said at a news conference Tuesday. "Study after study shows that housing is the solution to homelessness."
The city's Department of Streets and Sanitation plans to clear the Fireman's Park area of "unclaimed items and trash" Friday, city officials confirmed. Four people live in tents at the small park, 3350 W. Diversey Ave.
In a statement, mayoral spokeswoman Alejandra Flores Rebollar said the city routinely cleans public spaces to "protect the health and safety of residents while respecting the rights of homeless populations in the area." Flores Rebollar said residents of the Fireman's Park encampment will be allowed to return once the cleanup is complete.
As is the case with other regularly scheduled cleanups, officials with the Department of Family and Support Services will be on site Friday to help Fireman's Park residents find housing, Flores Rebollar said.
"The city does not conduct 'sweeps' to homeless populations and has not forced anyone to leave the area at Fireman's Park," Flores Rebollar said.
But residents of the Avondale homeless encampment find the cleanup distressing.
On June 26, a day of heavy rainfall and a tornado warning, city officials affixed stickers to residents' tents, saying they had to be out of the park within a matter of days. Ramirez-Rosa said the order came from Mayor Lori Lightfoot's office.
After the alderman and other community leaders raised objections, the city pushed back the cleanup a few times, which has caused further anguish and confusion, residents said.
"They came in and they wanted to throw everything away," resident Yefte Santiago said. "You can't just mess with homeless people like that, you know what I mean? This is our home."
Santiago moved into a tent in the Avondale park about two months ago after his landlord raised the rent on his Belmont Cragin apartment. He said the encampment is a tight-knit community of people helping each other through difficult phases of their lives.
Santiago has suffered from depression since his brother died and has strained relationships with other family members, which has made finding a stable living situation hard, he said. He's experienced homelessness on and off for about four years.
"We're not bad people; we're just in a bad situation. And that's it," Santiago said.
It's puzzling the city abruptly decided to clean up the park when residents have been keeping it clean for months, Santiago said.
"We actually clean the park all of the time. Other people come in and make messes and we clean it up," he said.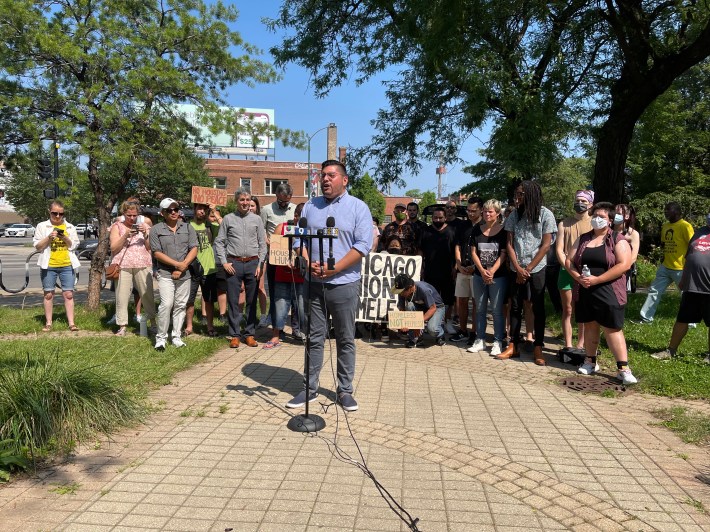 Ramirez-Rosa is urging Lightfoot to cancel the Avondale cleanup and others like it and approve the aldermen-backed Chicago Rescue Plan, which would allocate $1.8 billion in federal relief funds to social services like housing.
Ald. Daniel La Spata (1st), State Rep. Will Guzzardi (D-Chicago) and representatives from the Chicago Coalition for the Homeless, Chicago Union of the Homeless, Logan Square Neighborhood Association and Avondale Mutual Aid also urged city leaders to focus on solutions that don't displace vulnerable residents.
La Spata led Tuesday's group in a chant, saying, "Give us a home or leave us alone!" The slogan has become a rallying cry in the face of city cleanups without investment in affordable housing, said Diane O'Connell with the Chicago Coalition for the Homeless.
"If you don't have anything to offer people, why are you making their lives harder?" O'Connell said.
Like Santiago, Aviles is struggling through a rough patch. He lost job as a dishwasher at a Downtown restaurant when the pandemic hit, and he lost his apartment when his friend died of a heart attack, he said. While he feels "safe" living in the park with his friends, who have become like family, he said he'd rather live in an apartment in Logan Square, where he was raised.
But the city should respect residents' homes while they're living in the park, Aviles said.
"We're decent people. We don't steal from nobody … . We just want peace," he said.
Subscribe to Block Club Chicago, an independent, 501(c)(3), journalist-run newsroom. Every dime we make funds reporting from Chicago's neighborhoods.
Already subscribe? Click here to support Block Club with a tax-deductible donation. 
Listen to "It's All Good: A Block Club Chicago Podcast" here: