AUSTIN — One day, instead of a food desert, Austin will be a food oasis with healthy restaurants and grocery stores or markets within walking distance.
The Austin Eats Initiative envisions this lofty future. It has united 22 West Side neighborhood groups dedicated to building an abundance of fresh markets, restaurants, community gardens and grocery stores in the neighborhood.
"The vision is everyone working together collaboratively to make sure everybody has a really healthy relationship with food," said Ethan Ramsay, lead organizer at Austin Coming Together, the group leading the effort.
The initiative was born from the Austin Quality-of-Life Plan, a community-made blueprint of strategies for addressing issues such as public health, crime, education and the local economy.
Since a main goal is to promote access to food in Austin, more than 20 groups partnered under the Austin Eats Initiative to uplift projects already working on improving food access and to collectively design ways of building a community rich in healthy and affordable food options.
"It's an initiative comprised of residents but also organizations small and large committed to reimagining the food ecosystem in Austin," Ramsay said.
Partners in the initiative collaborate through working groups that each tackle a component of Austin's food ecosystem, Ramsay said.
Food pantries and free food programs are part of an emergency food working group that aims to "develop a more coordinated food delivery system for folks that might not be able to go to the grocery store," Ramsay said.
A grocery access working group is focused on addressing the lack of supermarkets in the area. The group amplifies projects such as the Forty Acres grocery store being developed and the Austin City Farmers Market.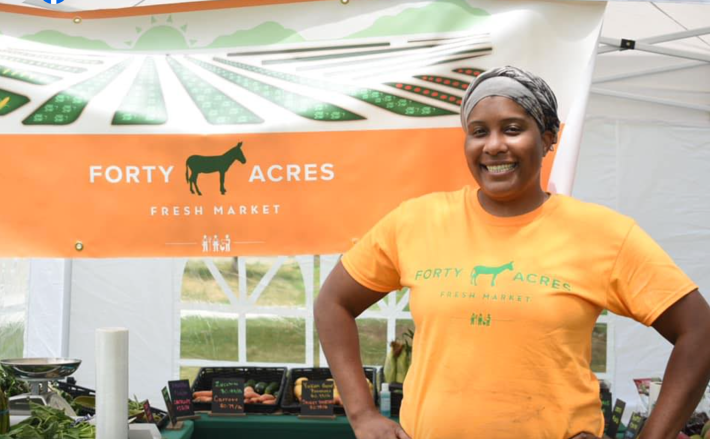 The gardens and farms working group coordinates efforts to expand green space, community gardens and urban agriculture to improve opportunities for residents to grow their own food. A flagship goal is to develop an urban farm and wellness hub in Austin.
A food education working group organizes events, programs, food demos, screenings and other resources to empower residents to make informed decisions about their eating habits.
A culinary entrepreneurship working group develops strategies for building a local economy that is welcoming to food businesses, restaurants, bakeries and caterers that have stakes in the community and a bottom line that goes deeper than profit, Ramsay said.
Many organizations in Austin already had worked independently on efforts to bring healthy food to Austin. But by collaborating, the groups can share resources and expertise to fill in gaps where residents are not being served and maximize each group's impact on their target demographic.
Local teens who wanted their neighbors to have an affordable place to buy fresh produce created the Austin Harvest pop-up market. But when they have extra fruits and veggies that don't get sold, the teens donate the produce to pantries, such as the Jehovah Jireh Outreach Ministry that serves people in need of emergency food assistance.
The collective also has been helpful for food giveaways organized by the John Walt Foundation, said Nachelle Pugh, the youth arts organization's co-founder.
"If you have an event or you're doing some kind of distribution and you don't have what you need, everyone is going to help figure out how to make sure that we get this stuff," Pugh said. "You never have to worry about being able to provide for the community that we're all serving together. "
The collaborative approach allows the Austin Eats Initiative to meet people where they're at by incorporating food into programs that reach every corner of the community, Pugh said.
"If we're going to serve the youth, we gotta serve the whole family because there's a mom, grandma or father that's taking care of kids. We're giving them free arts education, but they may be hungry at home," Pugh said.
By taking different approaches to rethinking Austin's food ecosystem, the collaborative can more robustly address the social and historical circumstances that have depleted the neighborhood of healthy food options, said Aaron Allen, community relations coordinator for the Austin Community Food Co-Op.
"Decades of disinvestment in Austin and on the West Side has led to this deep issue of food insecurity. Folks now describe it as food apartheid … because that acknowledges that certain neighborhoods like Austin have been drained of a lot of resources that would have led to a healthier environment," Allen said.
Since the co-op will be owned by residents, it will be a way for the community to have ownership and decision-making power over a resource people rely on to meet basic needs, Allen said.
Last year, one of Austin's only grocery stores, Save A Lot, left the neighborhood suddenly, meaning residents had fewer healthy grocery options. The sudden closure made it clear Austin's food ecosystem has to be rooted in community, Allen said.
"It doesn't matter to them if the community has what they need to thrive. They're only worried about making money," Allen said. The co-op will bring fresh fruit and produce to the neighborhood, "but it will also give the opportunity to be able to own the resource and hopefully that will make it more sustainable."
But a food co-op alone isn't enough, Allen said. The Austin Eats Initiative must be comprehensive and include many approaches to ending food scarcity, he said.
"It's about meeting the community where they're at," he said. "A lot of folks need emergency food. Even being part of the co-op, that's a big commitment. So there needs to be other options if you don't want to join the co-op."
Subscribe to Block Club Chicago, an independent, 501(c)(3), journalist-run newsroom. Every dime we make funds reporting from Chicago's neighborhoods.
Already subscribe? Click here to support Block Club with a tax-deductible donation.