BUCKTOWN — Several years ago, the convent building neighboring St. Hedwig Catholic Church in Bucktown was home to nuns.
Soon it may become apartments.
In a key step toward final approval, the Committee on Zoning, Landmarks and Building Standards voted Tuesday to approve a zoning amendment for the church property bounded by Hoyne Avenue, Hamilton Avenue, Webster Avenue and Lyndale Street. City Council is expected to cast a final vote on the project Friday.
The zoning change would allow developer Anthony Chedid to build 21 units inside the old convent, including two affordable housing units, Ald. Scott Waguespack (32nd) said. The units will range from studios to three-bedrooms.
Waguespack, who lives in the neighborhood and once served on the St. Hedwig board as a financial adviser, supports the project. The convent building was constructed around 1910 but hadn't been fully used in the past half-century, he said.
"Whenever you can find an adaptive reuse, it saves the environment," he said. "The building's not going anywhere. You don't wanna see it torn down. It's perfectly solid. The neighbors are gonna essentially be looking at the same thing."
The developer voluntarily offered to build affordable apartments on-site, Waguespack said. Roughly a third of the contractors working on the project are minority-owned businesses, he added.
The apartment plan's approval comes at an interesting time for St. Hedwig, 2200 N. Hoyne Ave.
In a recent consent decree, the Archdiocese of Chicago announced St. Hedwig Parish, established in 1888 to serve a largely Polish community, would merge with Logan Square's St. John Berchmans.
Masses and schooling will continue at both churches; however, St. Hedwig will be the parish where official church records are kept. The merger will go into effect July 1.
The merger will combine parishes' finances. As of March 31, St. Hedwig had $185,649 in savings and no debt, while St. John Berchmans had $391,312 in savings and $137,947 of debt, per the consent decree. Both parishes had assessed capital needs greater than $1.5 million.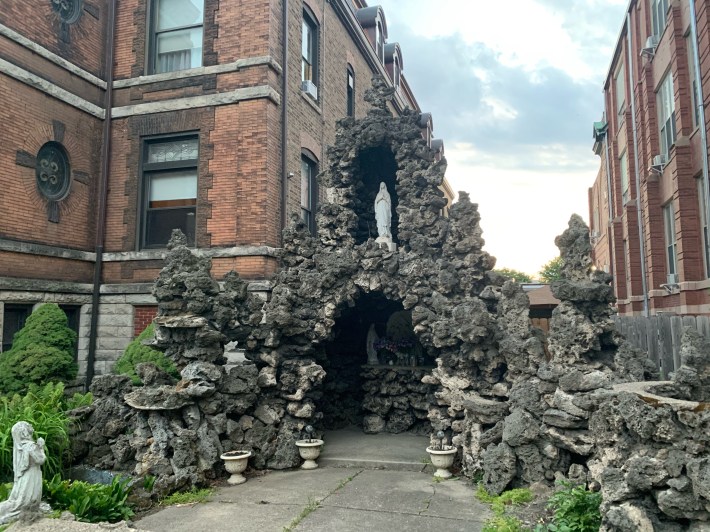 The consolidation is part of the Renew Our Church initiative from the Archdiocese of Chicago to preserve struggling parishes.
RELATED: After 120 Years, Bronzeville Catholic Church Prepares To Close Its Doors For Good
Waguespack said he didn't believe the timing of the apartment project's approval was related to the merger.
During the years Waguespack served on the St. Hedwig board, the question of what to do with the empty convent often came up, he said. While the church, rectory and school were fully used, the convent wasn't.
"Some of this stuff is going back years," he said. "It had been underutilized for many decades. … Whenever somebody needed it, we'd rent out here and there, but it was basically bringing in nothing. To maintain it, along with the boiler we had over there, was very expensive. … We were hemorrhaging money."
Before Waguespack introduced the zoning change to City Council in February, attorneys from DLA Piper sent mandatory letters to people living within 250 feet of the property. Waguespack talked with many residents about the project, most of whom supported the idea, he said.
Some residents had concerns about parking. When St. Hedwig School is closed, residents can park their cars in up to 16 spots in the school parking lot, he said. Otherwise, they will use street parking, Waguespack said.
Subscribe to Block Club Chicago. Every dime we make funds reporting from Chicago's neighborhoods.
Already subscribe? Click here to support Block Club with a tax-deductible donation.
Listen to "It's All Good: A Block Club Chicago Podcast" here: