CHICAGO — Chicago is in the midst of a drought that's wreaked havoc on the growing season as gardeners and urban farmers struggle to keep their plants watered.
Though there have been bursts of rain — and storms are possible Thursday — Chicago has been largely dry for months. The National Weather Service has said the city and other portions of the upper Midwest are in a drought.
"If it wasn't as hot, we wouldn't be in the situation that we're in right now. … It's really hard to keep moisture in the ground and in the plants," said Paul Krysik, an urban agriculture instructor for the Chicago Botanic Garden's Windy City Harvest program.
So far this year, the area has gotten just 8.46 inches of rain — 8 inches below the usual total of about 16.5 inches, according to the National Weather Service.
The year has also been unusually warm, going back as far as March. The first half of June ran 6 degrees hotter than usual, said meteorologist Mark Ratzer.
"We've been dry here and on the warm side pretty much the entire spring," Ratzer said.
The drought requires growers to "double or triple" the amount of work and attention they give to plants to keep them alive and productive, Krysik said. That's especially true for agricultural plants like those grown at Windy City Harvest locations, like the Farm on Ogden, 3555 W. Ogden Ave., Krysik said.
"Stressed-out plants will not produce as much. Stressed out plants are also more susceptible to plant diseases and pests," he said.
The heat has allowed weeds to thrive, so workers must be diligent about plucking them so more desirable plants don't have to compete for precious moisture.
The weather has also caused a boom in pests, Krysik said. Gardeners are working to control bugs like flea beetles, cabbage moths and cutworms they usually don't have to deal with until later in the growing season, when plants are less vulnerable.
Here are tips from the experts on how to keep plants healthy through the drought:
1. Water Plants At The Right Time
Watering frequently is  essential to keep plants healthy through the drought, but the cost of all that water can add up. To keep the water bill from skyrocketing, Chicago Lights Urban Farm uses drip irrigation systems to reduce waste, said farm director Ben Jaffe.
Using sprinklers or hosing down plants with the shower setting ends up wasting a lot of water, since water sprays onto the leaves and areas out of reach from the plant, Jaffe said.
"When you use drip irrigation … water is only dripping out where plants need it at the roots, so you're not losing any water," Jaffe said.
Drip irrigation systems are relatively low-cost and simple for home gardeners to install "without any technical know-how," Jaffe said.
Watering at the coolest parts of the day — early in the morning and late in the evening — can also save a lot of water, Krysik said. During the cooler hours of the day, "the plant is a lot more ready to take uptake that water," he said, and less water will be wasted due to the heat.
"When you're watering in the hottest part of the day, a lot of that water is not actually going into the soil. It's just evaporating," Krysik said.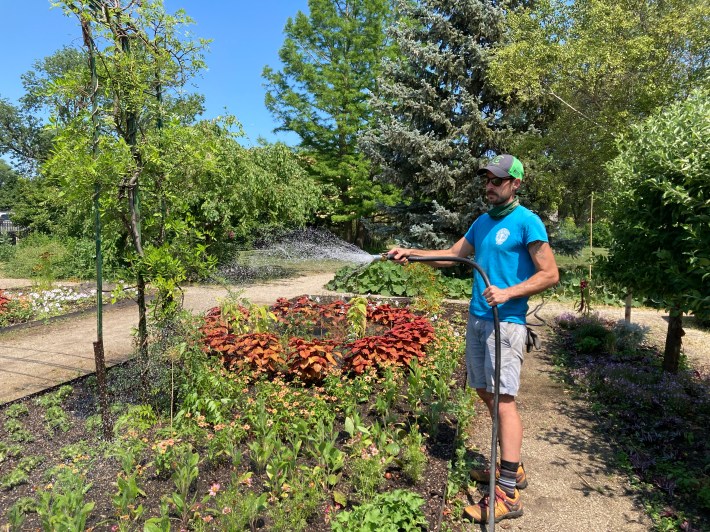 2. Healthy Soil Makes For A Healthy Garden
Using the right soil can help plants retain moisture. Krysik recommends mixing in additions like compost, peat moss or coconut coir to make sure soil is "full of organic matter and full of carbon."
"It makes the ground more sponge-like so it can hold onto water and not lose it," Krysik said.
Gardeners can also add a layer of mulch to the top of the soil to help the ground retain moisture and prevent water from evaporating.
In addition to mulch, Chicago Urban Lights Farm lays down landscape fabrics to cover the ground to keep the soil cool and prevent water loss, Jaffe said.
"We'll punch holes [for the crops] through fabrics that keep the weeds from growing but also shade the soil so it reduces the evaporation of water," Jaffe said.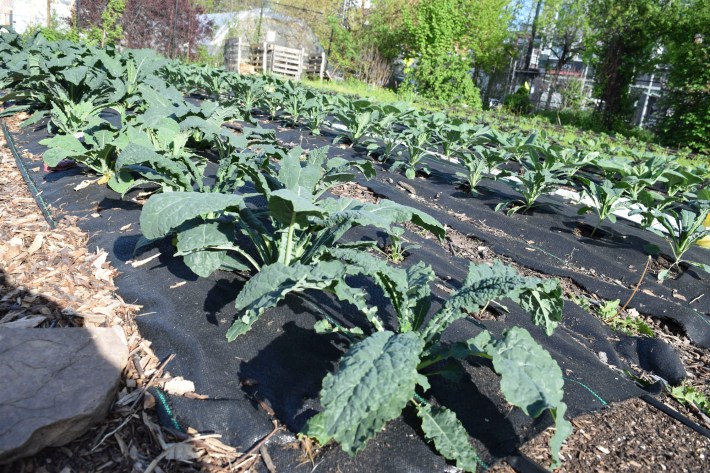 3. Plant The Right Plants
The Garfield Park and Lincoln Park conservatories are equipped to manage difficult climate patterns, so managing the drought has been "business as usual," said Peter Vrotsos, deputy director of horticulture for the Park District.
But some plants at the conservatories are thriving without any special care. The conservatories are designed with outdoor landscaping, ornamental beds and gravel gardens full of plants that are native to the prairies of the Midwest, Vrotsos said.
"Native plants can definitely handle these kinds of conditions more than imported plants. A lot of plants that like the heat and need less water," Vrotsos said.
Home gardeners can easily keep flower beds that are cheap and easy to maintain during droughts by choosing plants designed by nature to withstand climate fluctuations, Vrotsos said.
Some of the best native ornamental plants are coneflowers, wild lupins, milkweed, lobelias and asters, he said.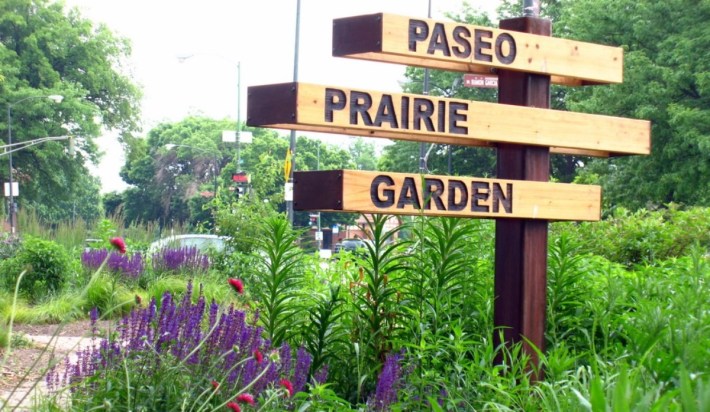 "They've been around for thousands of years. They know our winters, they know our summers. They're great for our garden," he said.
There are also agricultural crops that are better-suited for the hot weather, like peppers and squash, Jaffe said.
Most types of lettuce should be avoided, since they don't do well in the heat and need a lot of water, Jaffe said. But some spicier kinds of lettuce — like mustard and turnip greens — are used to hot and dry weather, he said.
Gardeners can also strategically plant crops so each plant can provide benefits to others around it, a practice known as companion planting. Tall crops like tomatoes can be planted at the south end of a garden to receive the brunt of the summer sun. The shadow of those crops will provide shade for plants that require a cooler environment, like turnips, radishes and greens.
Crops that have large, broad leaves are also useful for providing ground cover, which can keep the soil cool and prevent too much water from evaporating, Jaffe said. Gardeners can strategically place plants like squash, cucumber and eggplant to give other plants relief from the sun, he said.
"This drought that we're in really speaks to, where possible, finding native plants that can really stand these abnormal years. That speaks to everything from trees to herbaceous perennials," Jaffe said. "Crops like that can stand hotter, drier spells. But they do they still do need water."
Block Club Chicago's coronavirus coverage is free for all readers. Block Club is an independent, 501(c)(3), journalist-run newsroom.
Subscribe to Block Club Chicago, an independent, 501(c)(3), journalist-run newsroom. Every dime we make funds reporting from Chicago's neighborhoods.
Already subscribe? Click here to support Block Club with a tax-deductible donation.
Listen to "It's All Good: A Block Club Chicago Podcast" here: