NORTH LAWNDALE — A cooperative of street vendors now owns a shared West Side commercial kitchen they had rented for five years, part of a decades-long journey for the small business owners who long risked being fined or arrested when trying to make a living.
Cocina Compartida de Trabajadores Cooperativistas bought the community kitchen at 3654 W. 16th St. this spring.
City rules forbid vendors from preparing food at home or on the street. The community kitchen gives the group a stable place to prepare tacos, tamales, fresh-cut fruit and other goods they sell on the street, providing a lifeline for people on a small budget selling food to make a living.
Buying their own space is a huge victory for the collaborative — and it's something the 35 vendors didn't anticipate when they started organizing together.
"We have a place to do our work in peace, with dignity, to achieve prosperity. …This is a treasure," said Luis Melendez, a vendor who is president of the co-op.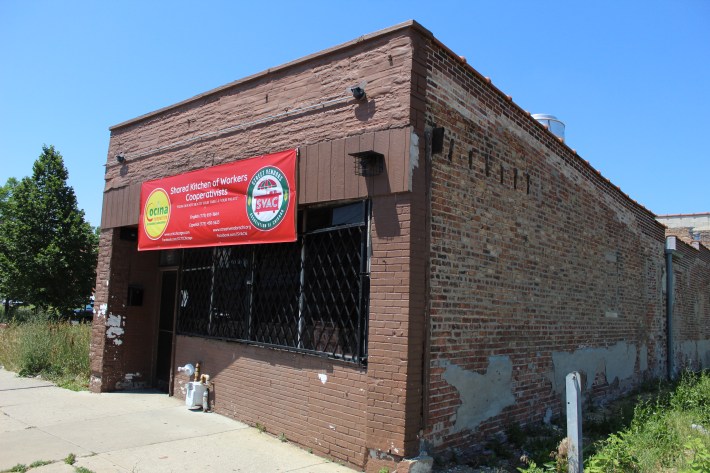 The vendors initially joined forces under a sister group, the Street Vendors Association of Chicago. The nonprofit organized to advocate for vendors when there was no legal way to sell food on the street, since the city hadn't established a business license for street vendors.
When the nonprofit association formed 28 years ago, vendors were routinely fined and arrested by police for operating without a license, said Augusto Aquino, founder and president of the Street Vendors Association of Chicago.
"We are just trying to make an honest living. We aren't trying to endanger anyone," Aquino said.
Melendez has sold tamales with his wife in Hermosa for more than 22 years. After his wife was arrested in 2006, they "got involved so police would stop harassing street vendors," Melendez said.
In 2015, the Street Vendors Association of Chicago launched a successful campaign urging the city to create a business license for street vendors that would allow them to step out from the underground economy and make a dignified living without fear of arrest.
The ordinance, which was sponsored by Ald. Roberto Maldonado (26th), passed later that year. Members of the group started receiving licenses in 2019, starting with Carmen Nava, Melendez's wife.
The association began renting the shared commercial kitchen in North Lawndale in 2016 to give vendors a place to prepare food so they could be in compliance with city regulations when they eventually got licensed. Members of the association put in a lot of labor to renovate the building on their own, Aquino said.
"It was made with their hands, their work … to bring it up to city standards," Aquino said.
When the state began recognizing worker-owned cooperatives in 2020, the group moved to form Cocina Compartida de Trabajadores Cooperativistas so the vendors could share profits and work together to take on catering clients.
Having the cooperative commercial kitchen opens up "opportunities where street vendors can prepare meals for businesses or grocery stores," Aquino said. "We want to grow and have more opportunities for street vendors."
The owner of the building offered to sell the shared commercial kitchen to the co-op, said Martin Unzueta, one of the vendors in the group. The members took out a loan to buy the building so they could claim ownership over the huge investments of time and money they'd already put into the kitchen, he said.
"All of us are older people. But we don't have a retirement. We don't have savings. We don't have health insurance," Unzueta said. "If we have been renting the building and we decided to close down … nobody is going to have anything. If we buy the building, we can have the possibility to sell the building … and everybody is going to get part of the sale."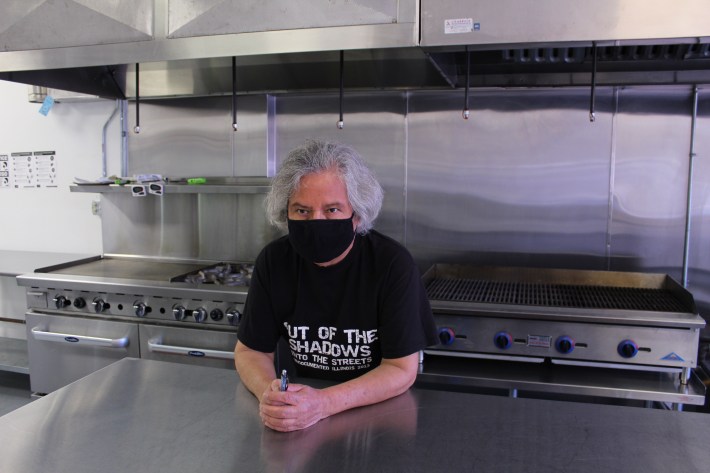 The co-op also received more than $114,000 through a Neighborhood Opportunity Fund grant in 2019, which they are using to further develop the kitchen. The money will pay for exterior brick work and electrical and plumbing work.
The grant also will help the group buy kitchen equipment, including a tamale machine that will make the labor-intensive process of assembling tamales quicker and easier. The machine can make up to 3,000 tamales per hour, allowing vendors to scale up their businesses and expand their menu, Unzueta said.
"With the machine, we can think about vegetarian tamales, for example. It's another market," he said. "Our interest is to the children, giving them a healthy product. … We want to think about being in contact with schools."
After their fight to legalize street vending, their efforts to organize the co-op and their latest victory buying the shared kitchen, the group has already made a lasting impact for people who earn their income from street sales. But the street vendors hope to encourage others to continue building collective power and making further strides, Aquino said.
"We want to grow and have more opportunities for street vendors," Aquino said. "This is the first cooperative, but it won't be the last."
Subscribe to Block Club Chicago, an independent, 501(c)(3), journalist-run newsroom. Every dime we make funds reporting from Chicago's neighborhoods.
Already subscribe? Click here to support Block Club with a tax-deductible donation. 
Listen to "It's All Good: A Block Club Chicago Podcast" here: