LITTLE VILLAGE — Leaked emails show City Hall officials didn't update Little Village residents before demolition work resumed in May 2020 at the old Crawford coal plant — even though Mayor Lori Lightfoot had promised to keep residents informed.
The emails also show some advisers saying community members should hear the news from a "human being," but they were ultimately ignored.
After the April 2020 botched implosion at the old Crawford coal plant covered Little Village in dust, Lightfoot issued a stop-work order and said no work would resume until an investigation was completed. She said residents would be kept in the loop.
But just a month later, on May 14, city officials quietly gave contractor Hilco permission to begin the demolition of a turbine at the old coal plant. City officials issued a statement saying the work was being done to "address the imminent and dangerous concerns regarding the turbine structure."
But residents said they didn't learn about the work until it began and again felt blindsided.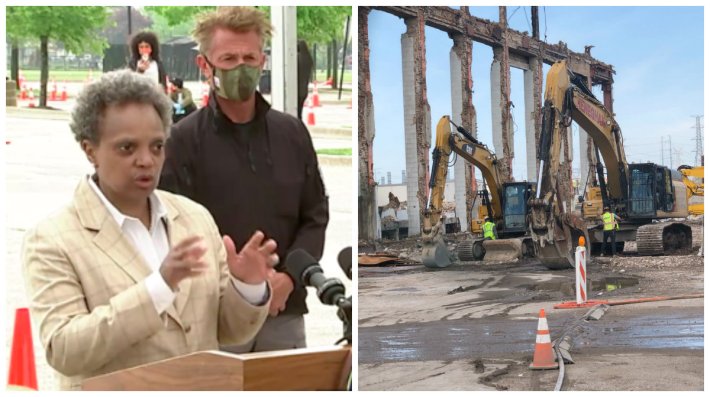 Now, leaked emails show what was happening behind the scenes at City Hall as officials OK'd the demolition work and then figured out how to inform residents and local officials.
The emails show top officials — including Lightfoot's chief of staff, Maurice Classen; former Buildings Commissioner Judith Frydland; Department of Public Health officials, as well as former and current city spokespeople — crafting a press statement about work resuming at the Crawford site before informing Little Village residents.
The emails are from May 14, the same day work resumed at the site. An initial draft of the press statement was circulated in emails and revised over three hours. Shortly after 1 p.m., a spokeswoman asked for final edits on the statement and asked about reaching out to community members.
Responding to the question at 1:10 p.m., Manuel Perez, now deputy mayor for Intergovernmental Affairs and chief engagement officer, said he and the city's former chief sustainability officer had a list of community members to contact. 
"We will contact once the [press] statement goes out. We want to make sure our message is aligned with the statement," Perez wrote.
Then-communications director Michael Crowley, who resigned earlier this year, asked, "We're not talking to community first?"
Minutes later, Classen said he thought "we should start the calls before the statement goes out. Fine to be aligned on the messaging, but folks should hear it from a human being first."
In the city's statement at the time, officials said they called community leaders earlier in the day to inform them about the "immediate need" for the work. But the emails show officials were still determining who to contact and when during the afternoon.
At the time, neighbors said they weren't informed the work would resume until after it'd started — despite the mayor's promise. The area's alderman, Michael Rodriguez, said he wasn't informed until the day the demolition work began.
Kim Wasserman, executive director of the Little Village Environmental Justice Organization, which has fought against the redevelopment of the Hilco site, said it's interesting to see some City Hall officials called for Little Village neighbors to be notified, but were ultimately ignored.
"Somewhere, somebody got an email and decided [talking to community] wasn't important, and decided that wasn't a priority," Wasserman said. "How are you not listening to your own staff? How are you going to repeat the same thing twice?
"I think that just speaks to the complete lack of connectivity to community, lack of disrespect to our community and not caring about our neighborhood on [the mayor's] behalf and whoever is helping her make those decisions."
Lightfoot said at a news conference Monday she would not comment on specific emails that had been leaked. Classen did not respond to requests for comment.
The city's Legal Department released the following statement about the email leak: "The City of Chicago, the Mayor's Office, and related agencies or departments will not respond to any media inquiries stemming from information obtained through illegal ransomware attacks. Reporting on materials compromised during a third-party vendor data transfer makes all of us less safe and encourages future bad actors to use nefarious means to gain information. In addition, there is no evidence to suggest that this or any other piece of information obtained during this security breach is indeed authentic. Hackers of government-related materials are known to manipulate and alter illegally obtained emails and documents."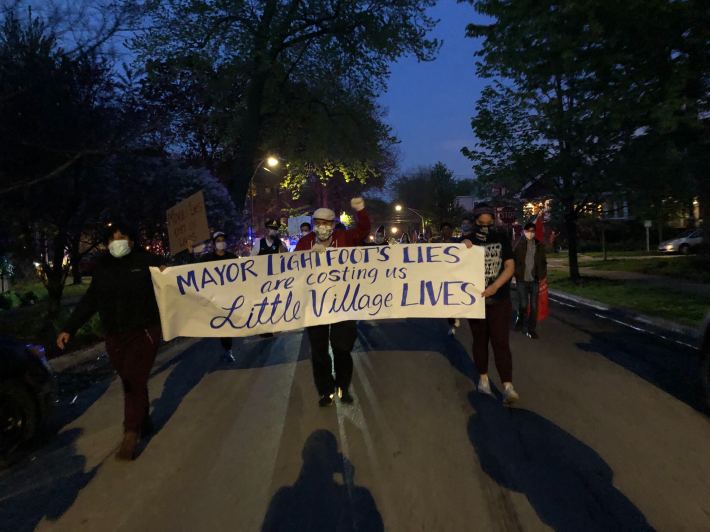 Once Rodriguez learned work resumed at the site, he said he immediately told Frydland, who resigned in June, he opposed the demolition. Allowing demolition work to continue in the middle of a pandemic — and after the developer botched a smokestack demolition — is incomprehensible, he previously told Block Club Chicago.
"Any risks to our community should outweigh any other issue. [I have] no reason to have faith in Hilco to get this done right," he said at the time.
As news broke that work had resumed at the site, Little Village residents were incensed they were again left in the dark.
Last May, Alexandra Perez, a Little Village resident who lives near the site, said she hadn't received any notice demolition work was happening at the site. She found out about the work from a Block Club reporter.
"They should have informed us. They are doing it again, like the last time when they didn't tell us," Perez said of the city. "I'm pissed."
Little Village residents and activists protested outside of Lightfoot's Logan Square home. Within hours, Lightfoot called off the emergency demolition.
But despite objections from some Little Village residents and activists, demolition work resumed in June. That was followed by construction of the 1.3-million-square-foot logistics facility in July.
Read the emails:
City's Response To Implosion
In reaction to the implosion, city officials required U.S. EPA air monitoring at the site during the demolition. Residents and activists had called in 2019 for air monitors to be installed to monitor demolition, but they were told by city and state officials it wasn't required. Instead, residents were told to close their windows and doors during demolition days.
Hilco/Exchange 55 took over the air monitoring this March, and the monitors were removed April 16 after demolition at the site was completed, James Scalzitti, a spokesman for the Department of Public Health, said in a statement.
Asked why Hilco was allowed to oversee the air monitors after it failed to follow protocols, Scalzitti said Department of Public Health and Department of Buildings inspectors were onsite monitoring during "active demolition and concrete crushing associated with demolition activities." 
"During this time, no dust was observed passing the property line and is consistent with observations when CDPH was in control of the air monitors," Scalzitti said.
After "no significant issues were detected at the Hilco site," the city required HIlco to undertake monitoring, Scalzitti said.
After the botched implosion in April 2020, neighbors and activists called for Target to break its contract with Hilco, the site's developer. Some residents also demanded the city rescind $19.7 million in tax subsidies given to the developer.
After the implosion, the city hit Hilco with $68,000 in fines and state Attorney General Kwame Raoul agreed to a $370,000 fine to settle a lawsuit. 
City officials have passed several laws in response, including revoking tax incentives from developers who betray the trust of communities and increasing fines for environmental polluters — although those do not retroactively apply to Hilco or other developers who have run afoul of those regulations. The city is working to bolster implosion requirements.
Target is expected to open its operations at the warehouse later this summer.
Read all of Block Club's Crawford coverage here.
Subscribe to Block Club Chicago. Every dime we make funds reporting from Chicago's neighborhoods.
Already subscribe? Click here to support Block Club with a tax-deductible donation.