CHICAGO — Nearly 50 rabbits were found living in a crowded suburban hotel room this weekend, and several Chicago animal shelters are stepping in to help find homes for the animals.
Red Door, a West Ridge no-kill shelter, orchestrated Saturday's rescue from the MainStay Suites long-term hotel in Schaumburg after that northwest suburb's animal control department got involved.
The majority of the rabbits were taken in by DuPage County Animal Services but many found foster homes in Chicago area shelters. Bucktown's One Tail At A Time found homes for nine rabbits while Red Door took in 10.
The rabbits and a woman had been living in the hotel room for an extended period of time, Red Door's Marcia Coburn said. The hotel manager told Red Door they had not cleaned the woman's room since the start of the coronavirus pandemic last March, and that the woman had kept a "do not disturb" sign on the door.
The room smelled of feces and urine when Red Door showed up, Coburn said. While the woman tried to document when litters were born — five babies were born April 23, for example — she had lost track of how many rabbits were in her care.
"We're a little bit traumatized by the whole thing," Coburn said. "We rescue animals, but I've never been in that kind of situation. … It was kinda intense."
The woman's hoarding situation began a year ago when she purchased two un-neutered rabbits from Petland, Coburn said. She had already had one rabbit that was neutered.
Pet stores are not legally require to neuter and spay rabbits before selling them. Young rabbits are also difficult to accurately gender.
Coburn said she spoke with the woman on the phone the day before the rescue.
"She wanted help," Coburn said. "She was afraid to give the rabbits up. She didn't want them to be euthanized."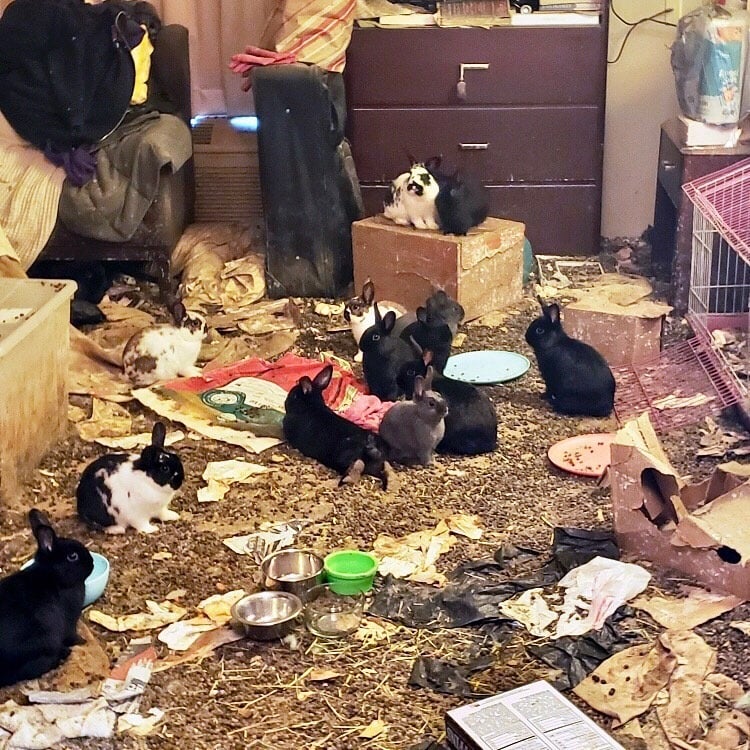 Laura Flamion, the Animals Services operations manager for DuPage County, said rabbits become sexually mature at as young as four months.
"They're able to breed very quickly," she said. "If people don't separate them fast enough … That's where I think the challenge comes in." 
After the rescue, the woman followed Red Door to DuPage County, where she signed the rabbits over to the organization. She kept the one neutered rabbit she had since the beginning.
Stacy Price, medical director at One Tail At A Time, said while the bunnies were initially "shell-shocked," they are already warming up to their foster homes and socializing with humans, she added. 
All 47 rabbits appeared to be healthy, however several appeared to already be pregnant with fresh litters. 
"She didn't seem like a bad person, just someone who got overwhelmed quickly," Flamion said, of the woman. "Sometimes they don't know who to turn to to ask for help. It can be embarrassing." 
When you step into a hoarding situation, you typically see an exhausted caretaker, Price said. But it was clear the woman "cared for them as much as she could," Price said.
"These are people who don't know there are resources to help them … they're overlooked," she said. "Nobody's trying to be cruel to these animals. … They're doing the best that they can in a situation that has spun out of control."
"We have an amazing community of fosters," she said. "As long as we had space and resources, we were going to help as much as we could."
Since the start of 2021, DuPage County Animal Services has taken in 120 rabbits — 63 of which came in during the last two weeks. 
When Flamion learned of the latest batch of rabbit rescues, she sent a message to members of the Chicagoland Humane Coalition, a group of animal services organizations throughout the Chicago area. Several groups, including One Tail, heeded the call. 
"They were phenomenal," Flamion said. "I already had well over 30 rabbits in my system already. I immediately sent an email out to the coalition, and said, 'I think my numbers are gonna double on Saturday.'" 
Many first-time rabbit owners do not realize that rabbits can reproduce when they are just four months old, Flamion said. They also require more grooming and physical space than "pocket pets," such as gerbils and hamsters. 
Unlike shelters, pet stores and breeders are not required to spay and neuter animals before selling them. While a pet rabbit may cost $30 at a store, the surgery to have the bunny "fixed" can cost hundreds, and vets who perform this surgery often have a wait list, Flamion said. 
Red Door encouraged Chicagoans to support a proposed Illinois bill that would require pet stores to spay and neuter rabbits before selling them.
Rabbits often live at least 10 years, she added. Many rabbits that are surrendered come in at around one or two years of age. 
"People buy them at the store when they're this cute little tiny rabbit," Flamion said. "They're very social animals. They need room." 
Rabbits and other small animals deserve the same type of love and compassion humans extend to dogs and cats, One Tail At A Time wrote in a Facebook post. 
You can support Red Door's rabbit rescue efforts by purchasing a T-shirt or making a donation online. The organization also needs volunteers.
If you'd like to support One Tail's rabbits, you can buy "bunny supplies" from One Tail's Amazon Wishlist. If you'd like to foster a rabbit via One Tail, sign up here. 
Those interested in fostering or adopting a rabbit from DuPage County Animal Services can learn more online. All rabbits are micro-chipped and spayed or neutered. 
Subscribe to Block Club Chicago. Every dime we make funds reporting from Chicago's neighborhoods.
Already subscribe? Click here to support Block Club with a tax-deductible donation. 
Listen to "It's All Good: A Block Club Chicago Podcast" here: