SOUTH CHICAGO — Residents of the Southeast Side got a look at two proposals vying to reshape a corner lot as part of the city's INVEST South/West initiative Thursday evening.
The competing projects — which blended housing, retail and outdoor community space — were presented during a virtual meeting in response to the city's request for proposals to redevelop a mostly vacant stretch of 8840–54 S. Commercial Ave. Currently, the site hosts one building pending demolition, two vacant properties and two privately owned buildings.
Both developments are considered transit-oriented, which allows developers to provide fewer parking spots due to the proximity to public transit. The proposals both called for at least 12,000 square feet of commercial space and 44 to 45 apartments.
They also would include outdoor pedestrian plazas that could become community hubs with arts and entertainment programming.
Here's more on the two proposals.
Steel City Apartments
Developer Claretian Associates, in partnership with the national nonprofit group Preservation of Affordable Housing, touted its local roots while presenting its plan: Steel City Apartments.
The $29.3 million project, designed by Urban Works, would bring 16,000 square feet of commercial space, 44 mixed income apartments, an interior courtyard open to the public and a rooftop garden to the corner of Commercial Avenue and 89th Street.
The apartments would be a mix of 1, 2 and 3 bedroom with prices at 30 percent, 60 percent and up to 80 percent of the area median income. Seventeen parking spaces would be provided.
"We really want to talk more with the community and the city about exactly what that mix looks like, at the end of the day our mission as a company is preservation of affordable housing," said Konrad Schlater, vice president of Preservation of Affordable Housing. "We hold that mission very dear and we know how to execute it."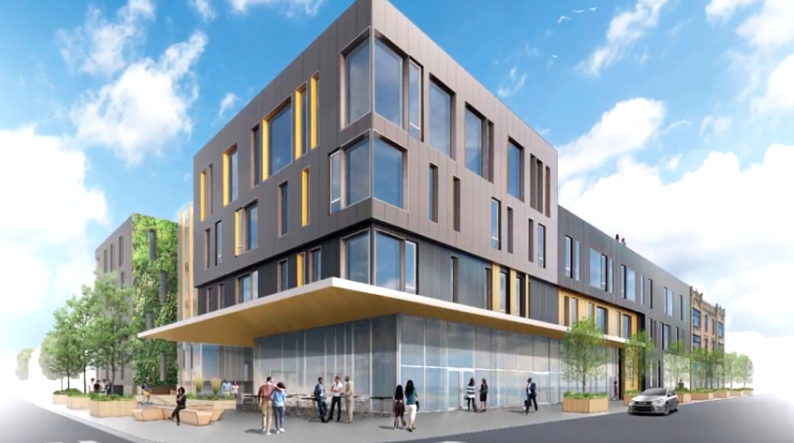 Angela Hurlock, executive director of Claretian Associates, is already connected with the neighborhood, she said. Hurlock chairs the special service area along Commercial Ave., a taxing district that imposes an additional small property tax that is reinvested in businesses, increased security and streetscaping in the district.
She said her familiarity with the area would allow her team to choose the right mix of commercial tenants for the project, with a plan of including local shops and restaurants.
"This is where we live, this is where we work, this is where we're dedicated to," Hurlock said of her firm's dedication to South Chicago.
The company was part of a team that was a finalist for the $10 million Chicago Prize and Hurlock said they are incorporating "everything that we've learned and everything that the community has said to this project."
"We're dedicated to making a community of choice, not a community of last resort, but a community where people choose to live," Hurlock said.
Galleria 89
Galleria 89 is a $23.7 million development from 548 Development. This proposal includes 12,000 square feet of commercial space and 45 apartments, with 60 percent set aside as affordable.
A.J. Patton, founder and CEO of 548 Development, touted the project's environmentally friendly design and said the company has already secured commitments to bring a coffee shop, business center, education programming and public artwork to the corner lot. It would be anchored by an open air plaza connecting the existing buildings with the new one.
"I founded the firm on the premise that all communities deserved sustainable design," Patton said.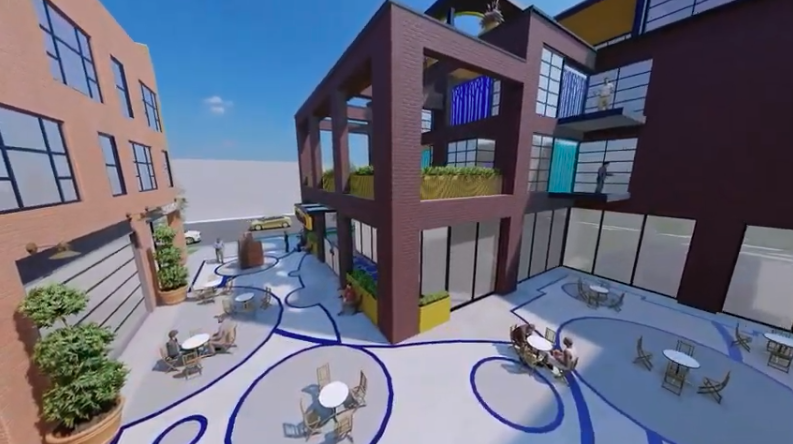 The goal is to blanket the roof in solar panels to provide energy to the building, but Patton conceded the cost of materials and final building design could impact the level of renewable energy included in the project.
Dollop Coffee has already signed on as a first-floor tenant along the plaza, and has committed to hiring 100 percent from the community and giving an unspecified percentage of all sales to a community fund.
Jamii Group and Black Women Talk Tech will operate the business center, serving as a community hub with entrepreneurial advice sessions, meeting space and access to computers and printers.
Cambio Labs will operate an education center and SkyArt will guide the creation of a large mural and other artwork throughout the development.
Patton said the development would be aimed at families that want to make a long-term home in the community, with 40 percent two-bedroom, 40 percent three-bedroom and 10 percent one-bedroom apartments.
"We think that INVEST South/West opens the door for our neighborhoods to get fresh ideas, fresh energy and fresh developments," he said.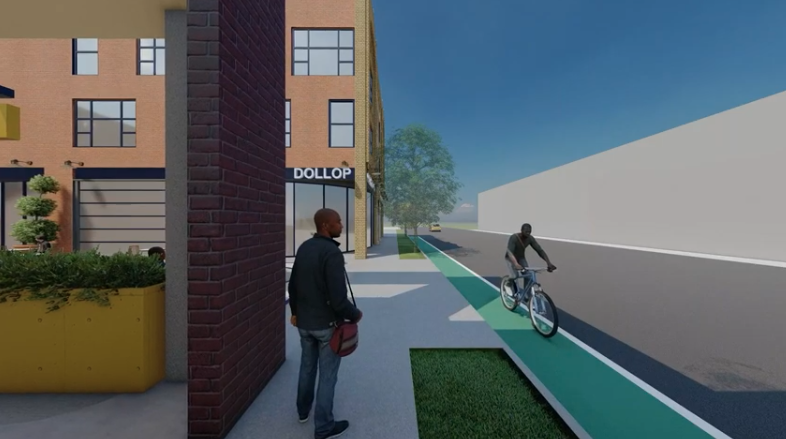 Ald. Susan Sadlowski Garza (10th) and Maurice Cox, commissioner of the Department of Planning and Development, praised both projects without tipping their hand to which the city preferred.
"What I love about this process is that the community has choice," Cox said. "They're seeing fantastic ideas that are rooted in creating local wealth, that are creatively programmed, beautifully designed and now they get to have their final say."
Following each presentation, a panel of neighbors questioned the development teams about cost of the housing units, whether locals would be hired for construction, what kinds of businesses are attached to the projects and how each development might increase public safety in the area.
City officials said a winner would be announced "mid-summer," and afterwards negotiations will begin with the winning team, including incorporating feedback from the community input sessions.
The INVEST South/West program launched in late 2019, pledging $750 million in public funds over three years to support development projects in key commercials areas in 10 South and West Side neighborhoods. In South Chicago, the areas being targeted for development are the corner of Commercial and 89th, as well as land near the Metra station at 79th and Exchange. Bids for that second project are due in late August.
In other developments along the Commercial Avenue corridor, the Chicago Department of Transportation is "in the process" of securing $15 million in federal and state funding for streetscape improvements, city officials said previously.
Subscribe to Block Club Chicago. Every dime we make funds reporting from Chicago's neighborhoods.
Already subscribe? Click here to support Block Club with a tax-deductible donation.